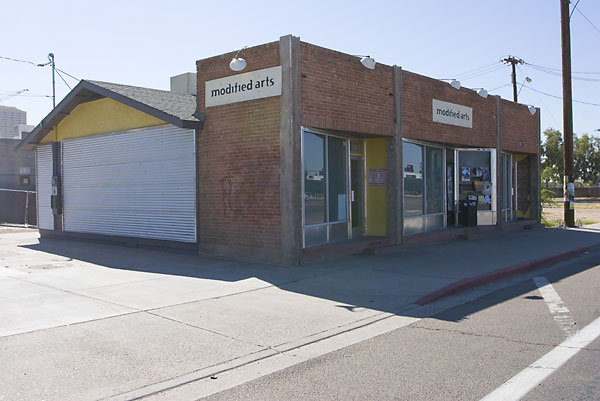 Downtown Phoenix is starting to look a little newer. Modified Arts, a favorite destination for many downtown art observers and concertgoers, has recently undergone exterior facelift to stay in the game. 
Modified Arts has become a valley landmark after pulling off a rare feat: staying afloat as an art and live music venue in downtown Phoenix for nearly a decade. As a result, the exterior of the building is well known by the creative crowd in town, and its state of disrepair was clearly visible. Recognizing its need for a little TLC, owner and local Renaissance woman Kimber Lanning hired Luis Salazar of Salazar Architects Associates to help groom the building's mangy facade.
"It was more of a personal issue for me," Lanning said. "I love that building and want it to be maintained. The arts has a great reputation for fixing up neighborhoods and that is part of my personal mission."
When Lanning bought the Modified Arts venue earlier in the decade, the structure was a redbrick building that had already been slapped with a layer of dingy, boring stucco.
"I was thinking about going back to brick," she said. "But it was a super soft brick that wouldn't hold up against the weather, and wasn't made to be exposed."
Salazar stepped in and talked Lanning out of sandblasting the stucco in order to protect the aging brick from the elements. "He told me it would be better to put corrugated steel over the current exterior and that is what we opted to do," Lanning continued.
The complete upgrade process took about three months, but Salazar's vision has led to a business owner happy with the final product. 
"Working with Luis was awesome, and it made the process great," Lanning said. "He is a really good resource for ideas, and it shows with our new look. All of the upgrades were cosmetic because I want the place to look as nice as it can."
Another part of the facelift is new frosted glass windows installed to complement the new exterior. The new windows let in more light than the previous standard windows, which greatly assists the visual art exhibits.
"We are always going to offer a unique experience," Lanning said. "We are proud of the visual artists we represent and [we] always have something interesting going."
Now visitors will feel even more comfortable in the niche art gallery and music venue, Lanning has already heard the positive affirmations of her actions. "It has been great, people love it and the visual artists like the beautiful lighting that it cast on their work, everybody likes it," Lanning said. "I think we are done with upgrades outsides of the upkeep and maintenance, I am very happy where it is at now."
Photography by Ernie Button and an installation by Phoenix fabric artist Anne Morton will highlight the month of October at Modified Arts.  [photos: Don Crossland]