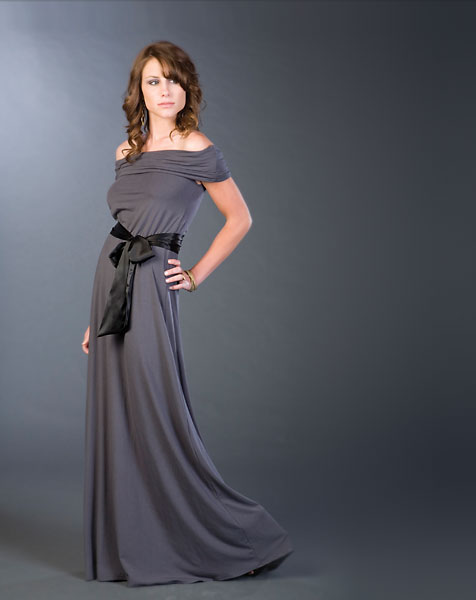 After years of retail and fashion experience, Sandy Skinner decided it was time to make a difference. In May 2007, she used her childhood nickname "Skin" and launched ecoSkin, a line of sustainable, made-in-the-U.S.A. fashions for women. Armed with her knowledge of the business and an ever-growing environmental consciousness, she embarked upon a mission to create what she calls "day-to-night styles"from eco-friendly materials.
Embarking on her new venture, Skinner ran into a bump in the road. She found that her biggest challenge was getting a hold of fabrics she wanted. Although demand for green fabrics and fashions seemed to be growing, textile suppliers simply were not keeping up. Skinner decided to create her own fabric. She found that she could use bamboo and other natural materials to spin a soft, fluid knit material to suit her design ideas.
With inspiration from high fashion icons – Linda Loudermilk's use of recycled materials, Donna Karen's draping, Calvin Klein's simplicity and Diane von Furstenberg's unmatched ability to use prints – Skinner began producing shorts, skirts, dresses and tops that did not require conscientious consumers to sacrifice style.
"My line is different," says Skinner. "You can go to dinner, be sexy and feminine, [be] casual and not at all Berkley-esqe. My customer loves the style, not the fact that the clothes are green."
Now that start-up basics have been covered, Skinner is focusing on increasing the number of national retailers who carry her product. While ecoSkin has found a home at numerous independent boutiques, it has been harder to get more mainstream retailers and department stores to jump on the green bandwagon. But change is happening thanks to conscientious consumer moms, Skinner says. She references the steady stream of emails she receives from mothers who realize the example they should set for their children. In her opinion, as consumers demand more options, fabric suppliers will come around.
"Everybody has a responsibility to make a difference. This was a way that I could take what I know and be able to do that," said Skinner.