I don't think anyone really considers Marrakech a hotbed of modern design.
But modern architecture and interior design knows no borders and can pop up anywhere. Known more for the spice markets, Marrakech is the center of Morocco and, like most places around the world, economic and cultural centers are seeing a rise in contemporary design.
In Gueliz, just outside of Marrakech proper, the very modern Carré Eden Shopping Center has opened. It is a very modern mall with major brand clothing stores, a large food court, supermarket and dining options. The latest addition to the center is the Radisson Blu Hotel.
The guest rooms for the hotel were designed by award-winning and prolific hospitality firm, Atelier Pod, helmed by French-Moroccan architect Lofti Sidirahal. The main design goal was to create a contemporary aesthetic reflecting the character of the red city and extend the urban dynamic of the city to provide a unique and relaxing atmosphere.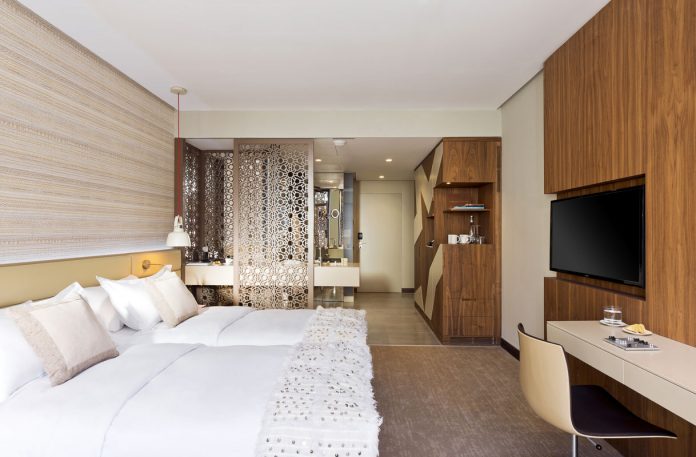 Atelier Pod started with designing the layout of the rooms before even considering the design aesthetic. The idea was to blur the lines between the bathroom and bedroom. To assist in the atypical delineation, the designers used a modern take on a typical eastern Arab object, the mousharabieh screen, as the design highlight of the room.
The sliding screen creates an elegant separation between the bathroom and bedroom with a vanity counter on one side and a dressing table on the other. It offers a screen between the two areas and a visual connection for both at the same time.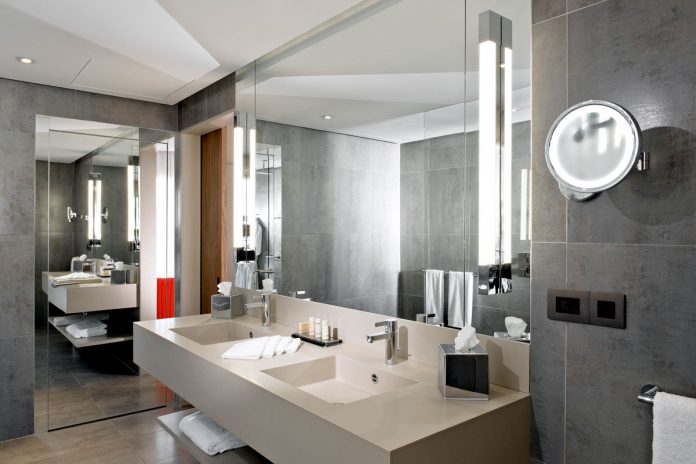 In the deluxe rooms the orientation is turned with the bed facing the windows and the desk place right behind the headboard of the bed. The bathroom is also separated and faces the outside view providing lots of natural light. It is designed as a wet room with stone tiling covering the floors and walls.
The contemporary layout and design features a blend between ethnic patterns and classic Arabian geometrics contrasting the clean lines of the modern interior. The balance of the contemporary function and interpretation of the Moroccan heritage harmoniously merge to create a space that is expressive of modern Marrakech.
[Photos provided by Atelier Pod via v2com]