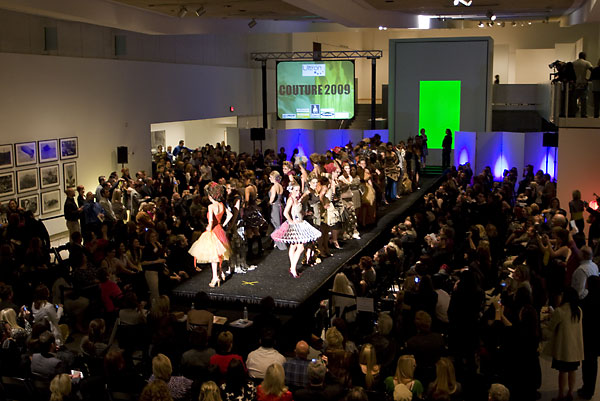 On February 12, 2009 the great hall of the Phoenix Art Museum was transformed into a mecca for couture design. Using the stunning new art piece, Mohl Ip from James Turrell as the ultimate backdrop for the runway, 38 couture outfits were presented on the runway. The couture was designed by teams representing Phoenix architectural and interior design firms assigned a specific color from Ultron's 2009 Color Forecast palette and then matched up with various materials manufacturers who donated materials. 
"Every year I am completely blown away at the level of creativity from the design firms,"  said Christina Johnson, event chair. " These outfits are very time consuming to put together, especially given the complexity of some of the architectural products they have to use.  It's easy to come up with a design for an outfit.  Constructing it is another story, as challenges inevitably occur, usually at the 11th hour.  In the end, the result is always amazing, as these design teams manage to work it out, and create extreme couture."
In addition to the firms, this year 4 student teams were invited to participate from Arizona State University, Collins College, and The Art Institute of Phoenix.
"These talented students are the future of the design industry, and have proven that they are true contenders in this event, and can certainly compete on the same level as the design firms," said Johnson.
The event was well produced as over 600 attendees enjoyed the lights, colors and energy of the fashion show. Proceeds from the event were to benefit the The Wellness Community.
The fashions were judged by an independent panel representing Divaz Boutique, Avair Design and the Phoenix Art Museum. Here are the categories and winners.
Honorable Mention:  Loewen Design Group   (Pacificrest Carpet)
Best Integration of Finish to Fashion: Exclaim Design  (Bentley Prince Street Carpet)
Best Craftsmanship:  SE Design (Knoll Textiles)
Best Prêt a Porter:  RNL (Lees Carpet)
Best Haute Couture:  DFDG (Architex Textiles)
Best of Show:  Studio V (Herman Miller)
 Student Team Winner:
 Best of Show:  ASU