Hublot gives a lot of lip service to their 'Fusion Concept' and they've been putting their money where their mouth is for years.
From the beginning, Hublot experimented with materials not typically associated with high-end watchmaking. Composites of carbon fiber, ceramic, and a proprietary, scratch-resistant King Gold are some of the materials that embody the 'Art of Fusion' philosophy at the core of the company. Now they are adding leather to the mix and taking it a step beyond a leather strap.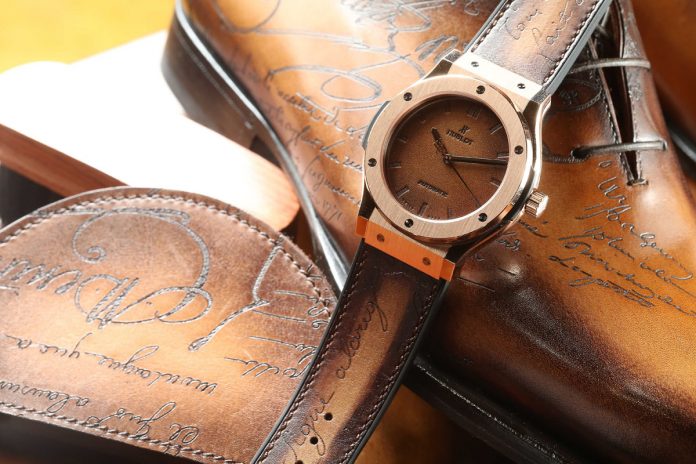 When the Swiss watchmaker partnered with Italian shoemaker Berluti, it was a fusion on many different levels. The collaboration between a relatively new watchmaker (since 1980) and a legendary bespoke shoemaker (since 1895) is one level. Blending the old with the new with materials and design is something that is done with beautiful results in architecture and interior design and Hoblut adapted the same concept to watches.
Berluti has been built by four generations of shoemakers most famous for Olga Berluti's ingenious development of the patina process creating the trademark Venezia leather using a natural, mineral tanning process that gives the colors their characteristic transparency. In celebration of their 120th year, they partnered with Hublot to create the Fusion Classic Berluti Scritto watch.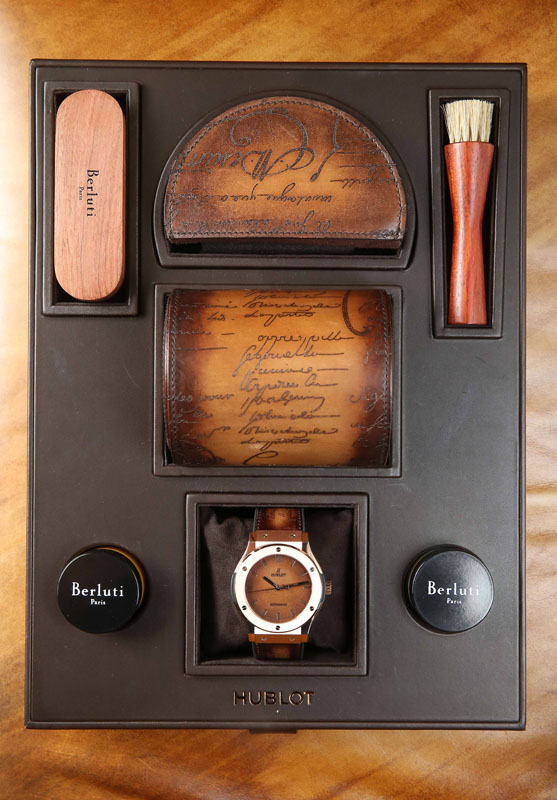 The limited edition timepiece is the fusion of the modern design and metals developed by Hublot with the classic Venezia leather. Not just in the wristband but also in the watch face.
"One of the major difficulties was the dial. Using a living material in a sealed case is very complicated. Finding the perfect balance between the nuances of the dial and the strap is also a challenge," said Hublot CEO Richardo Guadalupe.
The limited edition watch included two models. The Classic Fusion Berluti Scritto is the signature version. Literally. The watch band and face are made from Venezia Scritto leather with a tobacco bis patina finish. The watchband features calligraphy engraved in the leather inspired by 18th century European calligraphy. The leather is the perfect compliment to the warm hues of the Kings Gold.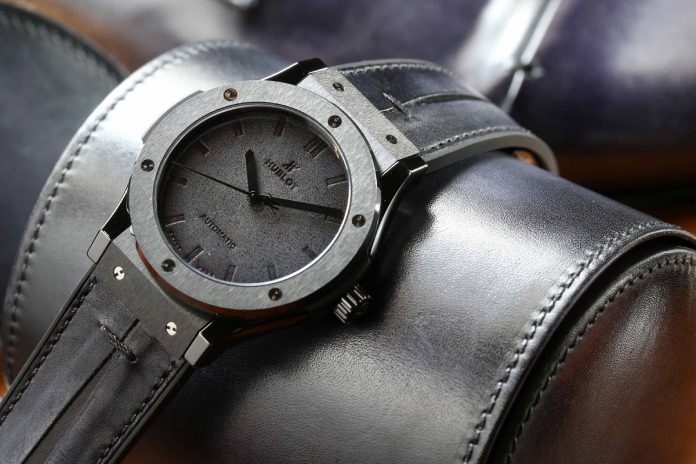 The Classic Fusion Berluti All Black is… well… all black. The jet-black style has a nero grigio Venezia handmade strap inspired by the art of scarification, marked with the signature "Gaspard" incision of the Berluti House. The 45 mm black ceramic case contains a HUB1100 mechanical self-winding movement with a nero grigio leather dial signed by Berluti. This model has been issued in a limited edition of 500.
The devil is in the details and, at first glance, it looks like a quality watch. The magic is after the first glance when you notice the attention to detail that is the magic in this timepiece.