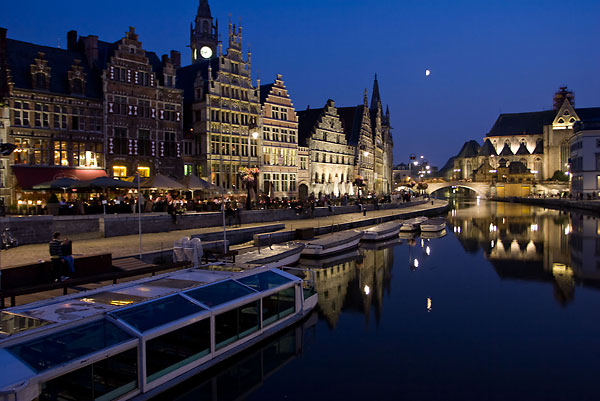 At first glance, Ghent, Belgium might not seem to be a great city for the modern design enthusiast. It is clearly an old city steeped with history. However, while the city has worked to preserve it's history and especially the medieval look of the city center, most of the preservation is of the building façades. In many cases, I walked into an old building to see a very modern interior. The Belga Queen is one of the first restaurants I came across in Ghent.
Like many buildings in Ghent, Belga Queen has a completely new inner structure build to support the historic façade. It is almost a building inside a building to support the old structure. From the outside, the first thing people notice is the front of the building is angled slightly out toward the street. Most people assume the oldest building in Ghent was falling over before it was restored, but it was actually built that way.
The home of the Belga Queen is in the 13th century Korenstapelhuis (Grain Storehouse). The angled front was designed so the sacks of grain could be hauled up into the storehouse without being damaged by bouncing against the front of the building.
The Belga Queen is the brainchild of architect/chef Antoine Pinto who designed the interior architecture, furniture, concept and menu. The restaurant features large communal tables, a beer bar and a club on the top floor. Massive wood beams provide much of the structural support while a stainless steel elevator and stairway dominate the center of building.
Up next: An unexpected surprise while on the train from Brussels to Frankfurt.
Until then, Proost!
Don Crossland
Publisher at Large