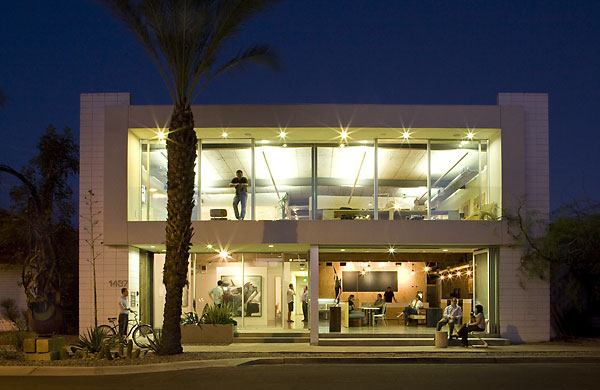 National architecture firm Shepley Bulfinch of Boston and merzproject of Phoenix announced their merger earlier today. The merger unites Shepley Bulfinch, one of the country's leading design firms, and merzproject, named a 2009 Design Vanguard firm by Architectural Record.
Starting with immediate effect, the Phoenix office will be known as merzproject – a studio of Shepley Bulfinch to signify the importance this move has for both companies.
With this merger, merz and Shepley Bulfinch bring a shared passion for the transformative power of design and Shepley's capacity for the delivery of complex institutional projects to clients throughout Arizona and the Southwest. The firm will continue to develop relationships in all of its major practice areas – education, healthcare, civic, commercial development, urban planning and design, and residential work – from its offices in Boston and Phoenix.
Shepley Bulfinch president Carole Wedge said, "As a national design firm this gives us the ability to explore a deeper range of opportunities in the Southwest. Our merger with merzproject's talented team means we can offer compelling value in design and expertise to a broader range of clients throughout the region."
"This is a bold and exciting move for all of us, and represents an unusual position of strength in this economic environment. We're excited to build on our knowledge base, increase the national exposure of our Phoenix team." remarked merzproject Principal Joe Herzog upon completion of the merger.
The portfolios of merzproject and Shepley Bulfinch can be seen at. www.merzproject.com and www.shepleybulfinch.com