Just about everyone has dreamed about driving a Porsche at some time in their life. The name alone evokes the image of prestige, style and speed. Now, Porsche finally has a cathedral in its home city of Stuttgart, Germany worthy of a pilgrimage for the many dreamers and worshipers of the iconic speed-machines and new edifice that houses them.
The monolithic Porsche Museum opened to the public on January 31st. Designed by Austrian firm Delugan Meissl Associated Architects, the design offers dramatic visuals from every perspective.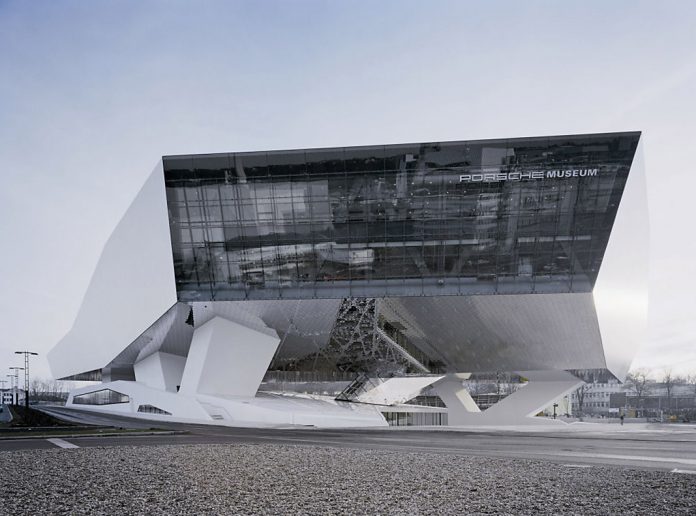 The exterior of the building is irregularly faceted with sharp angles clad with either white or reflective surfaces. The angular body of the museum stands on only three pillars giving the impression of an almost free-floating building.
"The new Porsche museum represents our conception of architecture which is constantly moving in the field of interaction between buildings and their users," says Roman Delugan, co-founder of Delugan Meissl Associated Architects.
In the basement, motor fans can watch the mechanics getting the rare cars ready to drive from a glass-fronted workshop. The basement also houses the company archives, a coffee bar, the museum shop and the museum lobby.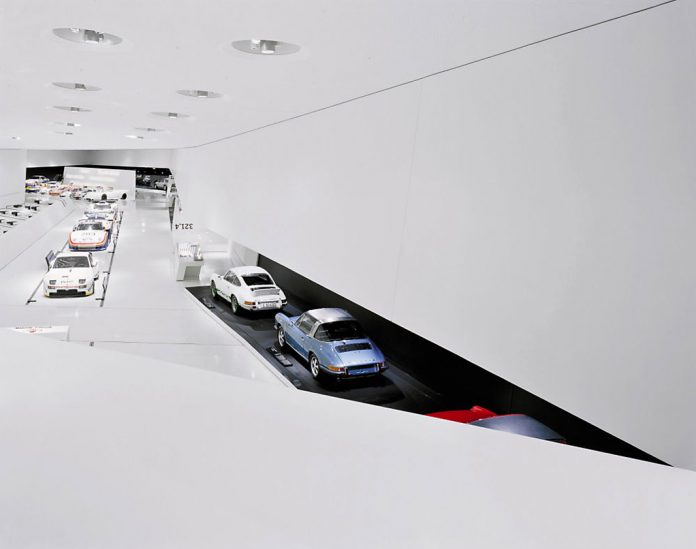 From the lobby, visitors ascend a spectacular ramp to the entrance of the spacious exhibition area, where they can gain an initial overview of the impressive collection.
The visitor is free to choose whether to start chronologically with the company history before 1948, or to head directly into the main area of the exhibition, which contains a chronological history of Porsche products and thematic islands.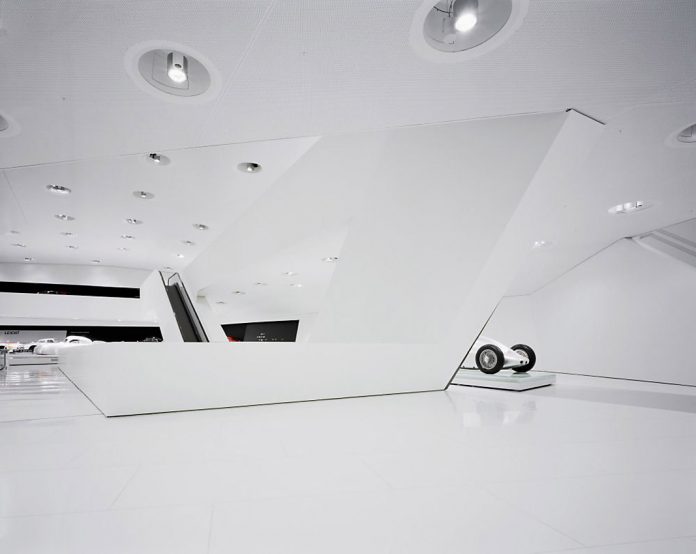 "The rooms are almost entirely white because the cars provide the colors," Achim Stejskal, the museum director says, explaining the museum's visual concept. "We didn't want any additional fancy staging for the vehicles."
The building is also home to a gourmet restaurant, Christopherus. The museum is already in demand as an event space with hundreds of booking requests for the spacious meeting rooms and rooftop terrace.
"In professional circles, the design was initially regarded as unbuildable," Stejskal said. "But now it is finished and simply sensational."