A beach house need not be just a simple shack.
This masterpiece, while based on a very simple design, is anything but simple.
Like a piece of origami dropped into the Australian bush, the house, designed by McBride Charles Ryan Architects, both blends and contrasts to the existing environment. Based on the concept of a Klein bottle, which has a continuous inside and outside (similar to a Mobius strip, but with an added dimension), the shack is full of angles, elevations and colors in combinations most people could not imagine. "In principal, it's like a doughnut. You can twist and distort it, but it will only change topographically if it's cut. In a sense, there's no beginning or end," said architect Rob McBride.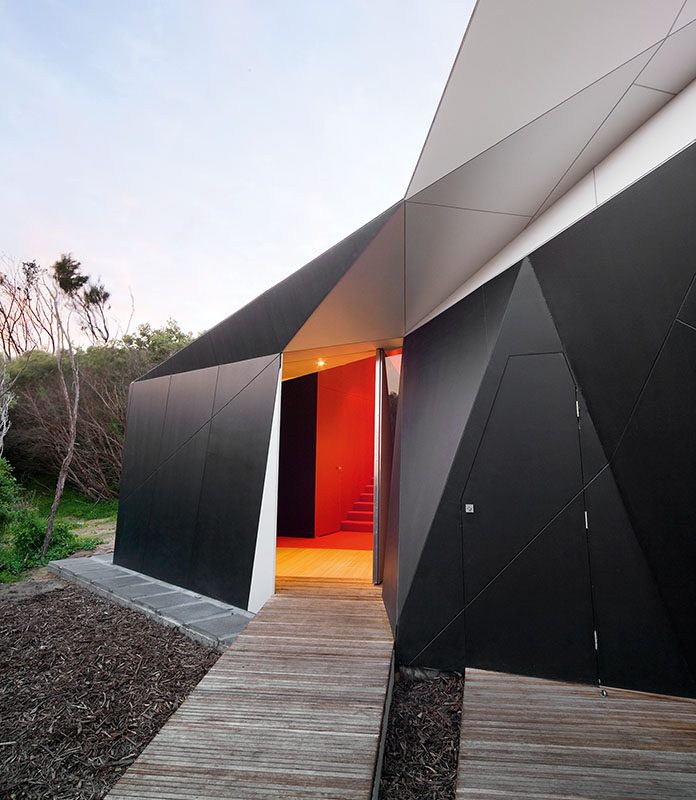 Located in Rye on Victoria's Mornington Peninsula, the house is oriented in a way that every room feels connected, yet separate, but not simply by walls or doors. Clever use of elevation and angles distinguish each room without losing its sense of wholeness with the rest of the house.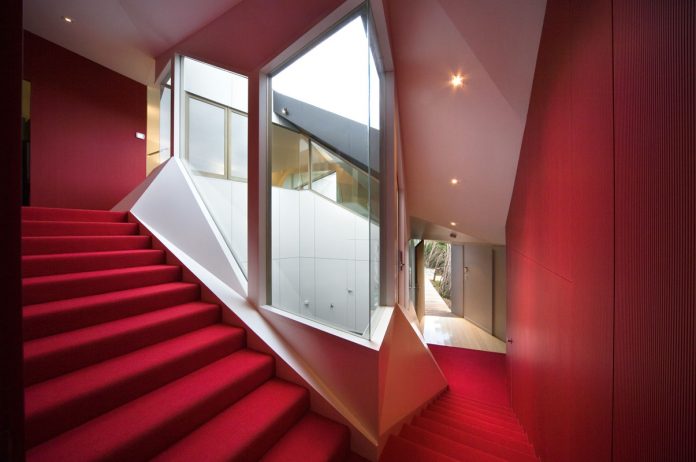 The house is made of compressed cement sheets with a black metal roof that folds down in part to form an external wall. Moonah trees, with their gnarled blackened trunks, visually anchor the steeply sloping site. The front door is made of cork, eliciting the feeling of opening a wine bottle. Beyond the doors is a bright red staircase and walls around an irregular-shaped light well. Beyond that, not visible from the façade, is a triangular door leading to the courtyard. "I've always been interested in the way geometry suggests new ways of designing a house," said McBride.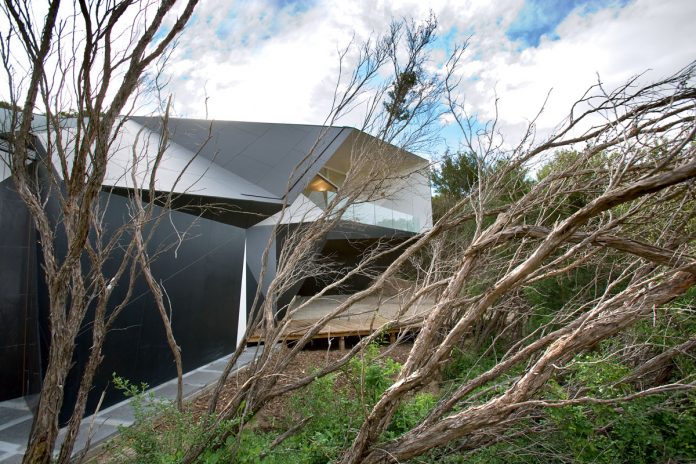 Areas on the ground floor were designed to be flexible living spaces, which can act as a media room, a playroom or even an extra bedroom. "When the [play room] door is left open, you can see what's going on through the courtyard," said owner Mark.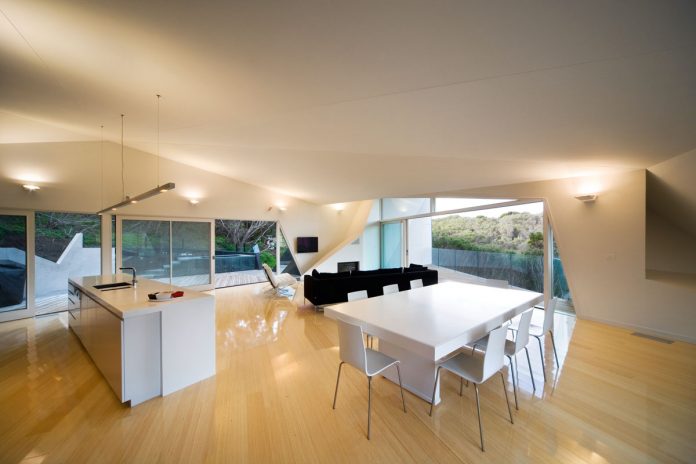 To get the most out of the light and the views over the trees, the open plan kitchen and living area are above the playroom. As with the rest of the house, the ceiling seems to be folded around the space. The pantry and most appliances are concealed behind black-stained veneer joinery that accentuates the Corian central island bench and pale bamboo flooring extending into the living areas. "I wanted to feel as though I was walking on sand. I didn't want to have to continually get out the broom," said Mark's wife, Donna.
More than a weekend getaway, the house is also a respite from the drudgery of boring design. "It is completely different from how we live in the city," said Donna. "Thatâ's what a beach house should be."
[photography by John Gollings]