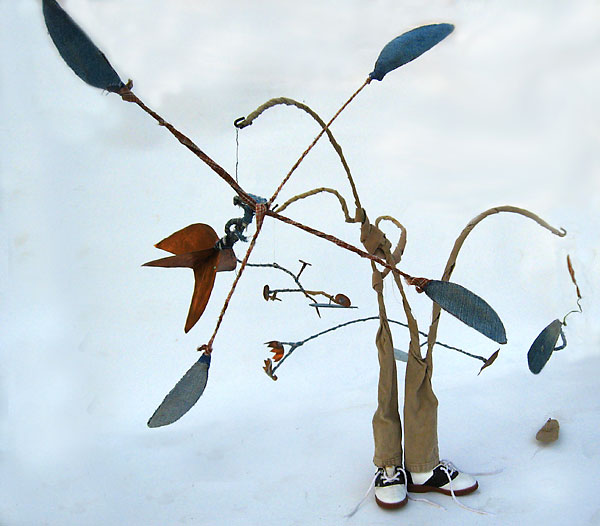 "Riding my bike is often my daily dose of Zen," says green artist Matt Mays, "I get to see, hear, taste and smell everything around me. I'm vulnerable, humbled and, at times, aggravated all at once by traffic. Cars isolate us from each other, and help to create cities that don't work for their community."
He rides his classic Schwinn daily into back alleys, searching for more materials to create something beautiful, but perhaps more importantly, something green. Speeding quietly across streets and sidewalks, he rides by lines of cars of all shapes and sizes, idling in gridlock on the asphalt. In a world turning to alternative fuels and environmental conservation, times and priorities change, as they often do. Mays used to paint large mixed-media canvases, but has since switched to watercolor and paper. Restoring a 1957 pickup had to be placed on the backburner in favor of studio space and supplies. But neither of these happenings hinders his desire to create. He transforms everyday things thrown out by everyday people into distinctive works of art, in hopes that someone might stop and think.
"I would hope that [my work] would resonate with viewers, that they might gain any kind of enhanced consciousness through my work. To be aroused from a general human detachment from nature, which includes alienation from nature, ourselves and others," Mays said.
And Mays isn't alone. From October 3 to April 17, Mays's work, along with 11 other local and national artists, will be on display at the Arizona Museum for Youth in Full Circle: Recycled Into Art. All artwork is made from second-hand and reused materials. The group show will be an excellent opportunity to see the splendor and worth of things some may feel are no longer useful, and may inspire others to go green as well.