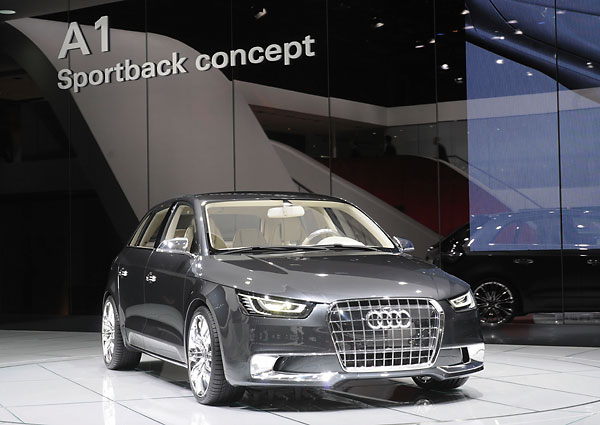 At the Paris Motor Show in October 2008, Audi introduced a new version of its hybrid technology in the form of the A1 Sportback concept. The Sportback is a five-door four-seater based on the three-door Audi A1 Quattro.
The exterior styling of the Sportback extends beyond the addition of two doors. The surfaces and lines are tauter and more masculine. The main headlights, outlined in innovative LEDs, is especially eye-catching. The completely new styling underlines yet again the amount of freedom this technology has afforded to designers.
At work under the hood is a 1.4-litre TFSI engine and an electric motor integrated in the drive train able to deliver additional torque when accelerating. During the boosting phase, when the TFSI engine and electric motor operate simultaneously to enable a sporty driving style, the two power packs deliver impressive propulsion. The tried-and-tested front-wheel drive – supplemented by the newly developed, ESP-controlled active front differential lock – ensures optimum transfer of power to the road.
The Sportback concept is a plug-in hybrid with over 60 miles of initial emission-free driving. The automatic start/stop facility, energy regeneration and phases of purely electrical operation reduce the fuel consumption and emissions of the Audi A1 Sportback concept by almost 30% compared to running on the combustion engine alone.
The A1 Sportback concept features its own mobile control unit for infotainment and vehicle systems. The driver can use his mobile phone as a car phone, address database, navigation system and audio/video player. At the same time it can be used as a control unit for numerous onboard vehicle systems. A security function also constantly monitors the current status of the vehicle, e.g. whether all windows and doors are closed. It can transfer GPS information to the mobile device to guide the driver after the car is parked and will even guide the driver back to the car.
The A1 Sportback concept is not yet in production.