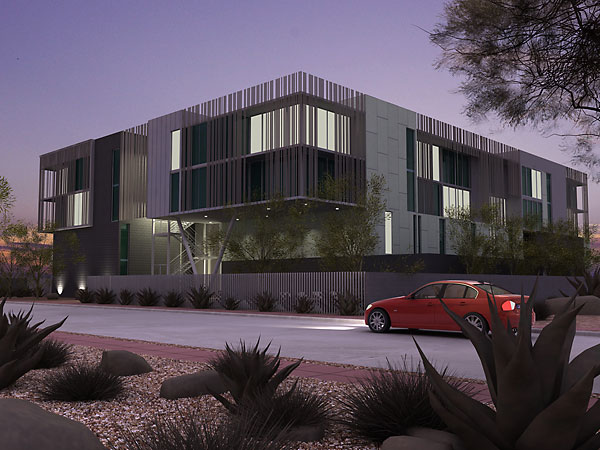 Once upon a time, the thought of a sustainable, ultra-hip residential community 
just down the block from the stuffy Biltmore Resort was a thing of fantasy.
Take a Sunday drive through the community and passersby will find rows and rows of post-orange grove, one-story revival ranch houses, glorious in their price and location, but not much else. But with the trend toward all things green and a focus on sustainability in clear sight, the Biltmore area is earning a new Phoenix Point of Pride in the Victor, a 37-unit network of sustainable condo living currently in development by Bruckal Redevelopment Group and architect [merz] project smack in the middle of all the action.
The Victor derives its coolness, literally and figuratively, from its distinctive design. The four-story project blends two-story townhomes that beam with live/work possibilities with one-level flats. This combined with selective positioning of a community courtyard effectively allows the entire building to shade itself at choice times of day. This site-specific layout is completely dependent upon the building's location at 15th Street and Highland for maximum efficiency.
The design promotes resident interaction sans traditional Biltmore stuffiness; there are plenty areas to gather and walk around. A lounge area will feature a plunge pool, an island bar and a barbeque. A dog run and a sunken turf for games round out a complete social environment that is both intriguing and inviting. There's even 20,000 square feet of underground parking, all on just three quarters of an acre. Talk about resourceful.
"We began [with] the desire to create architecture that can hold up to the varied and diverse conditions of living in today's world," said [merz] project manager Jonah Busick. "We are less interested in the idealized environment; we understand that for architecture to remain relevant, it must address the diversity and sometimes chaotic and unpredictable nature of living in the 21st century. We've created spaces that address the desire for timeless moments of beauty and contemplation without sacrificing flexibility, efficiency and modern conveniences."
When most people think of green condos, a shoddy apartment conversion with a few solar panels comes to mind. The Victor is out to change those impressions. [merz] project recently completed The Galleries at Turney, the first LEED-certified housing project in Arizona, and the Victor will be the next. Attaining LEED-silver certification, the project will feature low-e glass, low water-use fixtures, low-VOC paints, a solar panel system and more. And Busick feels that the Victor's location plays right into its conservation, giving residents plenty to do nearby.
Jason Bruckal of Bruckal Redevelopment Group saw potential in the location right away. "We chose the Biltmore area because it is well known for its upscale residences, golf course and shopping," he said. "The holistic concept of the Victor is not just about the building, but also the accessibility to services nearby, creating a lifestyle that reduces the need for driving/commuting."
Busick agrees. "We feel that we can begin to extend some of the energy of the intersection of 24th Street and Camelback in our direction and start to bridge the gap between some of the more intensive nodes in Phoenix," he said. "I think we're looking at a new wave of development in the city that is focused on filling in some of the missing links."
With exposed charcoal-colored ceilings and walls, rich gypsum interiors and plenty of glass to keep the rooms feeling open, the Victor keeps it simplistic, smooth and natural. It's redefining what it means to be green: resourceful, energy efficient and practical, all without skimping on the style factor. Busick views it much the same way.
"We see the Victor as continuing that dialogue and emerging as a new type of urban living that hasn't been seen in the Valley," he mused. "The Victor is uniquely of this place and time and we see it as a new alternative for living an urban lifestyle in a large desert city."