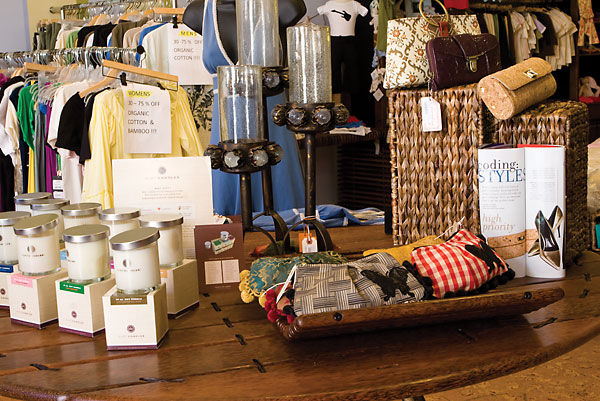 Ivy Ciolli wants consumers to know that the average person spends about a third of their life sleeping, give or take.  Enter Twig & Twill, the eco-friendly specialty store Ciolli co-owns with her sister Dr. Heather Wolfson.
Outfitted in the latest in sustainable interior design clay paint, cork floors and palm wood furniture, Twig & Twill is on the cutting edge of the green trend in a consumer-driven Scottsdale. Exclusively offering products made from 100% organic cotton, recycled materials and low-impact dyes, the store and its owners sell good health as embodied in trendy knit maxi dresses, onesies and duvet covers.
In addition to fashion, linens, and basic home products, the store features OMI, Inc. mattresses. Made from the milk of rubber trees, these all-natural mattresses are, first, what Ciolli and Wolfson believe to be the cornerstone of a healthy home and, second, a physical representation of the philosophies that guide their business.
Ciolli says, "we want to provide wellness and to offer products that protect the health of our customers in a one-stop shop."
When hunting for new inventory, the business practices of the designers come first, of course, but style weighs in as defining criteria. The store also gives special points to local designers and designers who are mothers.
Pointing to the surprisingly few oatmeal-colored items in the store, Ciolli says that that people are often excited organic clothes can be so colorful.
"Organic can be edgy, fun and striking," she says of the West Coast-inspired dresses, jackets, slacks, lingerie and tees by Sworn Virgins, Edun, The Pursuit of Harmony and Green Label that fill her store racks. Adorable baby and toddler gear by Monkey C Baby, Small Hands and Emily Somers are also available.
Along with pet products, bath care, housewares, clothes and accessories, Twig & Twill offers regular seminars on topics ranging from toxic bedrooms to vaccines to nutrition.
Ivy admits that adopting a green lifestyle can be overwhelming, but she says, "you have to take baby steps; one little step at a time. Change your cleaning products, change your linens it's all a process."