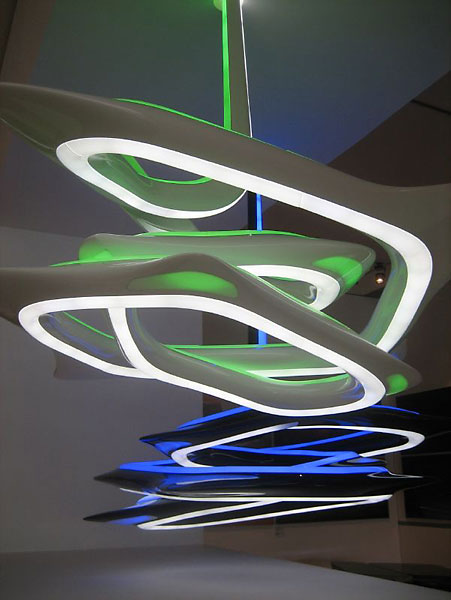 Vortexx Chandelier
The most revered woman in contemporary architecture strikes again, albeit under a new medium. Zaha Hadid, in conjunction with Patrik Schumacher and Zumtobel, put her day job aside to design the Vortexx Chandelier. Somewhat reminiscent of a sky-high building from The Jetsons, the Vortexx is an architectural approach to lighting design. It features an endless ribbon of light coiled in organic fashion. A recessed LED light strip allows for fully programmable color control. The Vortexx guarantees any design-whore an entertaining, psychedelic experience, no LSD required.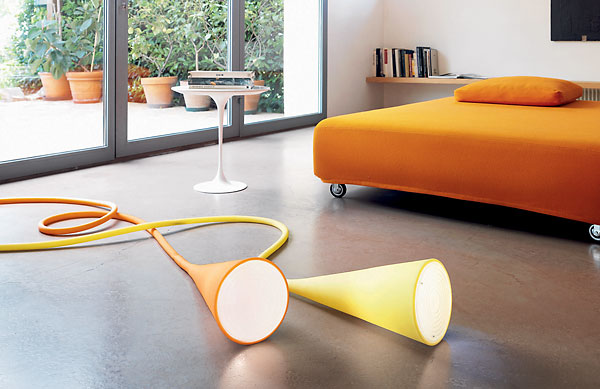 Uto
If you are young enough to remember the '80s, Saturday morning cartoon series Snorks, this versatile lamp will hold a special place in your heart. The Uto by Foscarini is a cone-shaped, silicon rubber lighting element suitable for indoor or outdoor use. It is a shatterproof and indestructible floor, ceiling or hook lamp that can be positioned freely to follow an individual from one room to the next. Simultaneously innovative and familiar, the Uto is ideal for wherever one wishes to install a lighting feature with a playful, versatile character.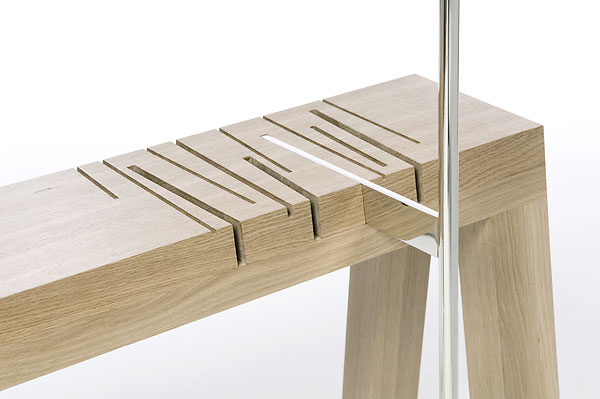 Saw Table Light
It's a find from the 2007 ICFF and a sculptural lighting feature unlike any other. The Saw Table Light, designed by Michael Kroeker, is a comment on modern furniture harkening "back to a time when the lighting and dousing of lamps was a more purposeful act, a domestic ritual punctuating the beginning or the end of an evening." The Saw is two-part sculpture: a solid wood sawhorse and nickel-plated lampstand. Power and intensity of light result from placing the lampstand into one of a series of stylized cuts in the sawhorse. Available in white oak or black American walnut.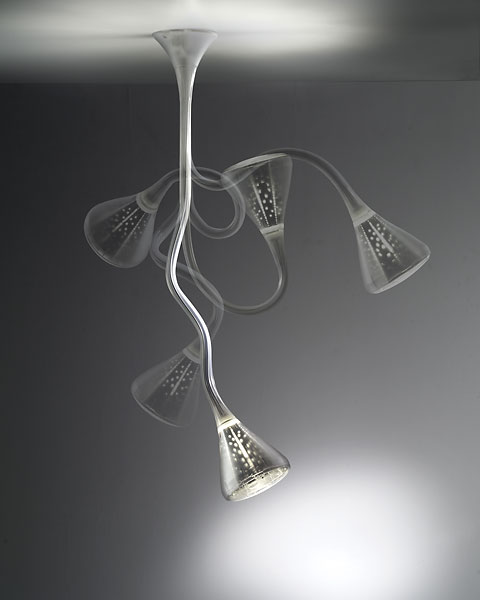 Pipe
The Pipe, designed by Swiss architecture team Herzog & de Meuron, could be considered a consumer incarnation of their latest German architectural masterpiece, the Allianz Arena in Munich. Manufactured by acclaimed Italian lighting company Artemide, it features a flexible, tubular steel structure with conical diffuser. Alternately, the Pipe is available as a floor lamp or sconce-like wall lamp. This lamp caught our attention at the new Center of Modern Design in Scottsdale. Upon first glance, the Pipe appears to have a mind of its own. Who can help but be reminded of the animated Pixar lamp? Don't blink now or you may miss it following you around the room.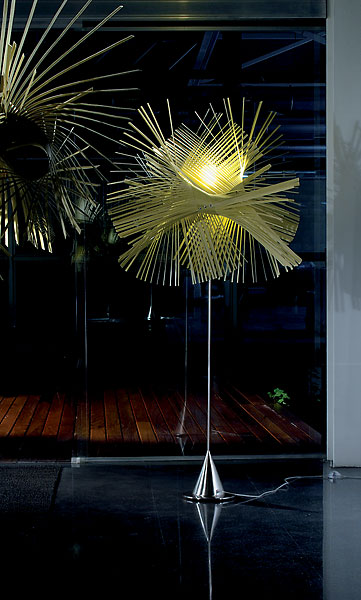 Mikado
The festive Mikado floor lamp, designed by Miguel Herranz in 2005, is a mini lighting fiesta. Two stamped, frayed wooden veneer sheets comprise the shade of this lamp manufactured by Spanish-based Luzifer Lamps. The sensually shredded shade offers a volumetric richness that changes according to the viewing angle. Available in seven different finishes, the Mikado creates interesting plays of light and shadow whether employed as a floor lamp or its alter ego, a pendant.