A research team. Two automobile companies. A product designer. An architect. All designers of products unrelated to the kitchen. And yet, when brought together by various companies looking for fresh ideas, all created works of art as individual as they are.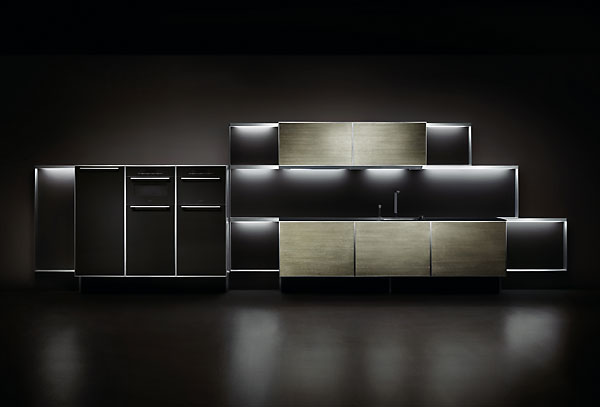 Poggen Pohl + Porsche Design
Impeccable. Timelessness. Craftsmanship. Designer of the quintessential Porsche 911, Professor Ferdinand Alexander Porsche founded the Porsche Design Studio in 1972. Known as the premier name for luxury men's accessories, it was Porsche Design's idea to create the Poggenpohl Porsche Design P'7340 Kitchen, or the ultimate "Man Kitchen". Poggenpohl is Germany's oldest kitchen brand, in business for over 100 years and the decision to work together was easy.  As Porsche Design Studio represents distinction in high-quality men's accessories, Poggenpohl represents excellence in kitchen design.
Elmar Duffner, Managing Director of Poggenpohl, explained, "our cooperation with Porsche Design enabled us to design a kitchen whose sleek and functional design language specifically addresses male customers." Porsche Design initiated the conceptual and schematic designs while Poggenpohl implemented the ideas and made it work from a construction standpoint.
Nothing in this kitchen is standard. The handleless opening feature was engineered from scratch. The environmentally-conscious internal structure of the cabinet box is made of a lightweight paper honeycomb. The most exciting development in the design is the aluminum frames. The greatest challenge, creating 8mm detailing around the cabinet fronts, was executed beautifully. Truly a kitchen with both aesthetics and functionality in mind.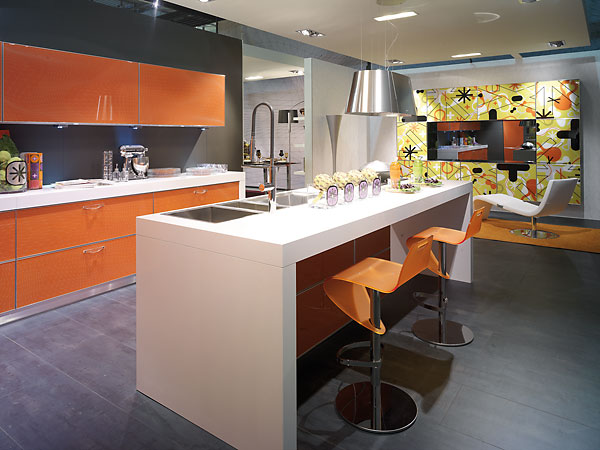 Scavolini + Karim Rashid
Is there anything Karim Rashid can't design?
Brought on by Scavolini in an effort to bring their elegant kitchen design to a new generation, Rashid instilled his bright colors and love of new textures to create Crystal. The Crystal kitchen is all tempered glass; smooth, stylish and easy to clean. Available in 12 different non-transparent colors and wrapped in a white or aluminum gray case.
Beginning in 1960s Italy, brothers Valter and Elvino Scavolini founded a small design studio to bring fitted kitchens to consumers. Expanding throughout the decades, in 1984 they became la cucina piú amata dagli italiani, Italy's favorite kitchen.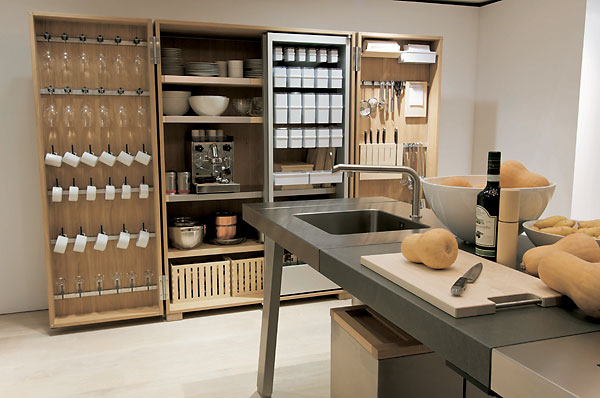 bulthaup + EOOS
Self-described as "a design company that tends to work on the principles of a rock band", EOOS is a team of highly talented designers and researchers who thrive with the challenge of the unexpected.
With their extensive research team, EOOS was a natural fit for bulthaup's b2 kitchen line, allowing bulthaup to radically rethink the concept of kitchen and cooking. By clearing away anything superfluous to the basic requirements of cooking, the b2 line is essentially a workstation in two parts – workbench for assembling and tool cabinets for appliances, kitchen tools and pantry. With modifications for materials and different modules, the system is endlessly adjustable to fit the user's needs
bulthaup and EOOS presented the b2 kitchen line at the Salone Internazionale del Mobile in April 2008, along with EOOS's book about their design and research process The Cooked Kitchen  A Poetical Analysis.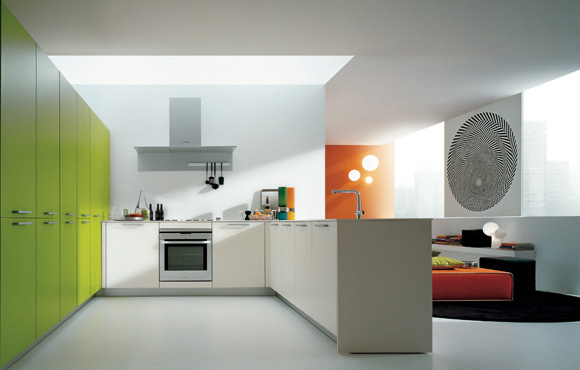 Poliform/Varena + Carlo Columbo
Trained as an architect, Columbo expanded his talents into the industrial design market about 10 years ago. Named Tokyo Designer of the Year in 2004, the Italian exacts his high standards on everything he touches – furniture, products, architecture and now kitchens.
Collaborating with Poliform, Columbo and Varenna designed the Young kitchen line. Linear and crisp, Young is characteristically modern with straight lines and reduced to what's most essential. Because of its simplicity, the defining aesthetic is the variety of materials available. Lacquer, wood, glass, and laminate in a variety of colors serve to personalize the kitchen for each user.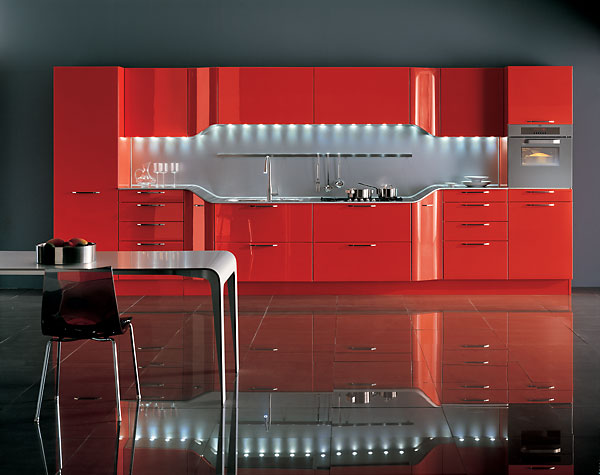 Snaidero + Pininfarina
Snaidero has been designing kitchens in Italy since the late 1960s. By pairing brilliant Italian designers to specific kitchen lines, Snaidero quickly became known for unique, custom kitchens designed for living.
Italian design firm  Pininfarina set standards for automobile luxury with designs produced for Ferrari, Maserati and Alfa Romeo. Paolo Pininfarina, grandson of founder Battista "Pinin" Farina, is the current Chairman of the Board of Directors and has expanded relationships with international companies, including Snaidero. Pininfarina has paired up with Snaidero for years, designing several kitchen lines including Ola, Viva and Acropolis.
Their most recent adventure, Venus, is clearly derived from the fast and easy lines of Pininfarina's luxury cars. Venus takes pains to minimize the technical aspects and present a seamless, flowing aesthetic. Matte or high-gloss lacquer finishes complete the look of this sexy kitchen.