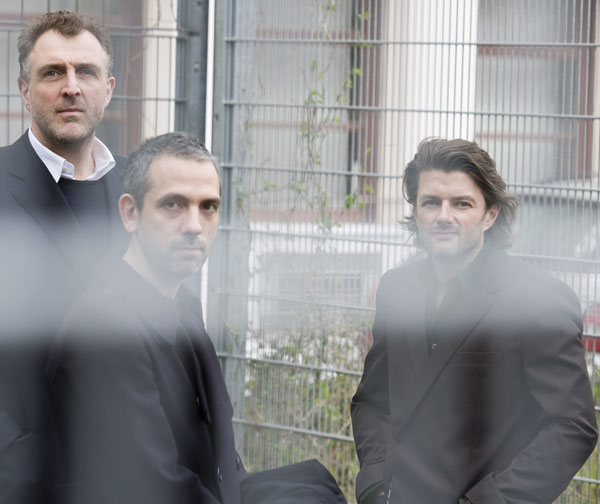 Harald Gründl is living the life of a rock star.
Gründl, along with Martin Bergmann and Gernot Bohmann, founded the Austrian design powerhouse EOOS. The Vienna-based design firm teamed up with bulthaup, acclaimed German kitchen manufacturer, to collaborate on the new bulthaup b2 kitchen. The b2 system debuted in Milan this past April and premiered in the US during New York's Design Week.
Gründl, along for the ride as the unofficial spokesman for the b2 and the EOOS design philosophy and methodology, has been giving presentations and signing copies of the book The Cooked Kitchen. The Cooked Kitchen incorporates the insights derived from four years of studying the "poetics" of the kitchen in preparation for designing the b2 kitchen for bulthaup.
Poetical Analysis is the term EOOS uses to describe the method used to seek out and study the intuitive images, myths and rituals on which its employees base their design.
"We are interested in ancient rituals and instincts colliding with the modern environment and modern technology. Row 13 is missing from the modern passenger aircraft. We find this absolutely fascinating, and are always on the lookout for such poetic scenarios," says Bohmann.
"We believe that it is only possible to forge ahead by formulating the perpetual concepts and behavior that are deeply rooted in mankind," adds Gründl.
Research is key to the Poetical Analysis methodology as evidenced by the four-year process given to the b2.
Bergmann explains, "Our work is not one-dimensional, nor is it based on a direct process that leads from a specific customer requirement to our design. We actually research the context of the customer's brand. What is it derived from? How did the brand myth come about? What does the brand stand for? Our approach frequently enables us to illuminate a previously undiscovered dimension of the customer. That's why even the customer sees himself from a new perspective."
EOOS currently focuses on three areas of design: furniture/products, flagship stores/branding and research. EOOS has designed furniture for Moroso, Matteograssi and Duravit. Their flagship store portfolio includes Giorgio Armani Cosmetics, Walter Knoll and the groundbreaking A1/Vodafone store featuring clouds, light and technology. EOOS has been awarded several Red Dot Awards, an IF Award and numerous others.
The three partners liken themselves to a rock band where the result of their creative collaboration is more than the sum of individual ideas.
"We always have the impression that our designs have been created by a fourth person. It is a multiplication, not an addition, of our identities," states Bohmann.