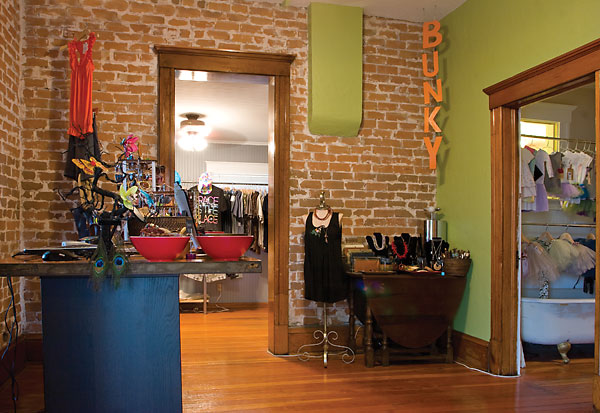 When your grandmother is hip, stylish and named Bunky, the obvious move is to open a boutique and name it after her.
Rachel Richards and her boyfriend, Jim Malloy, did just that in September 2007, opening Bunky Boutique off of Roosevelt on the backside of a building covered in graffiti. Determined to be a positive part of the downtown Phoenix arts district development, Malloy says, "We would only open in downtown Phoenix. We put everything into this. We wanted to do something for the city."
Not even a year later, Bunky has enjoyed so much success that they recently relocated, becoming housemates with Red Dog Gallery and next-door neighbor to the Roosevelt Tavern on 3rd Street. Upon move-in, Richards and Malloy created a duplex of sorts with a renovation project that divided the historic house space into two completely separate businesses. Changes included adding colorful paint, a custom racking system by Plus Minus Studios and transforming the original hardwood door into the check-out counter.
As for the clothes, the Bunky motto is to bring "a taste sensation for fashion-starved Phoenix" to life."We want to help Phoenix find its look. So many of us are not from here," says Richards.
Malloy adds, "So many stores here look the same. They get what was popular in L.A. six months ago – we do try to have something for everyone, but we're not reactionary."
Bunky carries mostly East Coast-based labels that are exclusive to Arizona or the Valley. With Richards' classic style and Malloy's penchant for fashion risk-taking, you can bet that the men's, women's and children's wares at Bunky are nothing short of eclectic.
For women, Bunky stocks artsy, youthful dresses, skirts, shorts, blouses and accessories by the likes of XCVI, Eileen Fisher, Nick & Mo and Hobo International. On the men's side, you will find urban inspired shorts, tees, hats, shirts and flip-flops by Kidrobot, Brixton, Mishka and Brown Sound. New to Bunky is Cadenza, a local children's designer, whose whimsical tutus and onesies are displayed in the house's original bathtub.
When asked what's next for Bunky, Richards and Malloy mention that a new Bunky label clothing line is in the development stages. The store already carries two tees emblazoned with the name. And, come this fall, with help from friend Noah N. Nipperus, the racks at Bunky will play host to two new pieces: a jacket for men and one for women.
And, what does Bunky, the grandmother, think of her namesake? Richards says, "She loves it. She has earrings, purses and scarves from [the store]." [photos by Don Crossland]