Just west of the heart of Mexico City, the Colonia Roma Norte is emerging as one of the coolest districts in the massive city. Neighboring Condesa has defined itself as the more affluent area but Roma Norte is the scrappy up-and-comer. Even as Roma Norte is rapidly gentrifying, the district still retains a pleasantly scruffy, bohemian vibe, home to trendy restaurants, hip cocktail lounges, and edgy boutiques. You can spend days just wandering around the tree-lined streets enjoying the walls adorned with street art and beautiful eclectic architecture which includes Art Nouveau, Art Deco, Modernist and as of late, many contemporary developments filling in the gaps.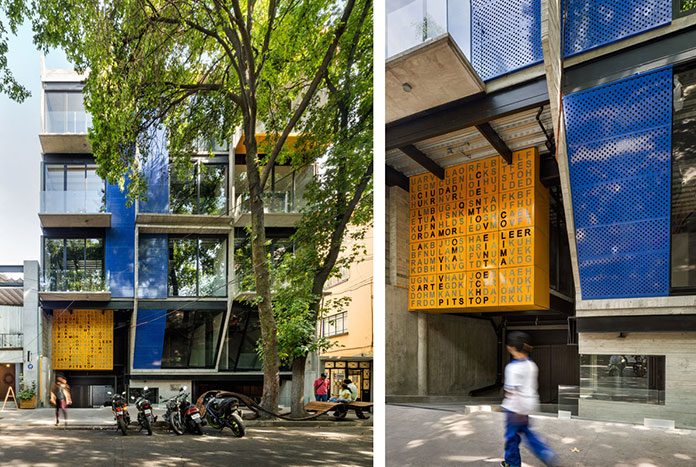 One such infill project is ColiRoma CientoVeinteOcho residential building designed by local architecture firm, Arqmov Workshop. The firm is located in the area so they have a special connection to the district's use of public space as an extension of the private spaces in the neighborhood. The apartments were designed to mix the public and private aspect of the spaces to reflect contemporary lifestyles of the area.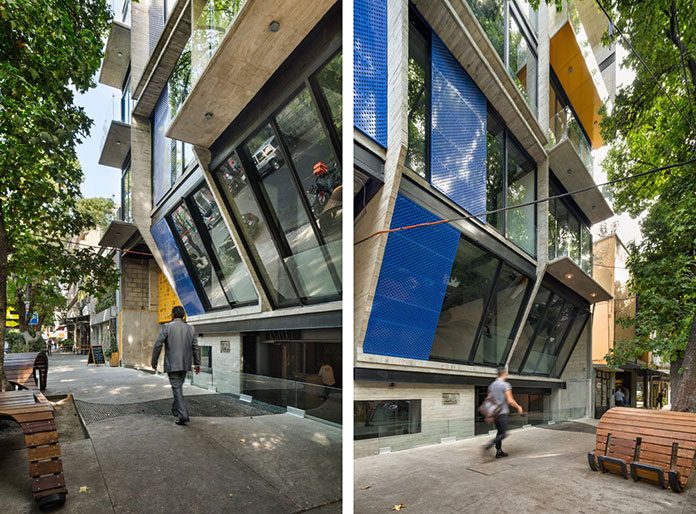 The public aspect begins before the building is even entered by way of a public bench in front of the building, build around an existing tree. It's almost like its own tiny park where people can gather in the shade with their pets and socialize.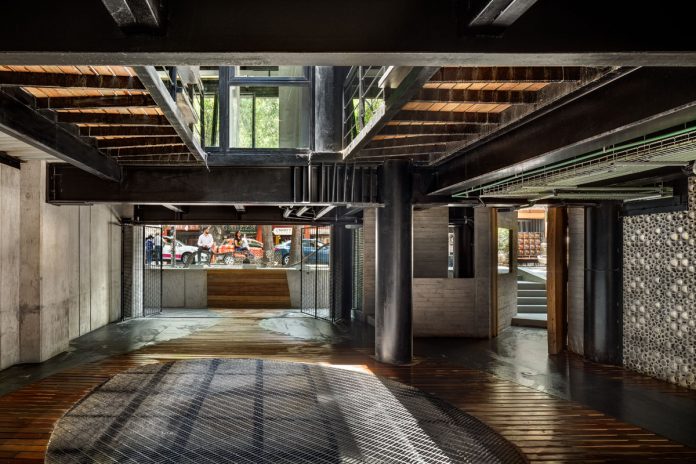 The front entryway leads to a flexible space located a half-level down from the sidewalk. The space can be used as a common area for residents or reserved for exclusive events or gatherings. The flexibility in use also allows for a gallery, forum or a place for interacting during the Condesa-Roma Cultural Corridor, reaffirming the idea of neighborhood living.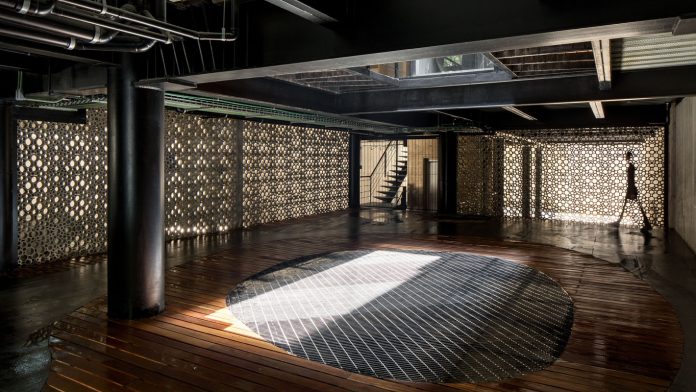 From a private residential perspective, the building consists of 8 apartments, 2 townhouses, 2 penthouses, a roof garden and 2 subterranean parking levels. The units range from studio lofts to the two-level townhouses and penthouses. The configuration from the front is of 12 cubes stacked three wide and four high. Depending on the size of the unit, each one faces the street, the back or both, exposing each one to ample daylight.
The building is a modernist juxtaposition to much of the 18th-century surroundings with the use of exposed finishes. Metal columns painted black, exposed intermediate floors made of corrugated metal, exposed concrete ceilings, and a main façade of perforated siding panels and pewter details serve to differentiate the building from the surroundings. But the spirit of the building with its public/private emphasis offers a unique perspective on the progressive Roma Norte neighborhood lifestyle and help it blend in with the existing fabric of the district.
[Photography by Rafael Gamo]