The Nu Hotel is the new destination for travelers in Brooklyn.
While Brooklyn neighborhoods like Williamsburg and Park Slope get a lot of attention, there is another cluster of well-known neighborhoods including Cobble Hill, featuring Restaurant Row; Carroll Gardens, with its parks and Italian heritage; and downtown Brooklyn.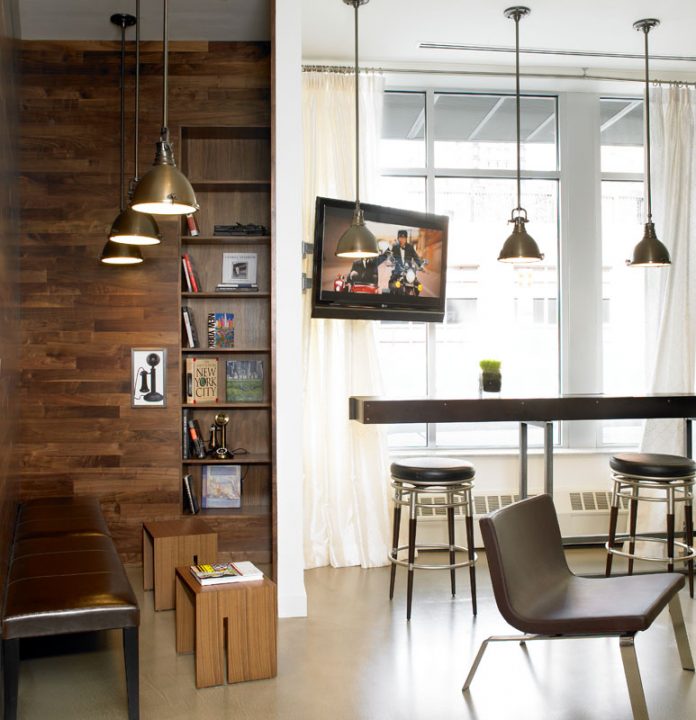 Nu Hotel opened this July and sits squarely at the intersection of these three neighborhoods. The hotel was designed to reflect the sensibilities of the area giving visitors an authentic Brooklyn experience by way of found-object décor, local art and stenciled quotes uttered by famous Brooklynites on the hotel walls.
The Nu Hotel is modern in design, maximizing space and creating a light, airy feel throughout the hotel. Guest rooms are available in three styles: the Nu Standard, the Nu Friends Suite and the Nu Urban. Nu Friends Suites are equipped with bunk beds and modular furniture adaptable for friends and family. Nu Urban Suites feature a cozy bed niche with leather surroundings, a sitting area and a cotton hammock for relaxing while listening to the in-room sound system. All rooms are equipped with 32″ flat-screen televisions with jack packs to dock audio, video and computer electronics.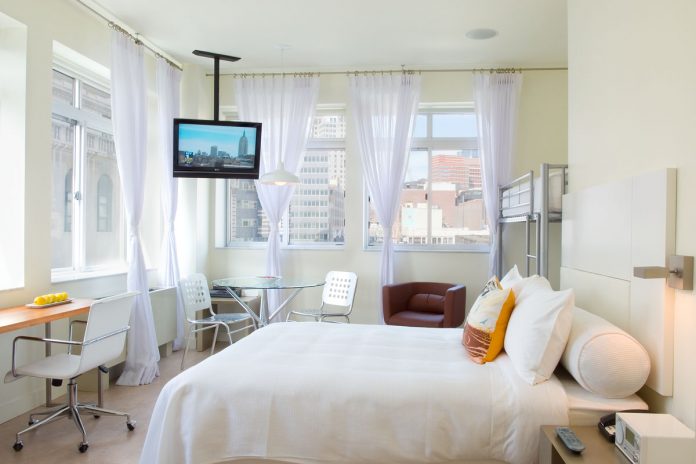 Complimentary WiFi is available throughout the hotel and, for low-tech communication, the bathrooms have chalkboard walls for guests to leave notes.
In addition to presenting a modern, spacious space, Nu Hotel reflects a commitment to eco-friendly living. Cork flooring is standard in every room, as well as organic bedding materials. The hotel also features custom furnishings crafted from FSC-certified, sustainably harvested teak wood. The Nu Hotel also offers bike storage and bicycle use service for guests interested in exploring Brooklyn under their own power.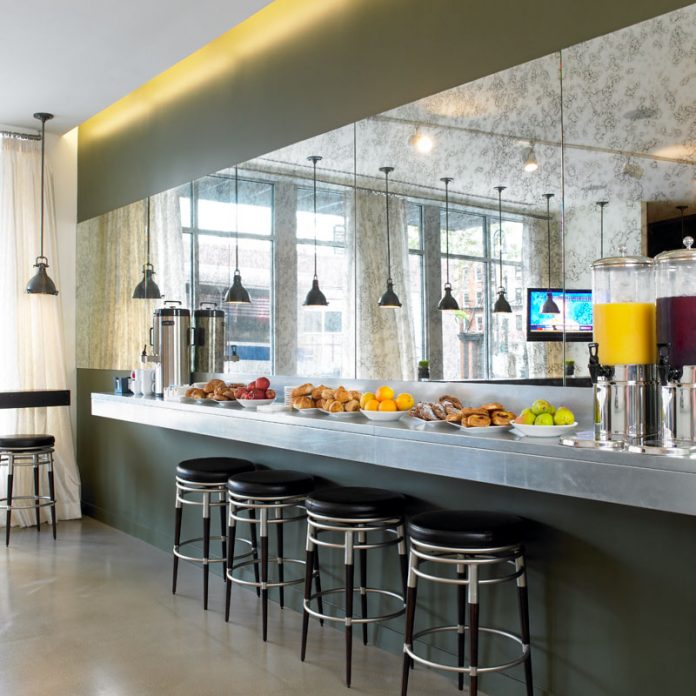 In the morning, guests are treated to a continental breakfast in the lobby. In the evening, the lobby plays host to Nu Bar, serving café beverages, cocktails and light fare. Nu Gym is well equipped with the latest cardio equipment, free weights, yoga/Pilates mats and boxing bag.
The Nu Hotel gives travelers looking for a unique boutique hotel experience a reason to look past Manhattan and settle into the heart of Brooklyn.