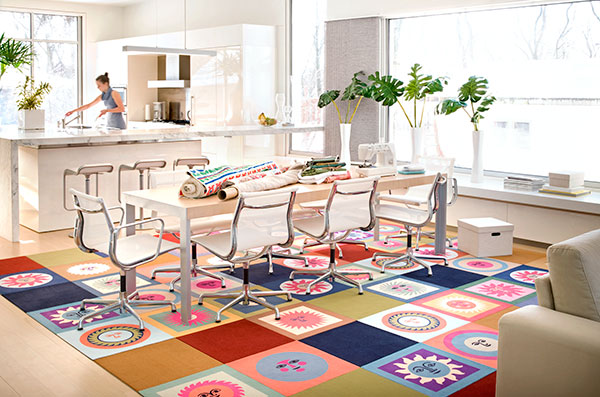 No matter the color, make sure it's green.

While crisp, white walls and concrete floors may be the prototypical finish choices for a modern house, some may want to add a bit more flair. But most products that brighten up your home are notorious for releasing toxins and things generally bad for your health. If you are searching for ways to colorize your home but the offgassing toxins are a bit more than you bargained for, fear not stalwart modernists. Floor to ceiling, color can be found in many different forms, all of which will help your house become as healthful as possible.
The adverse qualities of many interior household treatments are volatile organic compounds, or VOCs, which include chemicals that may have ill health effects. We notice them when we paint or install new carpet and smell that faint chemical smell for a period of time. Unfortunately, even after the smell goes away, VOCs continue to release, creating long-term problems. Stacey Champion, a local certified indoor environmentalist, asserts that it is a common fact that our indoor environments are often far more polluted than the outdoor air we breathe–on average two to five times higher, and in some instances up to 100 times more polluted. Here are a few products designed with health and desire for color in mind.
Flooring
Perhaps the greenest choice for flooring is plain old bare concrete. Think about it: no plastic carpet pads, no toxic glues to hold down wood or tile–nothing but the pure structure. However, if dull gray isn't in the color palette, staining concrete is a viable alternative. Soy-based concrete stains such as SoyCretetm allows hues to be chosen without filling homes with noxious chemicals like hydrochloric acid. These colors can be muted and earthy or bright and lively, and they are fairly easy to do for the adventurous do-it-yourselfer.
For more padding underfoot, Marmoleum™ adds comfort as well as vibrant color and pattern options. Yes, it is linoleum, but it is a far cry from the unhealthful vinyl linoleum of older days. Made from linseed oil, rosins and wood flour backed with a natural jute backing, Marmoleum™ is naturally anti-static and prevents the accumulation of dust and household mites. It's also incredibly easy to clean.
Once the basic flooring has been chosen, warming up the space is easy with FLOR modular tiles. FLOR tiles are an eco friendly choice for a myriad of fun choices. FLOR, in business for five years now, was launched as part of Interface Inc.'s challenge to become a more sustainable company. The tiles are made with recycled content, are non-toxic and formaldehyde-free, and they are designed to be recycled in the future. New designs inspired by Alexander Girard's bold, whimsical patterns are a timeless addition to the FLOR tiles.
Walls
While there are many new paint brands being touted as healthful for the home, YOLO Colorhouse paint is one of the few truly zero-VOC paints available. Virginia "Yo" Young and Jamie "Lo" Lowe, the two visionaries behind YOLO Colorhouse paint and painters themselves, were beginning to feel the effects years of working with latex paint was having on their health. After looking at the ingredients in traditional latex pain, there was no going back. Working together with scientists and experimenting with clay and milk based paints, they developed a zero-VOC paint for the YOLO Colorhouse line with colors inspired by nature. They recently launched little YOLO, a washable color palette designed for children's bedrooms.
Wallcoverings are slow coming to the green stage. But over in the UK, Dominic Crinson is whipping up designs for eco-friendly wallcoverings faster than you can say volatile organic compound. Winner of the Designers Choice Best Designer Award in 2006, Crinson's flamboyant and colorful designs are inspiring people worldwide. His innovative use of materials is evident in his wallpaper. Created from a blend of textile fibers and cellulose from FSC-certified sustainable forests and printed using water-soluble inks, Crinson's stunning designs are also 100 percent recyclable. A fresh, modern palette includes colors like Marigold, Caviar and Strawberry tones and vivid patterns bring life into any space.
Whether starting with a new house or making small changes to a current home, there are many options to make the home just a little bit more healthful. With so many color choices available, the modern homeowner can express themselves a lot more freely.