Nothing adds a little pressure like performing for your peers. Even the most experienced singer might be nervous performing for other singers or a photographer showing his work to other professional photographers.
When Los Angeles-based CHA:COL was hired by HR&A, a leading consulting firm specializing in economic, real estate and urban planning, to design their LA office, they knew they had to 'bring it' since many of the people working in the office would be architects themselves. The new office located on the 29th floor of a downtown LA high-rise immediately presented CHA:COL with several constraints to work around.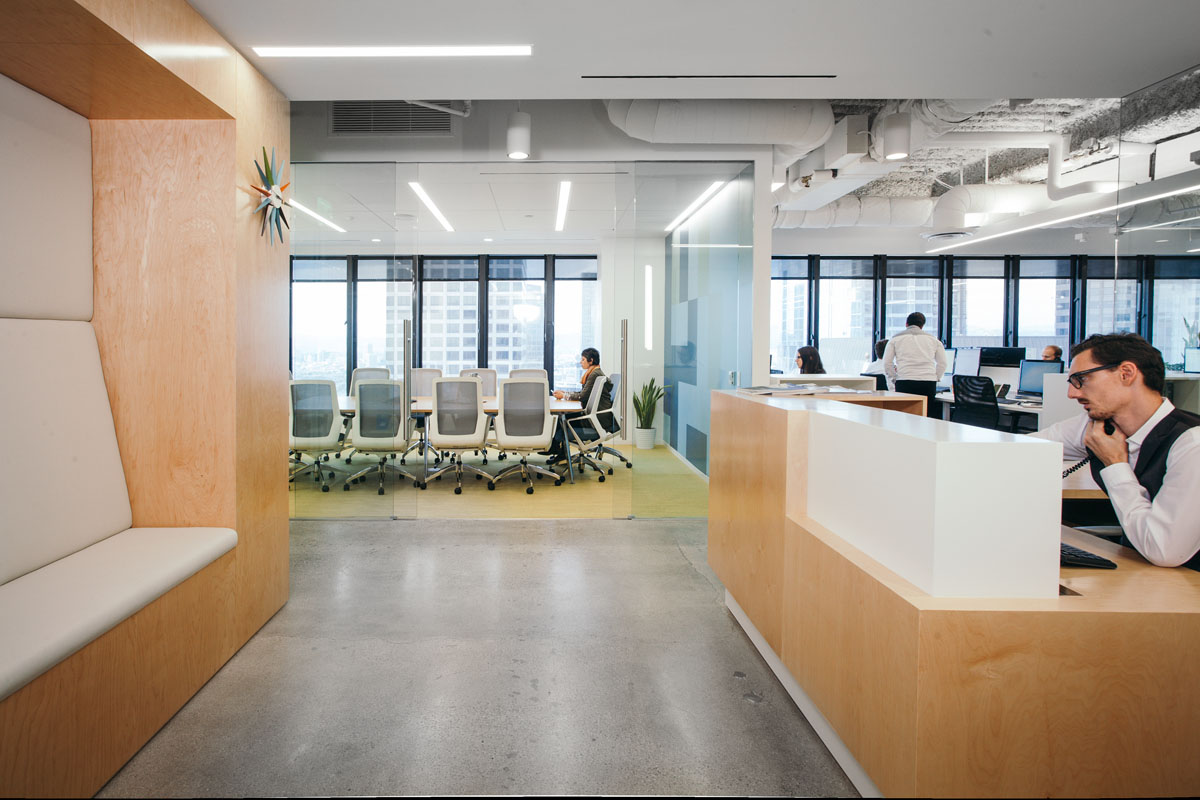 The first set was time and budget, while a fairly typical constraint, it was something that still needed to be addressed throughout the planning and execution. Perhaps more problematic were the physical constraints. The new office space was a relatively small 2500-square-feet. The good news was: it was on the corner with large windows on two sides. The bad news: it was on the corner with large windows on two sides. This limited design and placement of workspaces since the goal was to not block light or views and keep the office open and airy.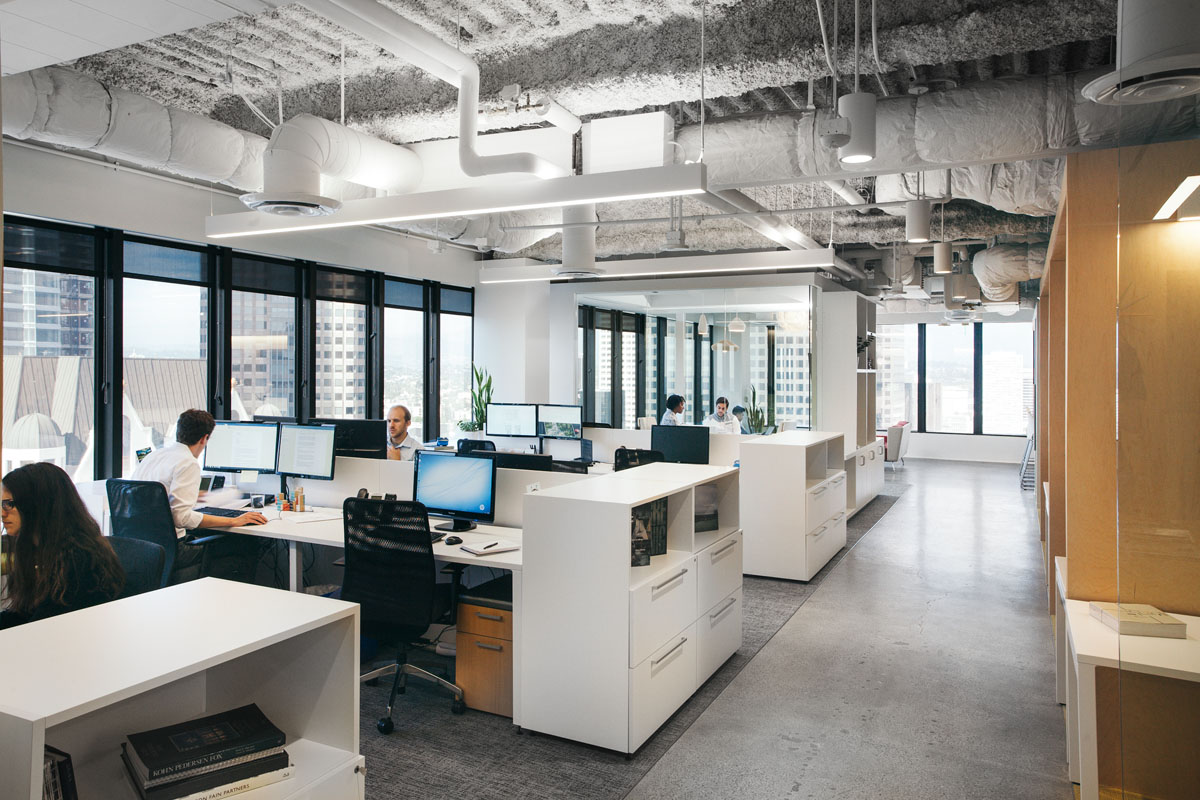 Despite the size, the client was adamant about having an open workspace culture while requiring that workspaces for senior staff be separate, yet door-free and accessible to everyone. The solution was a space plan based on pairs–positive and negative aspects based on more open or more contained spaces.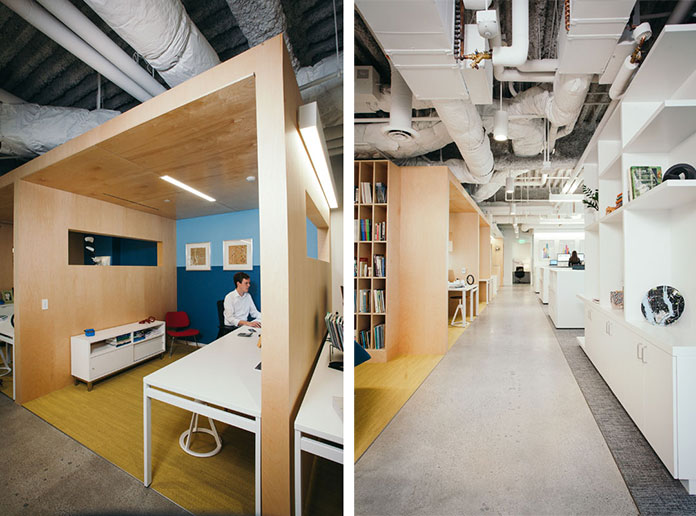 Along the wall, three primary boxes were designed as the enclosed areas creating the semi-private workspaces for the senior staff. Past those spaces is the acoustically private phone booth and break kitchen and lounge area for the staff. The main open workspace is across from the semi-private offices creating an open dialog between the two areas. For collaboration and conferencing needs, two conference areas, large and small, were designed on the window side and enclose mostly with glass to avoid blocking light.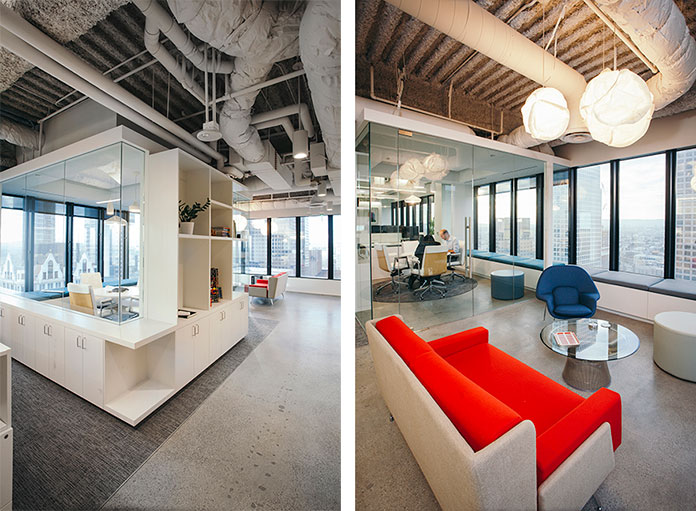 The ceiling was left open, exposing the infrastructure, initially because of budget but CHA:COL turned it into a positive by using it to delineate the spaces. By painting it white and leaving it exposed over the lounge and open workstations, those areas are more light and airy, while the conference rooms and semi-private workspaces were given finished plywood ceilings with slots for integrated lighting. In addition to the natural finish of the plywood, accent bands of blue paint were used in the otherwise white office to pay ode to the sandy beaches and blue skies of California.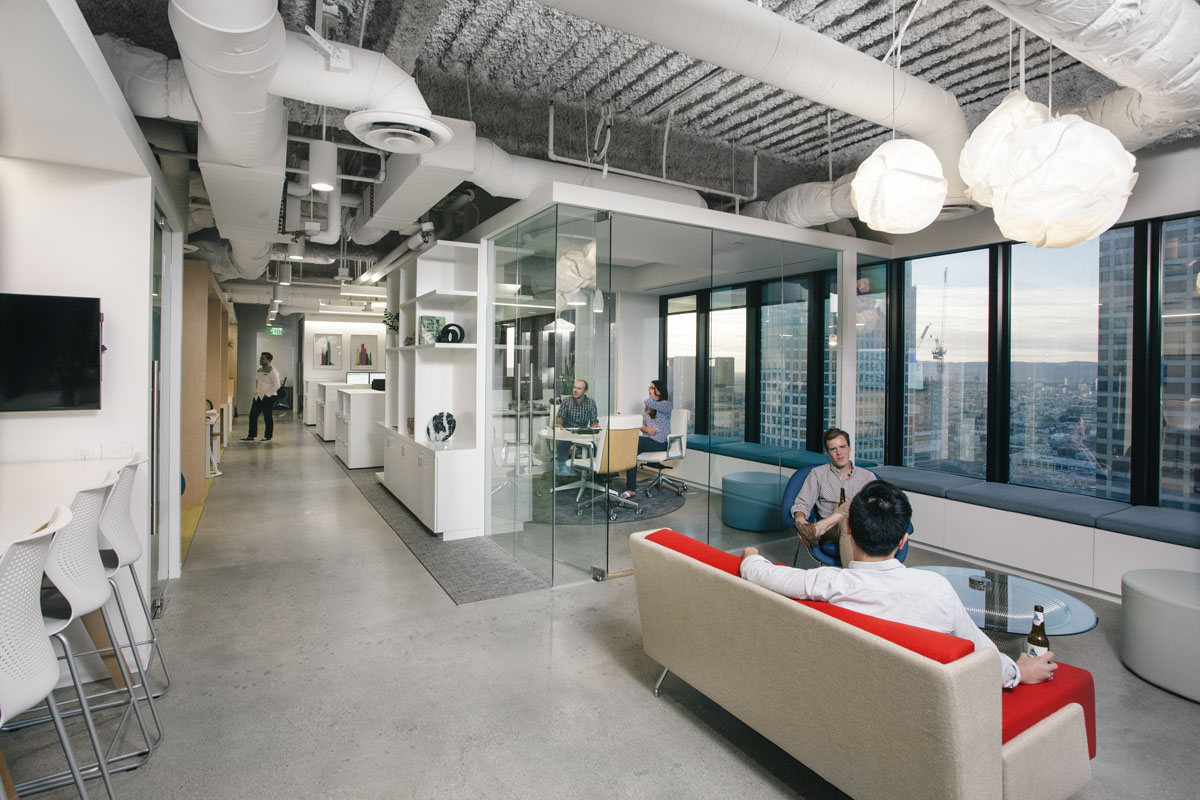 While the office boasts fantastic views of Los Angeles, those blue skies can be appreciated most from the lounge which is strategically placed at the dramatic corner of the office offering a panoramic view of the city. This is the area where the office inhabitants can mingle and reflect on the scale of work they perform and their unique place in the city of Los Angeles.
[photography by Edward Duarte]