I used to live in LA, right on Fairfax below Wilshire, easy walking distance to museum row on Miracle Mile. I would walk by the Peterson Automotive Museum every day on my way to the gym and even grab a quick burger at Johnny Rockets at the museum. It was a pretty unremarkable building.
Then the renovation started. I watched with interest as the red corrugated panels were installed over the old stucco façade. A definite improvement. Then I observed the installation of the floating stainless steel roads/racing stripes/zebra stripes or whatever they are. Like many others, I was a bit puzzled. But, I decided to reserve judgment. I left LA in August of 2015 and the Museum reopened in December so I didn't get to see the final product first-hand, but the exterior was pretty far along.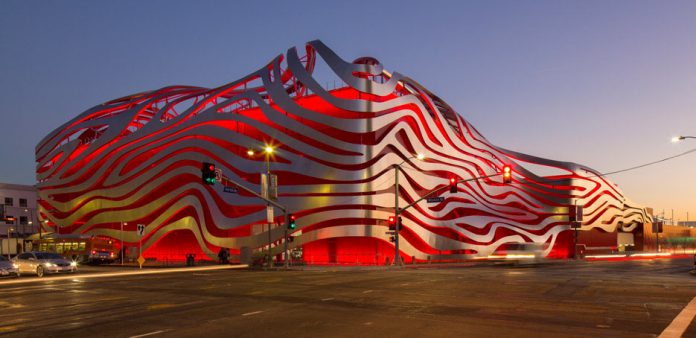 The façade was designed by New York-based firm Kohn Pederson Fox to be a statement, using the original structure and converting to a hot-rod red box wrapped in a series of churning steel ribbons, which are meant to evoke a sense of speed. It is definitely a statement, but many disagree about what it has to say.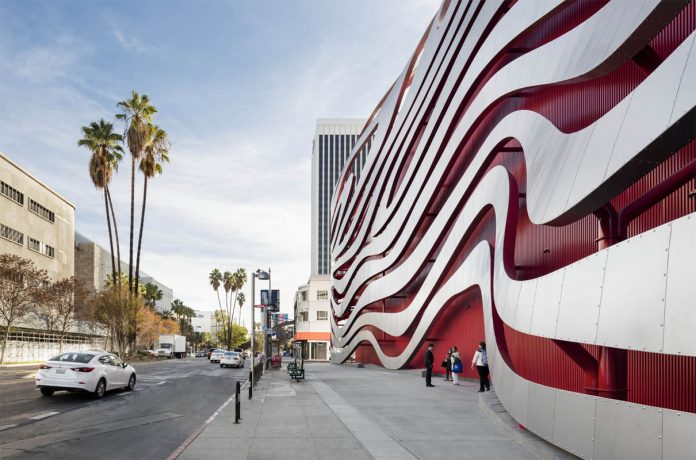 Reviewers have called it "kind of hideous," "the Edsel of architecture," and "the Guy Fieri of buildings." Many have complained that it's not a very dignified beginning to Museum Mile. LA cultural critic William Poundstone asked, is it "too Vegas for the Pritzker-ified Museum Mile?" First, while the designers of the LACMA and Motion Picture Academy Museums across the street are Pritzker Prize-winning architects Peter Zumthor and Renzo Piano, neither architects won for buildings on Museum Mile. Second, I don't think Peterson is Vegas as much as it is pure LA.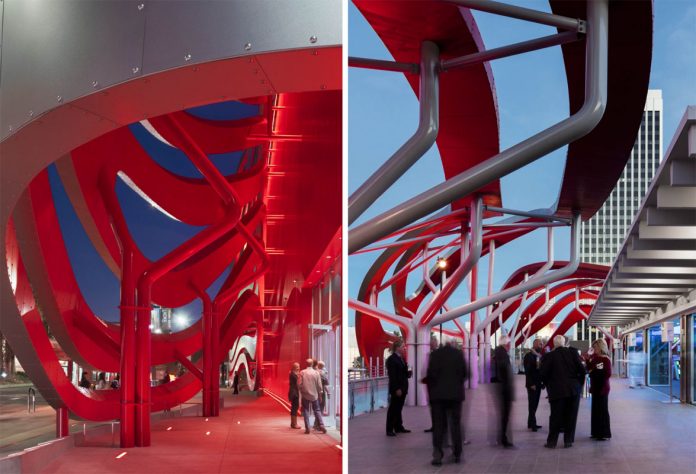 The idea that architecture on the Miracle Mile is dignified, is a little ridiculous considering the randomness surrounding the Petersen such as the golden cylinder of the May Company building, Johnie's Coffee Shop (a historically protected filming location that hasn't served an actual patron in decades), the La Brea Tar Pits, Michael Heizer's boulder, Chris Burden's lamps, a section of the Berlin Wall, and soon, the alien inspired orb by Renzo Piano and the LACMA spaceport by Peter Zumthor.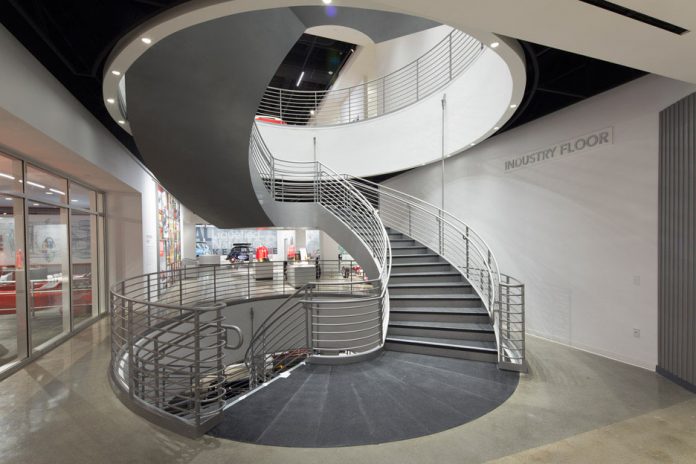 Architecture students are taught that good architecture should have a purpose. If every design decision doesn't have a rationale behind it, it's just sculpture. This façade is exactly that, sculpture. The steel streamers attract and move the eye and smooth out the edges of the box contained within. The façade serves no structural purpose. It's not timeless architecture, it's great marketing. It attracts attention, communicates motion, and embraces its own superficiality which makes it the perfect reflection of the character of LA.
[photos by KPF]