The Lima Art Museum New Contemporary Art Wing is conceived to form a spatial counterpoint to the Exposition Palace in Lima, Peru. Designed by Efficiency Lab for Architecture, the design has already won the AIA NY 2017 Design Award and the 2016 World Architecture Design Award.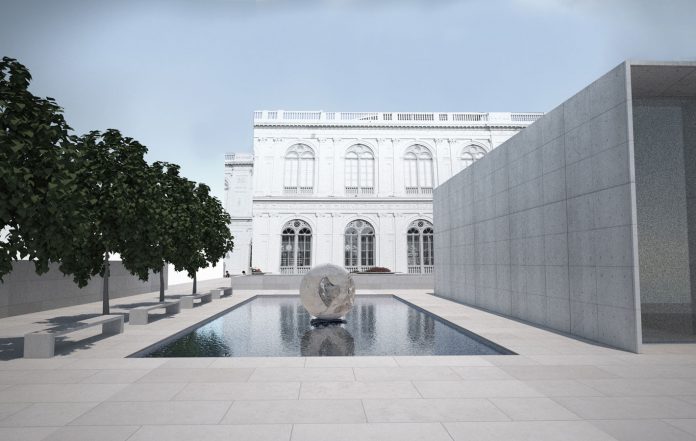 The New Contemporary Art Wing Expansion to the Lima Art Museum located in the 19th century Exposition Palace, creates a strong architectural dialogue between the historical structure and the new expansion; they connect without touching. The project requirement to create a below grade expansion to the current museum without touching the historical structure below or above grade, resulted in a careful exploration of how to spatially connect these two buildings that cannot physically connect.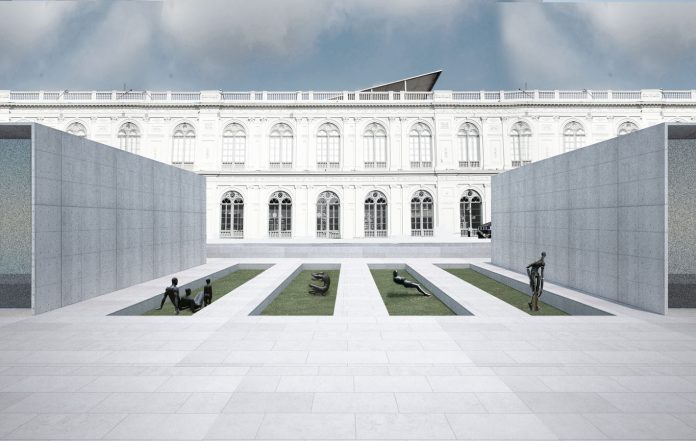 The new expansion is conceived as an architectural counterpoint to the historical museum, by creating echoes of the historical structure throughout the project. While establishing a respectful relationship to the historical context of the site, the proposed new expansion creates a strong architectural presence that augments the experience of the historical context and offers a rich series of spatial interventions to engage the urban context.
The solid and void rhythm of the historical façade of the Exposition Palace forms the basis of the architectural language of the New Contemporary Art Wing. A series of concrete frames matching the cadence of the historical facade are created directly facing the historical building. This is the only above grade architectural expression of the new expansion: a series of concrete windows framing the landmark building.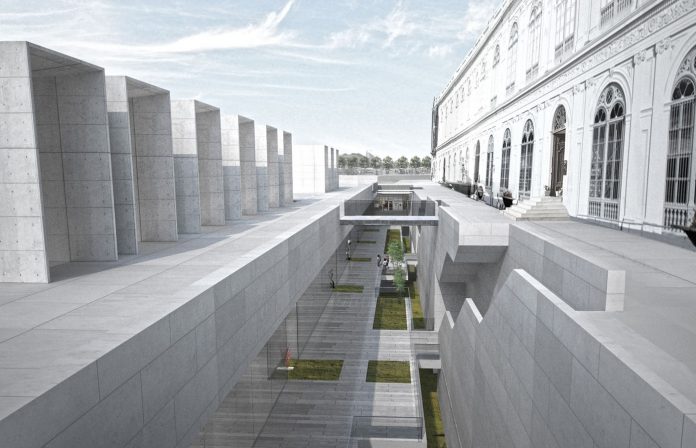 These concrete frames act both as structural beams to achieve column-free galleries below, and as skylights to bring in daylight and allow framed views. Throughout the different levels of the project, there is always a visual connection back to the Exposition Palace.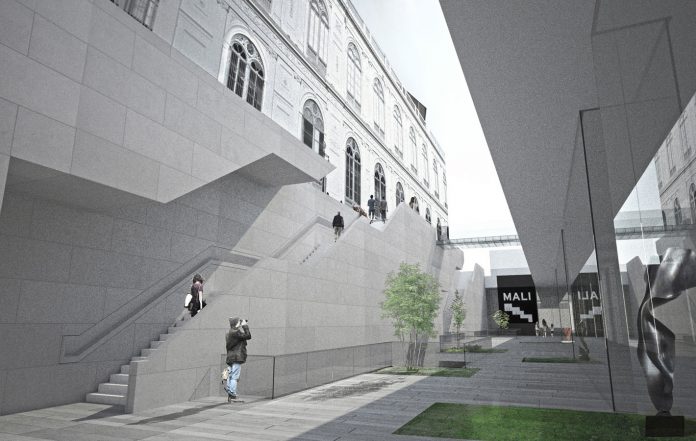 The project creates a sunken plaza that runs the entire length of the museum, between the Exposition Palace and the new contemporary art wing. This public space connects directly to the adjacent metro station which is the major pedestrian entry point to the museum and the Exposition Park. Located at the same level with the contemporary art galleries, the sunken garden is conceived as an extension of the museum, engaging the public that is walking to and from the metro station.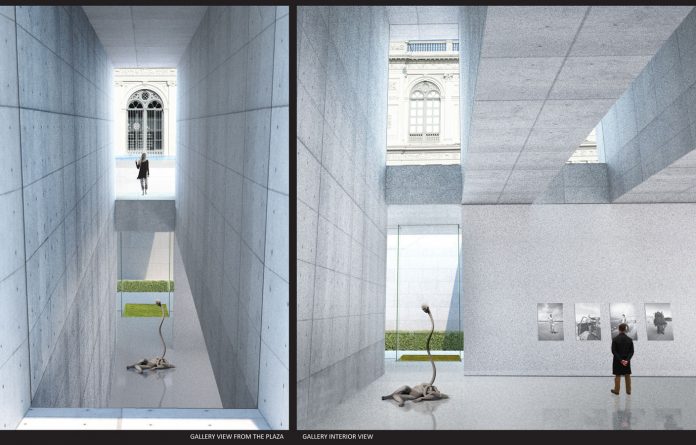 In addition to the new art galleries, the new expansion houses an education wing, comprised of classrooms, workshops and a library. The education wing is located below the galleries with a dedicated entrance at grade facing the existing education wing of the museum.
The echoes of the Exposition Palace resonate throughout the new contemporary art wing at varying scales and levels. Looking up from the new galleries, the visitors will see the framed views of each corresponding bay of the historical façade. Coming from the metro station, into the sunken plaza, visitors will see the grandeur of the Palace stretching the entire length of the sunken plaza.