In the heart of the agricultural land in the Midi-Pyrénées region of France lies the unassuming village of Mazères. Mazères is home to a little over 3000 inhabitants, including a family who purchased a large farmhouse in need of a modern update. For the renovation, the owners commissioned architect Hugues Tournier to design a modern interior to fit their minimalist modern lifestyle.
The exterior of the old house was restored to its original look with stone and brick walls, red roman-style tiled roof and new wooden shutters for many of the windows and doors.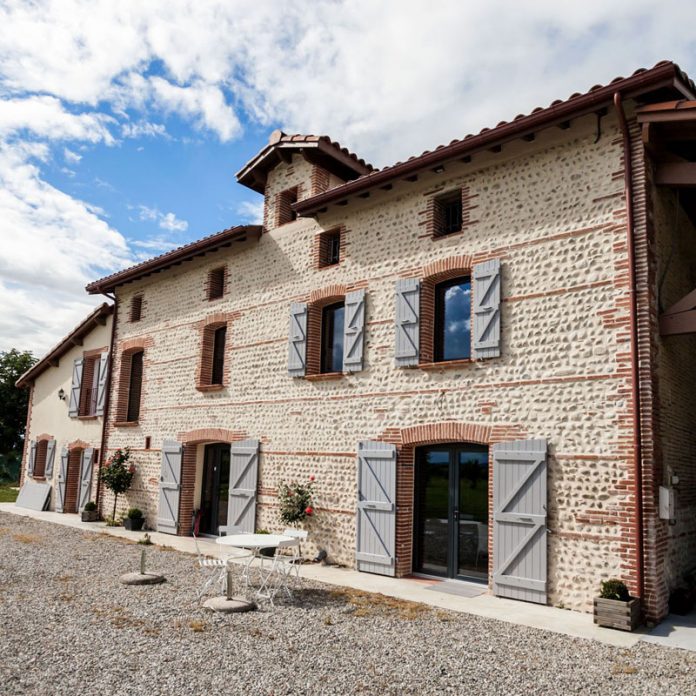 The interior of the farmhouse was hollowed out to create an open volume for the interior structure to be built. The ground floor includes the kitchen and dining rooms and a sunken living room with a fireplace. To keep the space more open, a steel-framed structure was designed for a second-floor entertainment loft above the living room. The entertainment area is open to the overall volume of the farmhouse and seems to float above the living room with a partial glass floor to let in light and create the illusion of higher ceilings.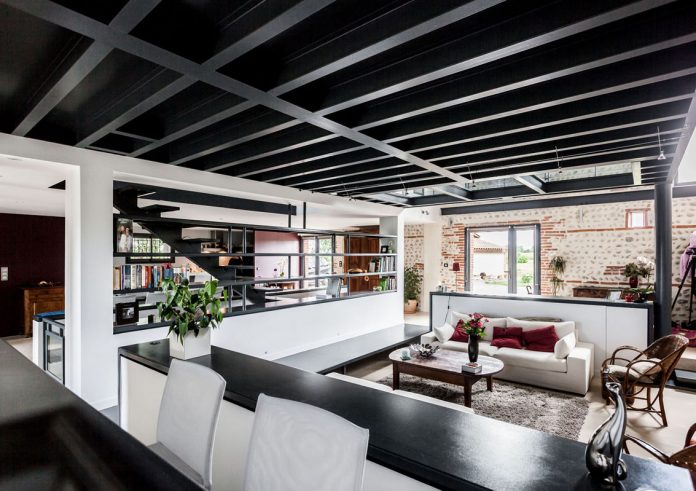 A steel stairway between the living and dining rooms leads up to the second floor to the loft on the left and three bedrooms and a bathroom to the right.
Above the entertainment area, a third-floor master suite is encased in smooth white walls and vaulted ceilings.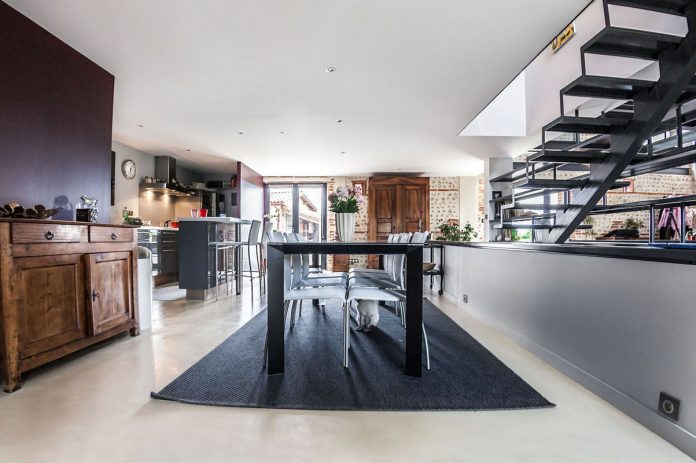 The clean lines of the charcoal gray steel structure and surface tops along with the white walls of the interior provide an interesting juxtaposition to the original brick and stone shell. Much of the interior structure was designed to be open from floor to ceiling and provide an abundance of natural light throughout the house.
The original footprint of the farmhouse was 40 x 40ft. By using the full volume of the old farmhouse, the architect was able to create 3,770 square feet of living space for a growing family in the French countryside.
Jealous? I know I am.
[Photography by Delmur Photgraphie.]