Architects name their projects in many different ways from the location or client to some sort of defining characteristic.
Based on its characteristics, this ultra-modern house by Tel-Aviv-based architecture firm, Pitsou Kedem Architect, couldn't be named anything but the Float House and make sense. Not only is the house surrounded by water and reflecting pond, the roof is designed so it seems to float above the house. Stay with me, now–we'll get to it.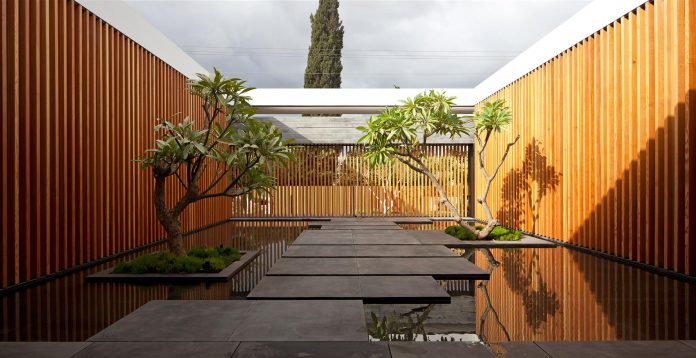 The entrance is pretty extraordinary and gives the visitor the first 'float' experience. The entrance 'lobby' is a small courtyard framed with a wall of vertical wood slats acting as a soft seam between the inside and outside. The courtyard is filled with a transparent pool of water with huge basalt slabs creating the pathway. The slabs and two trees seem to float on the water and the glassy surface of the water reflects the entryway to the house and adds to the illusion of the floating house.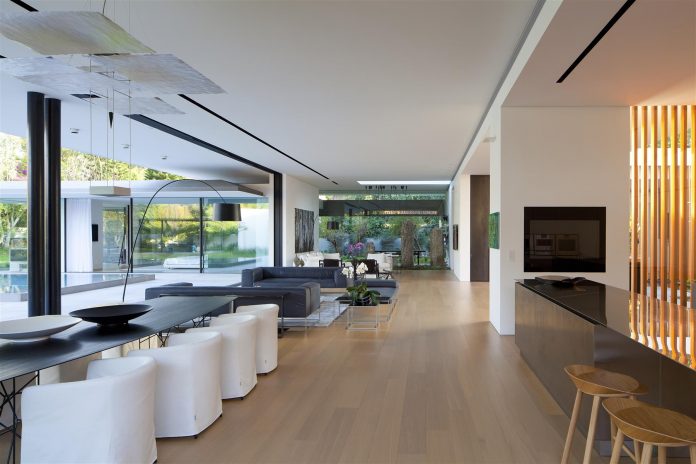 The house is reminiscent of a modern ranch house; one level and proportionally low and long wrapped around a central courtyard in the back. Much like the entryway, the entire house consists of open spaces that blur the lines between inside and outside. This is done initially by opening up the spaces facing into the courtyard with floor-to-ceiling windows and by designing the structure itself with a continuous, wide space, divided by movable partitions.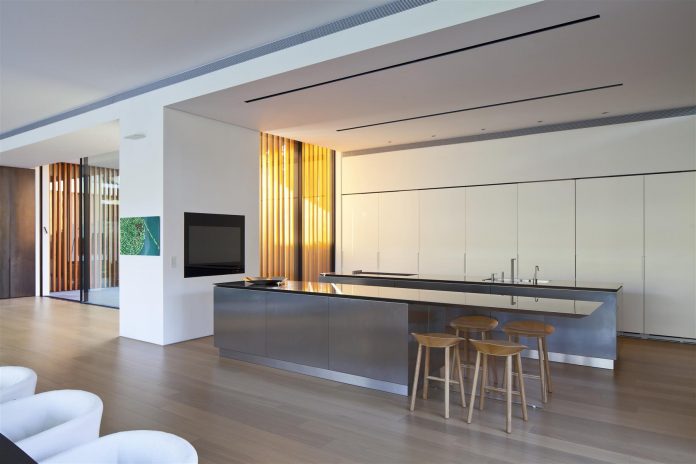 The main part of the house is a full-width, huge open volume with only the furniture arrangement diving the functions of each area. Upon entry, the main sitting area invites guests to sit and socialize. To the left is the dining area with a long dining table and a minimalist bulthaup kitchen, complete with a 'floating' cantilevered breakfast bar.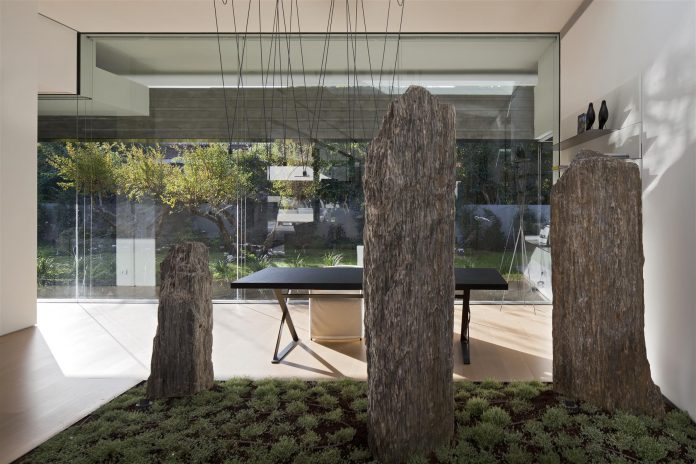 To the right of the entry is a more casual sitting area for watching TV and lounging. Past that is the more private area with a monolithic rock garden creating a delineation between the main space, the office area, and leads to the bedrooms.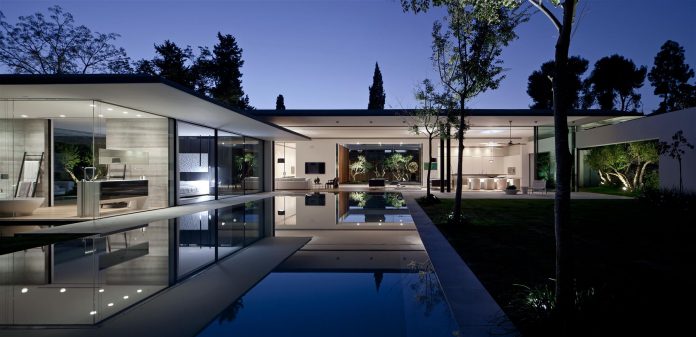 The different spaces and the internal courtyards are joined together by two ultra-thin roofs that merge into one another and extend 16-feet past the walls to further blur the lines between inside and outside. The entire roof is made of lightweight materials and the main support is one central column. To further the effect of the roof floating over the house, the roof is tapered at the edges to make it appear thinner and ribbon windows running along the top of the façade creates a visual space between the house and the roof.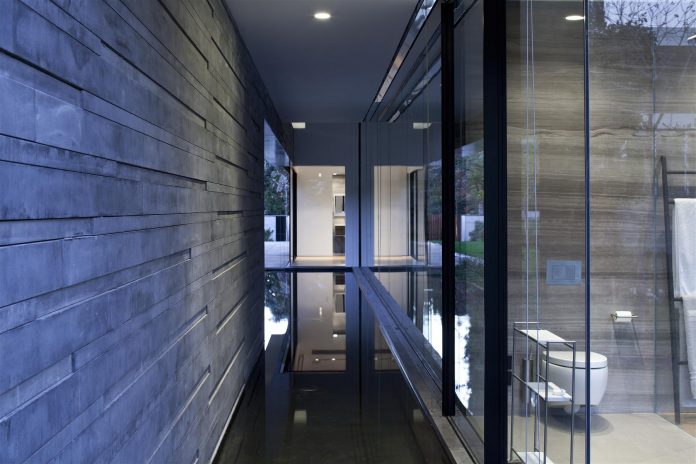 Out in the courtyard, a long narrow reflecting pool wraps around the master suite like a modern moat. There is also a large negative-edge reflecting pool for cooling off in the summer as well as the aesthetic properties. The yard is enclosed in vegetation, strategically lit for beauty whether it is day or night.
[photography by Amit Geron]