It's certainly not unheard of for an architect to consider all the details. One would hope that would be the norm. But, it is not as common as it should be that everything comes together so perfectly as it did for the Estrade Residence.
MU Architecture studied the area on the shore of Lac de la Cabane in the Laurentians, a lake dotted wilderness north of Montréal, to design a house that was in complete harmony with its environment. The site was a moderately steep and rocky slope leading down to the lake. We're not talking rocks that you can skip across the surface of the lake, we're talking boulders. Rather than fight to topography and try to reshape it, the architects decided to highlight the characteristics of the site.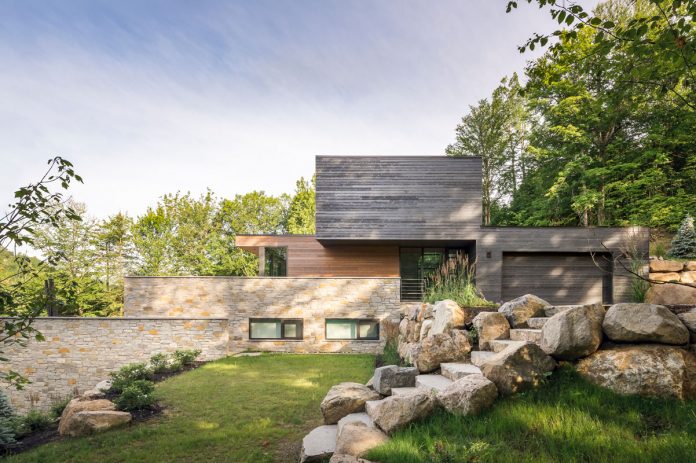 The architecture takes the form of a rocky crest, cascading down to the lake with seemingly discreet volumes that alternately anchor, skirt, or levitate on the unevenness. The staggered layout produces terraces overlooking the site creating a communion between the architecture and the surrounding wilderness.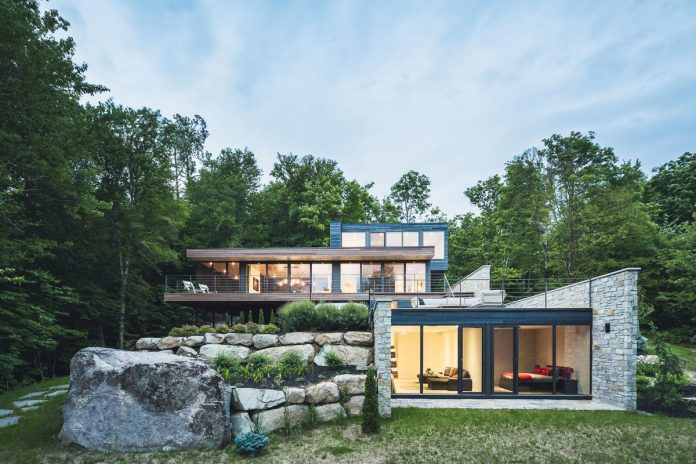 Further blending of the modern architecture and nature is accomplished by the use of natural materials from the area. The top mass over the main entryway is clad in black cedar while the rest of the home is clad in cedar with a natural finish. Long walls of natural stone extend from the hillside containing the rooms on the lower floor. The rocks and boulders that were excavated from the site were reused in the architectural landscaping of the yard around the house.
The main living area is located on the front entry floor containing the kitchen, dining and living rooms in an open floorplan. The floor, covered in natural wood, stretches over 60-feet in length with a floor-to-ceiling glass façade bathing the living area in natural light and offering panoramic views of the lake below. Sliding doors open up each area to the wooden deck floating above the lower floor.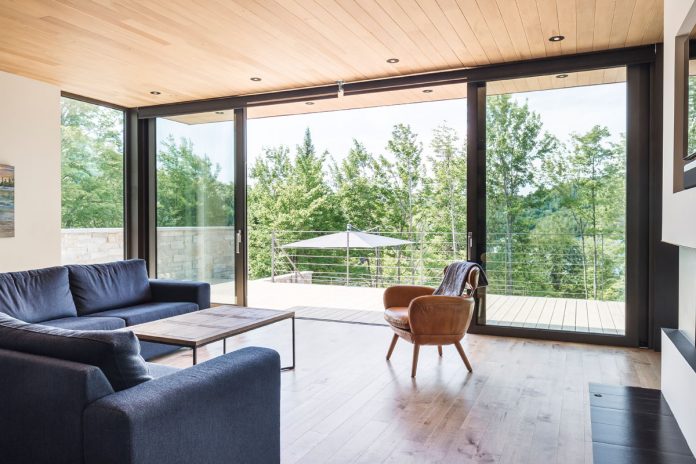 Speaking of the lower floor, the owners of this house are pretty smart. The children's bedrooms are on the lower floor, while the master suite is on the black cedar-clad top floor. The main living area is used as a buffer between the 'kid zone' and the 'parent zone'. The staircase is placed at the vertical intersection of the three floors, connecting the floors in asymmetrical flights.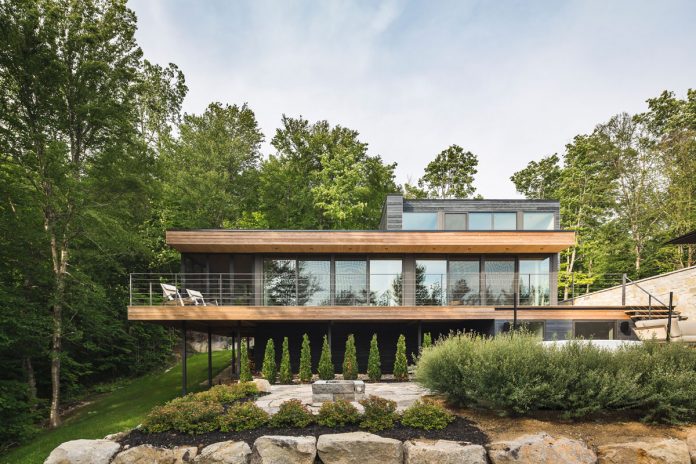 It might be risky to make this comparison, but the Estrade Residence evokes the spirit of Falling Water in its own unique way. The arrangement of the volumes and the integration into the environment through forms and materials minimizes the impact of the 3,600-square-foot residence and blends it harmoniously with its surroundings.
[photography by Ulysse Lemerise Bouchard]