It's never too soon to renovate.
The relatively new Dutch city of Lelystad (founded in 1967) is already experiencing a revitalization of its lackluster city center. Adriaan Gauze of urban design firm West 8, has conceived a new master plan designed to reflect an air of change, activity and enthusiasm.
Theatre Agora is an integral piece of that puzzle. Conceptualized as a place for movement, play and enchantment, the theatre is comprised of striking, jagged lines, innovative lighting and thought-provoking colors.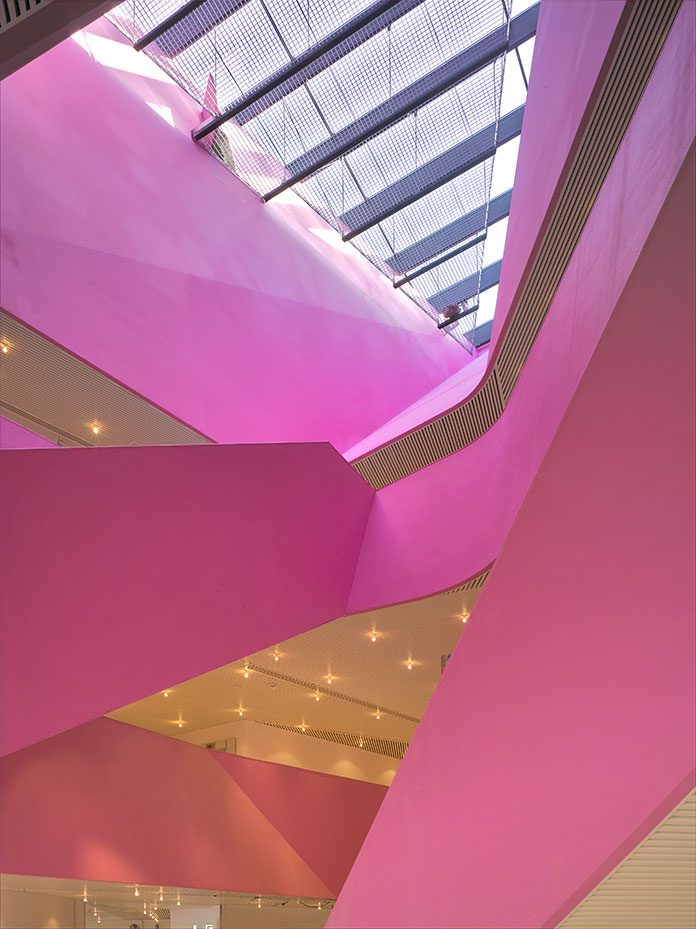 Theatre Agora is a cultural icon for Lelystad and one of the latest additions to the increasingly impressive portfolio of Amsterdam-based firm, UN Studio. The building consists of two theatres, dressing rooms, a number of interlinked and separated lobbies, a large vertical entrance hall, a café and a stage tower.
The visually striking building, within walking distance of the train station, has an easily visible 62-foot stage tower and a bright yellow and orange façade that covers the building consisting of flat metal panels, corrugated aluminum and aluminum mesh. The kaleidoscope-inspired interior walls and external façade all feature sharp angles and jutting planes.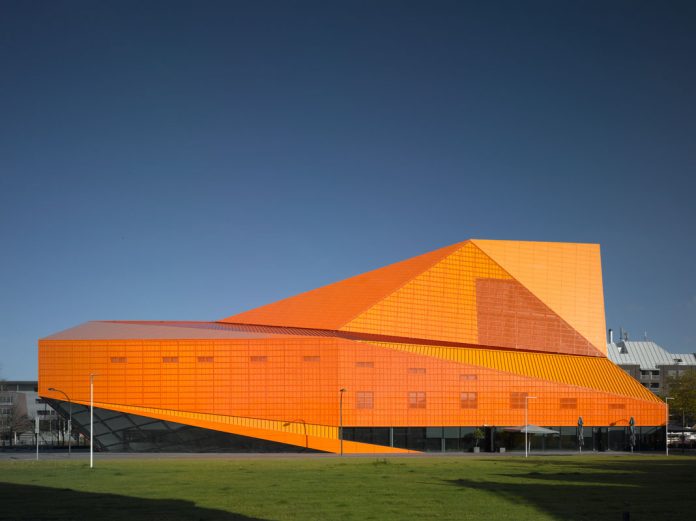 The lobby, extending up over two levels, features a sloping window offering patrons to views of the city skyline. The staircase connecting each floor wraps halfway around the lobby before extending up the wall to the ceiling like a ribbon, changing color from violet to crimson to pink to white.
The larger of the two theaters features 753 seats upholstered in red tufted nylon for acoustic purposes and red walls lined with concave and convex acoustic paneling. The theater's horseshoe-shaped balcony and vibrant acoustic paneling emphasize the intimate dimensions of the auditorium. The stage is unusually large for a city of Lelystad's size, thus enabling the theater to attract large, international productions.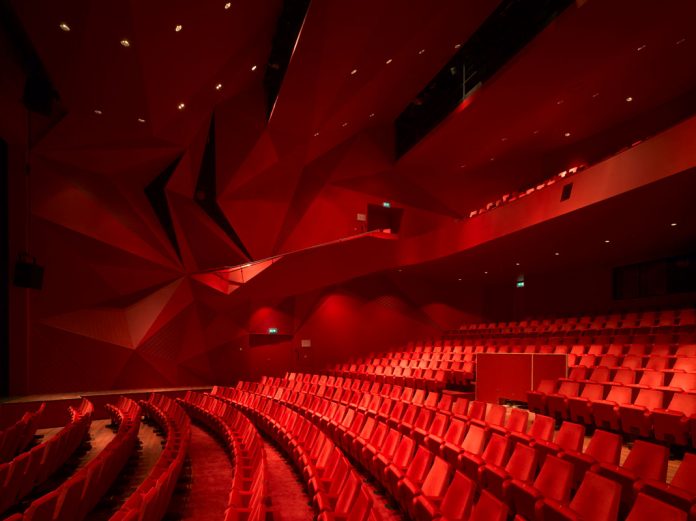 The smaller theater hall, which is set at a maximum distance away from the main hall for acoustic reasons, seats 207 people. The small theater also offers an adjoining party area.
Theatre Agora is an extremely colorful, undeniably upbeat place. It plays an important role during the day, as well as during the night in this young city. The clustering of cultural and social activities in this new quarter give Lelystad an outspoken cultural face, achieving the mission of revitalizing the pragmatic, sober city center.
[photography by Christian Richters]