Most of the Oak Pass House in the mountains above Beverly Hills is underground, but this is hardly a Hobbit hole.
The hills above Los Angeles are famed for their winding roads (think Mulholland Drive) and hillside properties begging for innovative architecture like Pierre Koeing's Stahl House (Case Study House #22) and the Eames House (Case Study #8) by Charles and Ray Eames. One of the newest additions to the hills has been completed on a 3.5-acre hillside property with panoramic views of the canyon, built amongst over 130 protected Coast Live Oak trees inhabiting the property.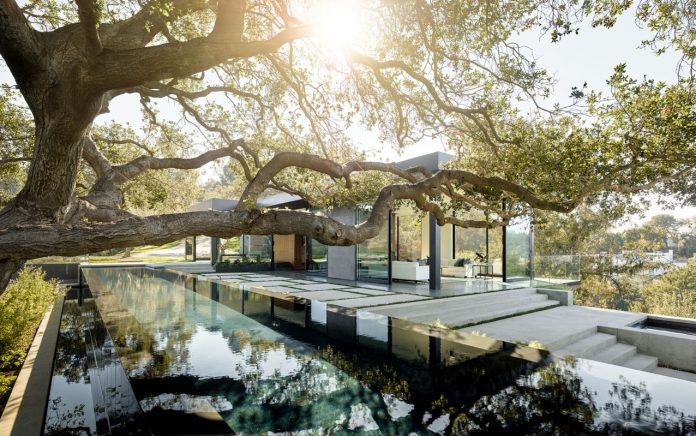 Los Angeles-based design-build firm, Walter Workshop was tasked with designing a new home that is in harmony with the site's topography, maximizing the inherent beauty of the trees and surrounding landscape. To achieve this, much of the house's mass is below grade with the top floor on top of the crest of the ridge and the lower floor built into the hillside. Rather than remaking the topography, the design focuses on maximizing the existing features of the property.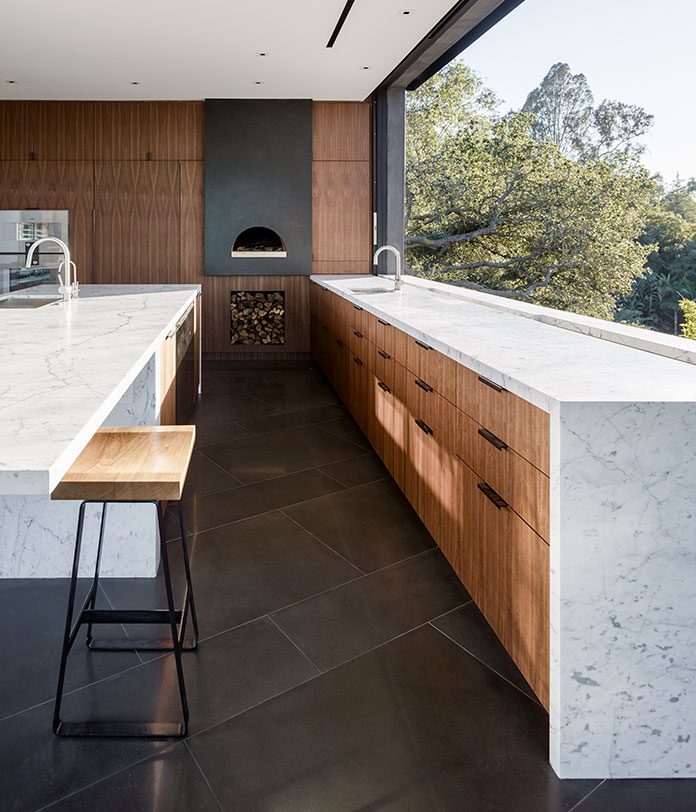 The upper level contains the kitchen, dining room, and living room. Each of the areas are rotated slightly to change the angle of the views to give a full panoramic effect. The kitchen is clean and modern with wood facings and marble counters. One of the kitchen highlights is a wood-burning pizza oven encased in steel. A three-step stairway leads down to the dining area from the kitchen.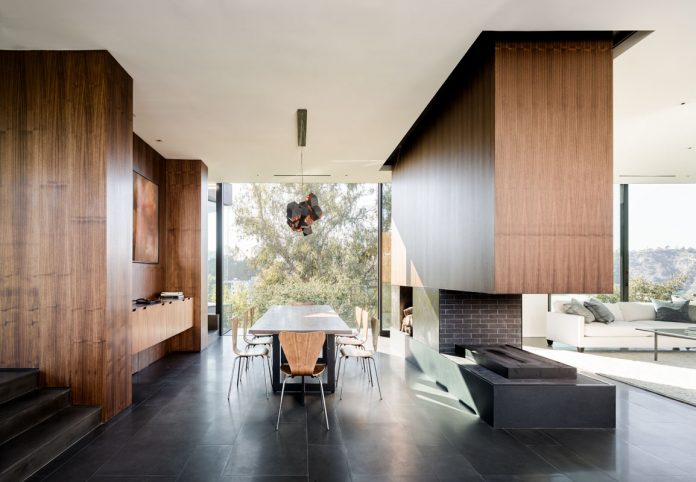 The volume containing the dining and living rooms is largely open with the two areas divided by a wall unit containing a gas fireplace. Spectacular views on both sides of the crest of the hill can be seen thanks to the floor-to-ceiling sliding glass doors that pocket into the walls opening the space completely to the outdoors. A concrete deck leads to a 75-foot infinity lap pool reflecting a nearby oak tree and the sky above.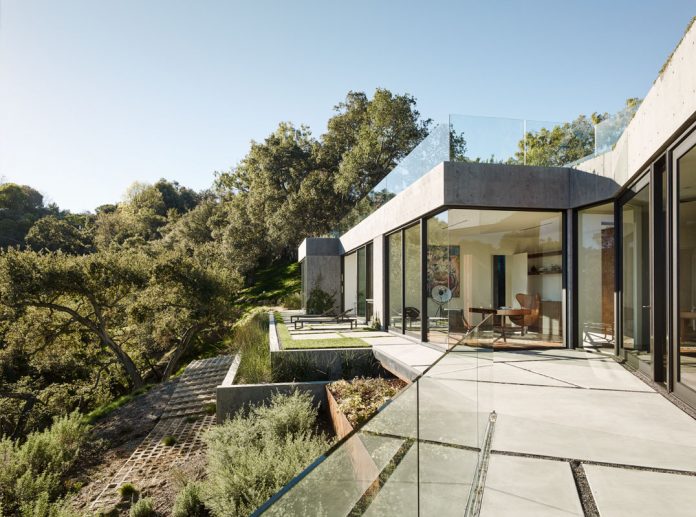 The lower level sits beneath a vegetated roof, blending into the hillside and rendering it invisible from different angles. A hallway leads to the bedrooms with sweeping views of the canyon below thanks the location on the side of the ridge. Large skylights bring additional light into the lower level ensuring plenty of natural light throughout. Flanking the hallway, a sunken courtyard lets in light and air from above and creates a smaller-scaled outdoor area for additional privacy.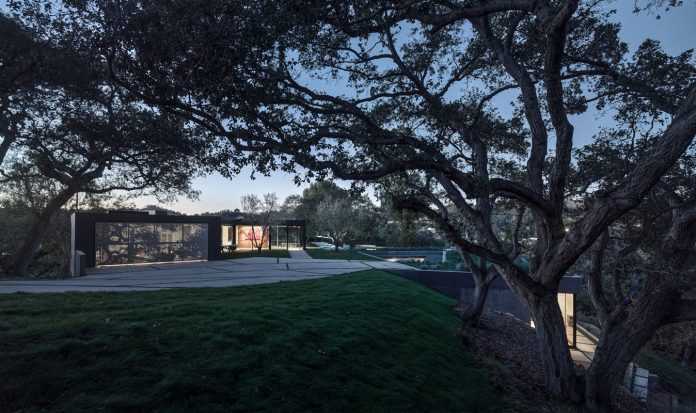 The structure is primarily concrete to blend with the rock-strewn landscape with stained wood floors and accents to bring warmth and further integrate the house into its surroundings. Walker Workshops expertly designed a house that respected the existing topography by alternately absorbing, reflecting, and merging with the site.
[photography by Joe Fletcher]