This is what I imagine going to the dentist on board an interstellar flight would be like.
Everything about the Bedford Dental Group offices screams futuristic science fiction movie. It's in Beverly Hills so don't be surprised if it's used in a scene from a Star Trek movie or the new Blade Runner movie if Decker goes to a nice part of dystopian LA.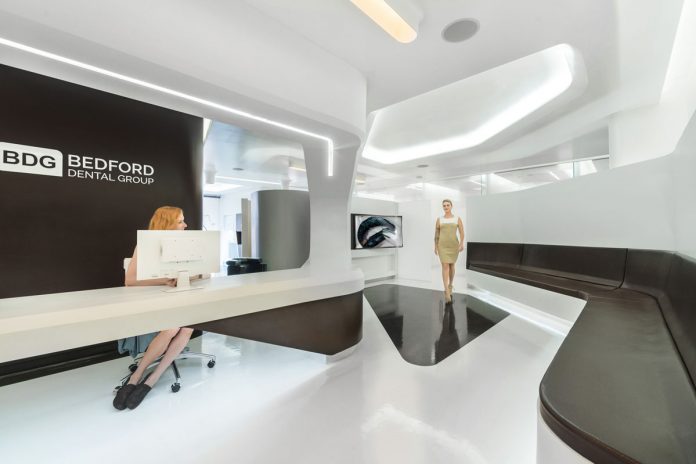 The dental office interior design was handled by Arshia Architects, Ltd who was just given the 2016 Los Angeles Business Council design award in Interior Design for setting new standards for design excellence, innovation and sustainability, and demonstrating the potential of combining beautiful architecture with environmental and health best practices (now that's a mouthful).
The overall theme of the space was the idea of an open dental office divided only by low partitions, built-in furniture, intensities of light, and, where physical separation was needed, ultra-clear glass.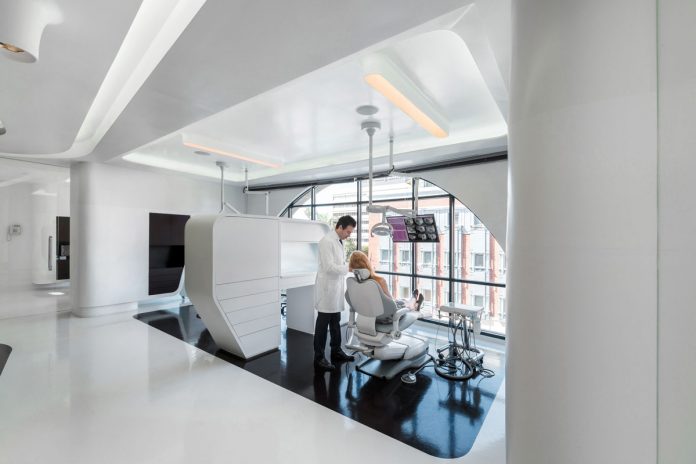 A large window provides natural light as well as a connection to the cityscape. Two open operatory areas are placed in front of the window while two private operatory rooms flank the open area with their own windows to the outside.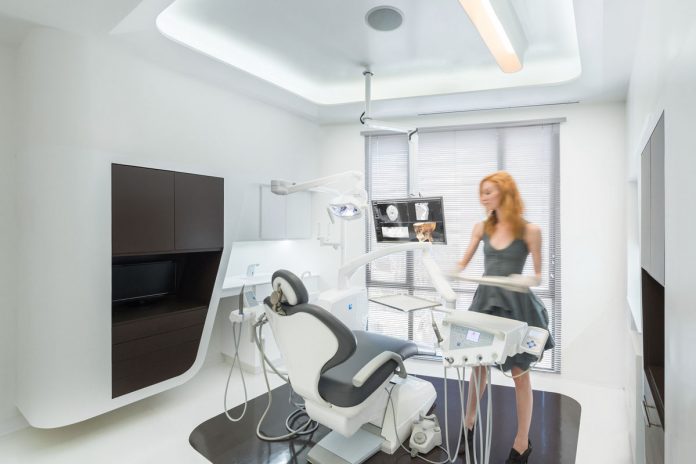 The entire visible office is a pristine white enamel accented by a sterilization room with gloss black outer walls and gloss black areas on the floor in the waiting room and operatory areas. The white enamel forms flow from the walls and ceilings hiding the infrastructure to reduce visual distractions and keep the office looking squeaky-clean.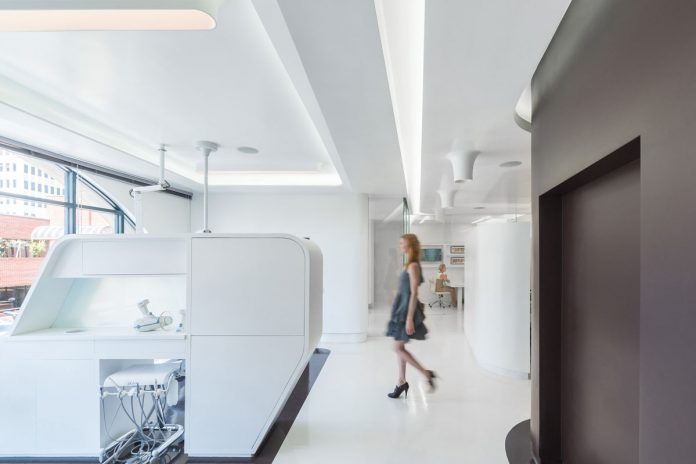 Light has also been concealed and was carefully selected for seamless integration into the interior architecture. Most of the fixtures are out of sight and only the glow of the light emanating from the ceiling architecture can be seen enhancing the futuristic feel.
The primary goal of the design was for the treatment and comfort of the patients. I can see how design enthusiasts and sci-fi geeks would be less reluctant to visit the dentist in this office.
[Photography by Paul Vu]