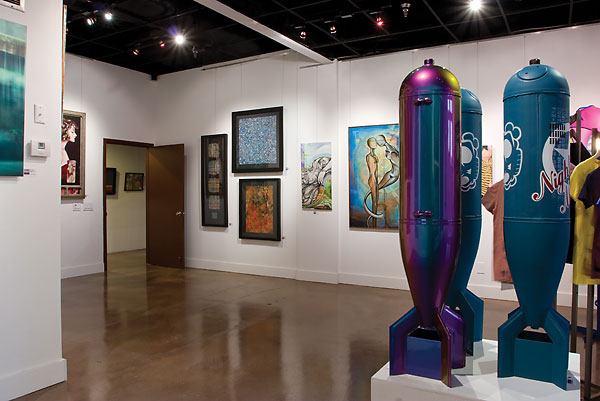 Downtown art studio and gallery is part of the cultural renaissance in Phoenix.
As 2008 has marked the continued resurgence in arts and culture in downtown Phoenix, Kollectiv Art and Design Group has been a welcomed newcomer, and has quickly carved out a niche in the Valley art scene.
"I wanted to create a similar atmosphere as you have in a college environment, with artists in constant communication and working off each other," said owner Kristine Remmers, an alumni of Arizona State University. "They all have a place to display art while enhancing their talent and skills."
Located on Second Street near McKinley, Kollectiv Art and Design is made up of 16 private working artist studios and a 1600-square-foot gallery open to the public. In addition, Kollectiv Art and Design has space available for art instruction on various art forms and techniques.
"Luckily for the city of Phoenix people are taking a vested interest in rebuilding the city's cultural image," said Remmers. "We want to do our part by offering different studio sizes depending on space needs. Every artist can find something here that they can work within.â"
The facility also offers a secondary workspace and gallery, while the main art gallery features colorful track lighting and a variety of modern contemporary art designs and pieces from several genres. The artists featured in the gallery are a blend of upcoming and established individuals, producing an efficient yet unique creative community. Remmers's educational background in art history and studio art makes her an ideal moderator and facilitator for the Kollectiv Art and Design community.
"I have been able to combine art education and practical experience in the business world for this entity," she said. "That is a reason for our early success along with the strong support we have received from other downtown business owners who want to see us succeed."
Visibility has been a big part of success for Kollectiv Art and Design, as they showcase their artists in studio for the monthly First Fridays art event in downtown Phoenix, as the general public can meet artists in person. It is the only time that the artists' studios are open to the public. The third Friday of every month Kollectiv Art and Design hosts a gallery reception and an opportunity to meet a featured artist and view their work.
"There are a lot of talented people here, so no matter your medium if you have passion and talent I want you to be here and part of my gallery," said Remmers.
Two of the talented artists featured at Kollectiv Art and Design are Dawn Barnett and Patricia Jensen. Barnett is a resident artist who hails from San Francisco and works in several media. Her wood panel artwork can be best described as intricate and unique and is definitely and asset to the gallery.
Hailing from eastern Washington, Patricia Jensen's paintings are surreal and quickly place the audience under a spell with a hypnotic style that is very addictive.
"Our artists are always evolving and creating works that express their emotions," said Remmers.
The emotion for Remmers should remain joyful for the remainder of 2008 as Kollectiv Art and Design further establishes its artists and brand with Phoenicians in the Valley's ever-growing arts scene.
"I'm so excited about being in downtown being part of its growth," said Remmers. "I have met some really talented artists and everything is turning out the way I want it to." [photos by Don Crossland]