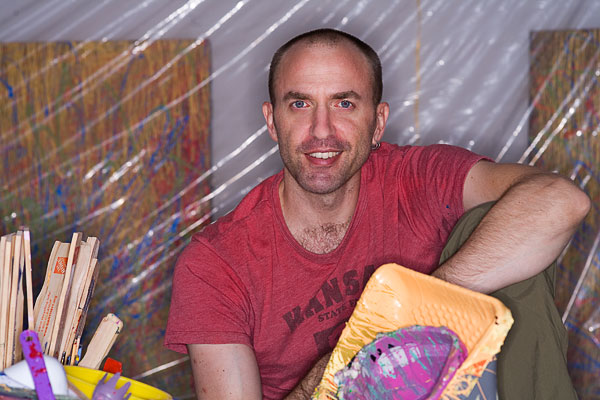 He's not a chef, but artist Kyle Jordre empties the contents of a large utensil caddy on his coffee table: slotted pasta spoons, spatulas, long-handed serving spoons, and a two-pronged barbecue fork are among the tools that spill out. All of them are covered in layers of varying shades of red, blue, and yellow.
A quick glance around his downtown Phoenix studio at large canvases drenched in vibrant acrylic paint begs the obvious question: where are the brushes?
"I wouldn't know what to do with a brush," said Jordre, whose creativity begins with the utensils he chooses to produce his abstract works.
Jordre applies paint streaks and spatters with items most likely found in a department store rather than a specialty art shop. Also in his repertoire of tools: fly swatters and squeegees.
Jordre created his first canvas using refillable plastic condiment bottles by adjusting pressure as he squeezed to release paint. His parents, who Jordre credits with his decision to become an artist, purchased the original 24×30-inch painting.
"That first painting really belongs to them. Maybe I wouldn't be doing this if not for my parents," he said.
A native of North Dakota and the son of two educators, Jordre was a senior in high school when his father, the school principal, purchased a photo lab in a town 100 miles away. As part of the deal, his father set out to learn the craft and apprentice under the photographer who sold him the lab. At the age of 40 and with the support of Jordre's mother, his father retired from education and plunged into a career in photography.
It showed Jordre that dreams really could be pursued at any age.
Jordre knew he had a strong creative streak, but never seriously pursued art as a youth. A high school drafting class is the only formal art training on his resume. He majored in accounting at Augustana College in Sioux Falls, S.D., where he played on the school basketball team. He abandoned the accounting degree for one in education, and taught middle school social studies in Minnesota.
Needing a break, Jordre left teaching in 2000 and moved to California where he landed a lucrative administrative position with a major software company. The job allowed him the privilege of traveling the world and staying in luxurious hotels. However, instead of greedily soaking up the lavish perks, Jordre became disillusioned with the excess and frivolity. He did not want to fall into the trappings of monetary success.
"Something was gnawing at me, this is not quite right," he recalled.
He followed the trail his father blazed years ago and made another life-changing decision. Jordre was dabbling in furniture design when he visited Phoenix and found himself drawn to the buzz of the First Friday Artwalk. Additionally, he admired the movement to renovate historic homes, and was impressed by the designs of noted architects like Will Bruder, Ralph Haver, and Richard+Bauer.
"I knew this was a happening place. If I was going to do art seriously, I needed a home base and this was going to be it," Jordre, 38, said.
He started working out of a 10×8-foot closet in his house. At six feet, five inches tall, it was a tight fit. A year ago, Jordre opened his new 1800-square-foot studio on Grand Ave, which gives him considerably more elbowroom. His pieces have also grown, he buys rolls of canvas that measure 30 yards long so he can cut them to custom sizes.
To date, Jordre has completed 108 pieces. Only one, a commissioned painting done for a couple in honor of a friend who passed away, is named.
Jordre's passion for his art is greater than the urge to name them. He wants viewers to amass their own interpretation without the influence of a title.
"I want people to look at the art and have a reaction for themselves. There is no way others can have the same feeling as I did when I created it, and I don't want to tell them what to see in it," Jordre said. "I want their view to broaden. I want them to tell me what they see, then I'll tell them what I see and we'll learn from each other."
Jordre doesn't do each piece separately. He works on several at a time, using each one's influence on the other, like a series of revolving dominos. Most of Jordre's pieces have at least 10 coats of paint, and his work is a constant evolution of emotion in the vein of Jackson Pollack.
Jordre interacts with the medium, and instead of dictating what color goes where, the former basketball player describes the process as a team effort between his creative impulses under the direction of the developing piece.
"I'm just a part in the process. [My paintings] are going to become what they will," Jordre said. "They've helped me evolve as an artist and a person." [photo: Don Crossland]