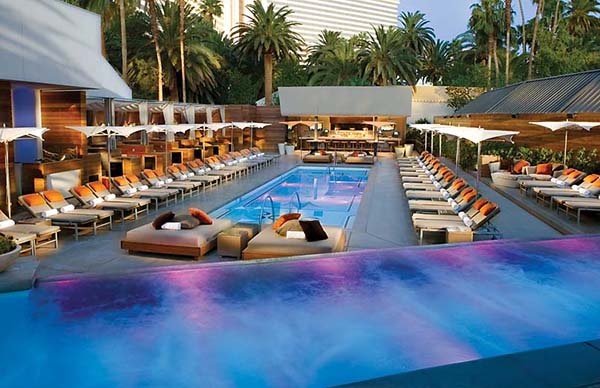 There is still no place like Las Vegas.
From spectacular shows – think The Beatles Love – to transplanted attitude – think Dick's Last Resort – where great food and insults go hand in hand. Las Vegas is still a vacation destination with no equal. It is constantly reinventing itself to maintain its status as the world's most scandalous, yet high-end party spot.
Mandalay Bay, at the end of the strip, boasts a $150 million in redesign. Each room is outfitted with modern color schemes, pillow-top mattresses, spacious bathrooms with marble and granite accents, multi-jet jacuzzi tubs, twin vanities, and his-and-hers lighted closets. Wired for the modern jetsetter, rooms boast two flat panel TVs, wireless internet, and iHome clock radios for iPods.
Just outside the hotel doors lie two great daytime attractions, no matter if you're 15 or 55. The wave pool, complete with a sandy beach features snowy white sand imported directly from California. Off to the side is Moorea, Mandalay Bay's European-style pool. Whether you are scoping out a buffed up stud or sultry sun goddess, this area is the place to be seen during the day.
Overlooking it all are the Villas Soleil. These cabanas boast floor-to-ceiling windows, air conditioning, and your very own server. These $1500-a-day suites are an excellent spot for any type of party. Five plasma TVs surround a circular bed in the center of each villas and there is a pole if the party gets a little rowdy. Private pool and spectacular views are also included.
Hungry for design? Vegas has that covered. The Social House, located at the other end of the strip inside Treasure Island, is the place where sushi lovers go for good stuff. Bring a group and head to the large, heavy community table and you'll feel like royalty. With a date or smaller group, go straight to the sushi bar and ask for recommendations. Try their yellowtail sashimi with jalapeños. You'll know why.
For those who prefer a slightly more cooked meal, try Border Grill, Mandalay Bay's newest lunch spot. Featuring a modern twist on Mexican fare, Border Grill has an authentic menu directly from south of the border. Chefs Mary Sue Milliken and Susan Feniger spent years traveling the world looking for the perfect menu items; turning standard South American, Mexican and American fares into dishes able to please the most fickle of appetites. Try their Baja Ceviche, – lime-marinated halibut, shrimp, cilantro, onion, jalapeño, and tomato- served over handmade crispy corn tortilla with cilantro aioli and avocado, with an Añejo Margarita, -chinaco añejo tequila, orange cognac, and house made sour mix. Your tastebuds will thank you.
More traditional fare can be found at Strip Steak, located inside theHotel, connected to Mandalay Bay. Located just off the main indoor throughway Chef Michael Mina's place won't leave you wanting for more with everything from American style Kobe beef – it's worth every penny – to salt-baked Maine lobster. Glass walls give the impression of a large room with an intimate appeal and there are accommodations to handle business meetings or just a few friends on the town. Be sure to dress up, the décor nearly demands that you look as good as it does.
If your night out turns into a group event, Stack at The Mirage might be a better option. The dimly lit bar opens up to an expansive dining area with booths surrounding several large tables. Sloped ceilings and curved corners make the entire restaurant feel a bit less cookie cutter than many other casino eateries. Featuring a menu seemingly straight out of childhood, including a delicious take on pigs in a blanket, Stack's smaller portions are designed to feed a group with differing palates.
There are those who go to Vegas for the food. There are those who go to Vegas to party. Believe it or not, there are those who go to relax. If you are among the latter, Spa Mandalay is your Mecca. Hot stone massages, grand pools, hangover-curing steam rooms, and pore-cleansing saunas await the weary on the ground floor of Mandalay Bay. It is quiet and the most comforting experience in which many will ever partake. Never mind the price tag, you'll thank yourself later.
Oh, there's one more thing: the entertainment.
Whether you prefer intimate venues or large productions, Vegas is unsurpassed. The Crazy Horse Paris at the MGM Grand offers a sophisticated burlesque show straight out of the sexual revolution of the 1920s. For a more sensual show, sexify your life at Zumanity, Cirque de Soleil's grand attraction at New York, New York.
Leaving behind the sin in Sin City, Beatles Love at The Mirage is one of the best Cirque du Soleil experiences to date. A show six years in the making that began as a collaboration between the late George Harrison and Cirque du Soleil founder, Guy Laliberté, Beatles Love features a soundtrack mixed by former Beatles' producer, George Martin and his son, Giles. The show is a masterful blend of raw energy and unmatched art direction dripping with psychedelic color. Beatles Love traces the musical career and celebrates the legacy of the heralded rock band, Yellow Submarine-style.
To complete any true Vegas getaway, a bevy of the hottest clubs in the nation are ready and waiting for you to shake it. From Tabü Ultra Lounge and its motion sensing light tables to Studio 54, which looks straight out of New York City. Vegas' newest hot spot, Jet, just oozes cool. Reserve a booth, rent a VIP lounge, or make sure you know someone at the door to experience the very best this town has to offer.
The next time you visit Sin City, be sure to step away from the gambling table and see what else Las Vegas has to offer. No matter what your taste, you won't be disappointed.