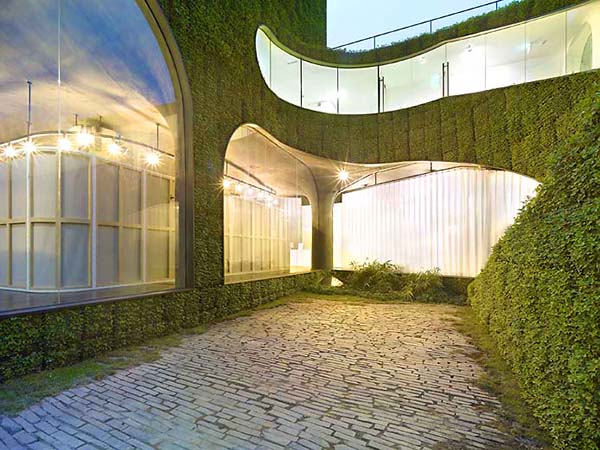 The spirit of the late 70's/early 80's punk rock scene is alive and well in the hearts and minds of many, but perhaps not as much as it is for Ann Demeulemeester. For her, the vocals of artists like Lou Reed and long-time idol and friend Patti Smith live on as channeled into the high-end deconstructed, suit-inspired looks that she is most known for. Ranging from flowing and whimsical to dark and industrial, Demeulemeester's pieces echo her muses' hard urban sensibilities. At the same time, her clothes offer surprising comfort details that buck traditional systems of suiting.
Equally as rebellious as the clothes is the new Ann Demeulemeester boutique in which they are sold in Seoul, South Korea. As one of only four stores (the others are in Tokyo, Hong Kong and Antwerp) opened in the designer's 20-year career, the Seoul store takes the proverbial cake. That is, if you like your cake covered in moss.
Occupying the first floor of a small, mixed-use building designed by architectural firm Mass Studies, this boutique is to most boutiques what punk was to disco, a radical departure. With fluid, organic lines, huge window walls and a living façade, the store is the perfect architectural manifestation of Demeulemeester's designs – unobtrusive and modern. Meant to blend with, not assault nature, the structure is not unlike the loose, body-forgiving monochromatic trousers and wrap tunics sold within.
For more information visit, anndemeulemeester.be