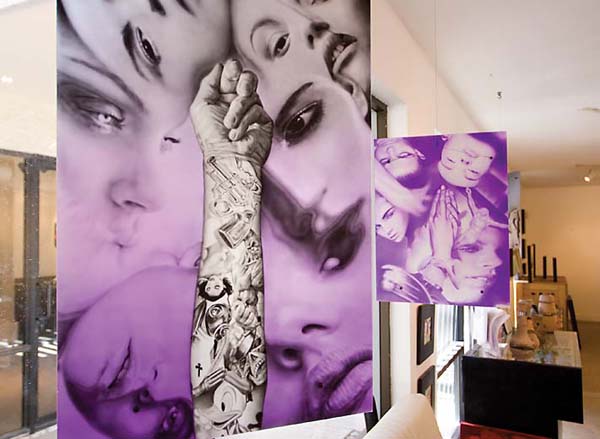 This soft-spoken, Phoenix-bred artist evokes haunting, silver screen tangibility.
His work has been described as haunting, vulnerable and darkly sensual.
Tom Stephenson, however, is nothing like his work.
The Phoenix-born mixed-media artist, whose art has been seen over the past decade at Scottsdale's Art One gallery, has earned recognition beyond the local art scene, including the Award of Distinction from the Tucson Museum of Art for his participation in an exhibit entitled Arizona Biennial.Despite the accolades, Stephenson remains a quiet man, and he doesn't take himself too seriously.
"I get inspiration from an urge deep inside that kicks me in the butt and says 'paint something cool'," said the 43-year-old lifelong Arizonan, a response that affably understates the seriousness and vibrancy of his work. 
Subtle words for a man whose art contains the voyeuristic, rebellious elements of an aversion to force-fed, plastic consumerism. The use of bold color is integral to the overall perception of his exhibitions.
"Colors say a lot about emotions," Stephenson said. "A lot of times I bury the painting in a color to give the images a slant toward a hot emotion or a cool one."
His catalog spans several different media types; from oil painting to pen and ink and wood carving to metalworking. Stephenson names acrylic airbrush his favorite method.
"I start with a blank canvas and a collection of images I have collected. I pick which images will work best together, tape them on a wall and arrange them into a composition. I then figure out which colors to use," he said.
Striking visuals of human faces and hands prominently pepper many of his latest acrylic designs.
"My most recent works all have a lot of hands and close-ups of faces in them. The hands can relay a lot of emotions with what they are doing: a finger in the mouth, sensual; a tense hand, anger or strength; hands together, love. The faces are the same, and are the main story," he said. "The images I use are mostly from photos I find in fashion magazines. I do use photos I take of my family members a lot more now, and I will be moving more that that way. In the past I have worked from life [models], which is great, but not as convenient as a photo."
Amassing as much positive recognition as he has, Stephenson has been able to see a bit of the world, but always enjoys returning to his native state.
"Traveling for me is okay; I learned I don't like to be away from my equipment to long. I lived in Peru for two years; my wife is Peruvian. I wasn't able to airbrush as much there, so I was forced to try different things. I learned to carve and paint on cedar, and work with wood stamps. That is one good reason to travel; it pops one's bubble of reality and redundancy," he said.
As a family man, Stephenson keeps plenty busy outside of his career, noting that little time is free, but believes he can keep up his pace without going bonkers. 
"It is easy to [keep producing] work; it's just sometimes, I need a push. I guess I just want to say sometimes I am lazy," he said, with a laugh. 
Extensively involved with Art One, Stephenson shows work at the Scottsdale gallery on a regular basis. Also see Stephenson's portfolio at artonegalleryinc.com.