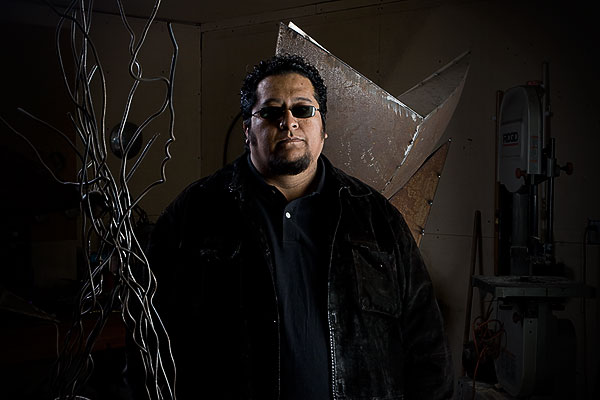 If this were any other time in human history, metal-working artist Gabriel Salcido, of Lumbre Gallery in Phoenix would be one of the most sought after members of society. Salcido, a 37-year-old Valley resident, has been melting and molding metal into extraordinary shapes and concepts since his late teens.
"I started welding in high school, and through various employment from structural to art I learned the trade of welding, fabrication and finishes," said Salcido. "I have worked with all types of metal from bronze to titanium and each take on a life of their own. In the beginning, it was a trade and has now progressed into my own personal artistic expression."
Since then, he's become incredibly self-reliant in all aspects of his art: conception, production and integration–all traits that would make a legendary blacksmith in any given era. As for his independence, Salcido does it all when it comes to his specialty. He describes himself as being "hands-on with all aspects of [his] art, from inception of the design to fabrication and installation."
Even inspiration comes from within for the Utah-born artist, noting that, "the more you create, the wider your imagination expands. I am truly influenced mostly by my own mind. Observing the world in motion…are the sparks my imagination needs to flow."
Still, for everything Salcido is able to do on his own, his wife, Ingrid, who co-owns Lumbre Gallery, is a tremendous source of inspiration. "Our passions run the gambit artistically," she says. "Sometimes we just sit staring at metal all day and other days it's architecture, art shows, nature or the design ice cream melting on the side walk makes." 
Considering his work a craft, a trade and an art, Salcido says his mind is constantly in motion and it is difficult to turn it off.
"I have always worked in some sort of art form," he continued. "My work comes to me in visions, of sorts. My art, like the metal, is born of fire, chaos, calm and then silence; kind of the storm and the calm, conflict and resolution, stepping back and re-evaluating, etc. The metal takes me on a trip, kind of a scene from a movie weaving me into the past, the future and the here and now."
While ever present in his work, Salcido is a stated fan of architecture, citing architect Frank Gehry as a modern master. According to the artist himself, simple lines and basic shapes, along with a collage of cultural influences, define the philosophy of Gabriel's work. Light and the illusion of light directly compel his artistic mind.
As for Lumbre Gallery at 925 NW Grand Avenue, they've currently rented the space out to Zao Studios with Gabriel spending much of his time working on a line of metal furniture. They plan to continue their work at Lumbre at some point in the future, as it is obviously a labor of love. [photo:Don Crossland]
See more of Gabriel Salcido's work and get information about the gallery at lumbremetal.com.