Artistic inspiration can be found in any geographic location, even in a modest West Phoenix home. Jason Rudolph Peña, who grew up in "the avenues", was influenced by artistically minded parents early on, but growing up, other influences were at play.
"Like a lot of young boys, I was inspired by cartoons and monster movies," Peña said. "I think I was also inspired by Joe Camel billboards, because a lot of characters in my old cartoon drawings were wearing sunglasses and smoking cigarettes."
Known for his paintings of large, embellished faces using colorful, sweeping strokes, Peña has made his name by performance painting all over the West. Watching a painter create his art can be as boring as, well, watching paint dry, but Peña makes sure that isn't the case at his shows. From crowds of few to crowds of thousands, Peña has brought his blend of exciting performance art to venues of all shapes and sizes. He has learned a lot along the way, but it wasn't exactly an easy start.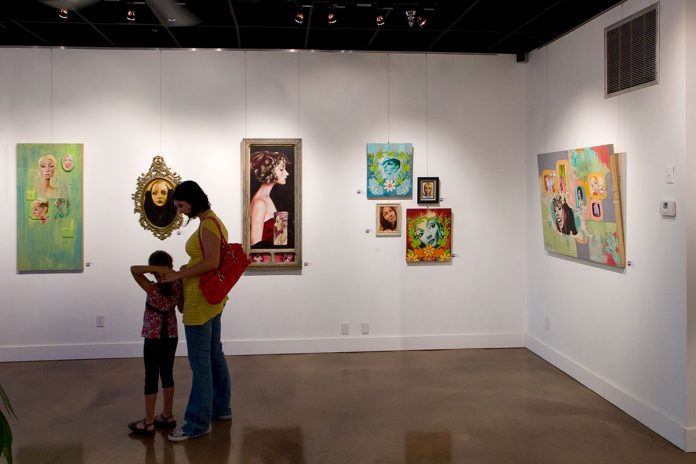 "Some rave promoters hired me to paint a mural during a really horrible rave many years back," Peña recalled of his first performance. "I have really bad social anxiety, so it was absolute torture.  I hated every second of it, but I wanted to make some money and promote myself.  People really seemed to get inspired and moved by what I was doing and that was great."
Needing a muse for his newfound craft, Peña found inspiration by way of a pair of headphones in Scottsdale, after moving east to go to school. Picking up a record by Canadian soulstress Esthero, Peña found all the motivation he needed. The record brought out a gusto he had never before experienced. Peña began painting liberal, fluid faces with round, spacey, ephemeral eyes, a style that stands out as his and his alone, and a reputation was quickly formed. Upon completing a portrait of Esthero and posting it online, Peña heard from the singer and the two became fast friends, despite their distance. The pair has since dreamt up other projects, with Peña becoming her personal artist.
Peña's work zigzags across the country for art shows and he holds a regular residency on First and Third Fridays at Kollectiv Art and Design in downtown Phoenix. He also donates his time for a good cause. He is painting a plastered cast of a busty torso for the Renegade Rollergirls charity auction in October for Keep-A-Breast.org.
The art of Jason Rudolph Peña can be found at bookoffaces.com.
[photography by Don Crossland]