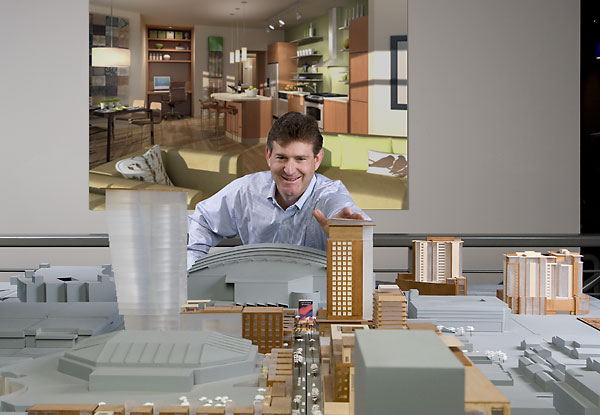 Forward Thinker: David Wallach
Whether described as on the cutting edge, ahead of their time or simply visionaries, our ever-evolving Valley hosts a few brave souls who are casting the mold that will shape the future of our burgeoning megalopolis.
Meet David Wallach, the "W" behind W Developments. Wallach, a developer from Chicago, took a chance on Phoenix and developed downtown's first residential high-rise, The Summit at Copper Square. As The Summit's occupancy is nearing complete, he is moving onto his second endeavor, Omega, a residential tower on the corner of 2nd Ave and Monroe. To top off his downtown involvement, Wallach is also one of the fathers of the quietly emerging Jackson Street Entertainment District.
————
You are originally from Chicago. Tell me a little bit about your career there and what inspired you to move to Phoenix?
After graduating law school I worked for a developer in Chicago and was fortunate to meet great people over the years, so I got exposed to a lot of wonderful developers and bankers and lawyers in Chicago.
I kind of came to Phoenix by mistake. I was coming out here to meet with a friend of mine, who was building some homes in Paradise Valley, and he invited me to come look at some properties with him. Right before I came out here for that trip, I was introduced to another man whose building I was interested in buying.
I mentioned that I was coming to Phoenix, and he said there was a downtown lot that he thought I would be interested in. And that is where The Summit at Copper Square is now.
Phoenix may be a little later in the game than other cities, but now there's that urban focus, and it's one of the reasons that The Summit has been so successful.
How will the Jackson Street Entertainment District (JSED) change the face of the city?
The one thing that is still lacking in Phoenix is the element of urbanism. Where do you go to sit in a café and have a cup of coffee or a glass of wine and exchange ideas? Where do you go to meet people? We have these huge mega-malls. This isn't anything against them, but they are not places where people gather to talk and walk down the street and experience things. The JSED will be a place where people can go and meet, sit and congregate, listen to music – and live! One of my favorite places in the valley is La Grande Orange. People drive and valet park their cars to feel like they are in an urban environment. That's what is lacking in downtown, and that's what the JSED will provide.
What are the stages of development in starting a project such as this? How do you get it from its initial vision to becoming a living and breathing entity?
The great thing about what brought this together is the collection of people with varying backgrounds. We are made up of architects and business owners and land developers. Itâ's kind of that collection of people that bring this type of project forward.
We got the business owners in the area onboard. Some of them are partners in the deal, and others are cheerleaders for it. And that's what is needed to bring something like this forward as smoothly as it has been.
This is a model for green planning. What are some examples?

The buildings are all going to be designed with as many green aspects as possible. Going green is a very important part of what we are doing, and that is where we are focusing our energy. The people and companies we are attracting, are those that are focusing on being green. Those are the people that we want in the district.
We've got the most sunshine anywhere in the world, and the amount of solar energy we use here is ridiculously low. Things like that are what we need to start looking at very seriously.
Tell me a little bit about the housing that will be here among the entertainment and retail venues.
The housing will combine both high-end and attainable pricing. What makes cities work is a quilt of people. So you can't just have $500,000 condos. That doesn't work. You also need teachers, you need firemen, policemen, young people getting their first place. And creating that environment is definitely part of our goals.
How do you see the light rail changing the city?
The change won't be overnight, but as time goes on, people will start using it and find it much more efficient than using their cars. With the focus on expanding ASU, and just the influx of teachers and students and visitors to freely move between downtown and Tempe is fantastic. To be able to get from the core out to north Central Avenue like that (snaps fingers), will have a substantial impact on local businesses.

What is your vision of Phoenix 10 years from now?
Personally, I think that the city will continue to grow near the core, just like in other cities. I think we will see low-rise and mid-rise residential and real neighborhoods that are going to start being created. I think that's what's really exciting. People might still have to drive or take the light rail, but you are going to have more people connected. That is what makes a great city, is that connection.