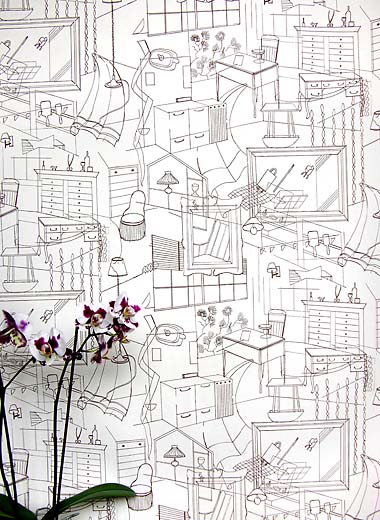 Gone are the days of your grandmother's wallpaper–the kind with the slight yellow fading, a musty smell, and a pattern so tacky you still cringe when you think about it. Since the 1960s, most people have become content with simply using paint to decorate their walls. Today, however, wall coverings are coming back in style and they're back with a vengeance.
The aesthetic, acoustic and tactile benefits of wall coverings are irresistible. While paint brings color to a room, wall coverings deliver an explosion of pattern and texture, as well as color. A good wall covering can instantly bring drama into a space with a bold statement, or it can be a subtle design element that connects the entire space. While wallpaper is still the most common covering, new materials such as fabric, vinyl, and even fiber-optics are now used in unique ways. Today's creative designers are producing innovative wall covering designs that make walls pop.
Erika Wakerly is a blossoming wallpaper and textile designer who is pushing the boundaries of contemporary wallpaper. Named Young Designer 2007 at the Homes and Gardens Classic Design Awards, Wakerly brings to her creations a unique mixture of computer technology and hand drawings. She studied illustration and graphic design at the Royal College of Art. As a result, her wallpaper features quirky motifs and confident strokes that command attention. Her geometric patterns use line and repetition to create movement along the wall. Wakerly's prints come in various colors but the black and white combination seems to be her favorite. Her whimsical Homes pattern is mostly hand-drawn and it is fanciful enough to make even the most solemn designer secretly want to whip out some markers and color inside the lines.
Another wallpaper company breaking the mold is Flavor Paper. Located in the Bywater District of New Orleans, the company survived Hurricane Katrina and has begun to flourish in the last two years. Known for eye-catching patterns that add a burst of flavor to any room, Flavor Paper designer, Michael Angelo, designed a delicious concept bringing us one step closer to Willy Wonka's lick-able wallpaper. With The Fruit Cocktail Collection introducing scratch-and-sniff wallpaper with tasty scents such as banana, cherry and tutti-fruitti, walls come alive. The simple, repetitive fruit pattern is made fun with bright colors, like fuchsia and aquamarine.
Flavor Paper still has their original line of dazzling wallpaper designs. Their patterns are bold and crisp, with fresh, funky graphics that are sure to inspire. They specialize in custom prints, and recent clients include Nike, Diesel, W Hotels, and Jonathan Adler.
To experience a different texture on your walls, why not try a different material? Anne KyyrQuinn's flowing fabric creations are a tactile sensation. Quinn studied textile design and art at the London Guildhall University and has put her talent to excellent use. Concerned about sustainability, Quinn uses 100% wool felt in her designs, a natural and biodegradable material. When used in a wall application, the felt helps control acoustics and visually softens the space.
Her wall panels bring a sense of wonder, and each series evokes a different response. The Tulip wall panel appears to be both tulip petals blowing in a breeze and sea creatures undulating in the ocean current. Her Leaf pattern almost begs  fingers to be run over the ridges and feel the resistance as the fabric snaps back into place.
Another tactile sensation was introduced this year by the Braun Brush Company. Their BRUSH tiles are stiff bristles mounted on acrylic or wood tiles. The bristles are available in over 100 colors and can be carved to create varying dimensional effects. With translucent acrylic and bristles available, the tiles allow light to filter through, creating soft patterns on the ceiling and floor. The custom sculptural ability encourages the mind to wander around limitless options, creating topographical movement and waves of texture.
For the tech-savvy person who is totally uninterested in patterns and fabric but still wants to brighten the walls, Sensitile has introduced a revolutionary material that is just cool. Their Scintilla tiles have hundreds of light guides carved into a transparent acrylic panel. These light guides have fiber-optic elements that pick up moving light, shadow, and color, and scatter them to create a shining, twinkling panel–all without electricity. Imagine waving your hands in front of this panel and watching as the movement from your hand creates light and shadows. The panes vary in size and color and can be mounted both vertically and horizontally.
Surely, wall coverings are not new; this is a design technique that has been around since the Renaissance. However, no one today would be caught dead with their walls plastered in some of the hideous papers seen in decades past. But thanks to the inventive ideas of some imaginative designers, our walls no longer have to be naked.