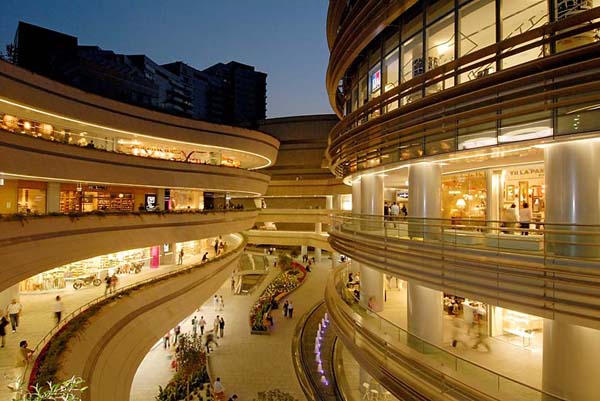 Once the capital of several former empires and now one of the largest cities in Europe, Istanbul is currently undergoing a renaissance; a transformation from ancient capital to modern city.
Istanbul is a city of extremes and opposites. The city itself lies on two continents: Europe and Asia, split by the mighty Bosphorus strait. Originally situated on seven hills, Istanbul has grown exponentially over the past century as Turks have moved from Anatolian villages to the modern metropolis of Istanbul to make their fortunes. After all, there is an old Turkish saying that Istanbul's streets are "paved with gold". 
There might be something to this saying as many recent developments in the city have been world-class shopping centers, like the newly opened Istinye Park. Situated near one of the commercial centers of Istanbul, developer Development Design Group intended Istinye Park to be "a unique urban lifestyle environment" nestled amongst the hills of surrounding neighborhoods. Designed with Turkey's rich cultural history in mind, Istinye Park also has a modern Turkish bazaar inside.
A few kilometers from Istinye lies Levent, home to one of the more elegant multi-purpose complexes in Istanbul: Kanyon. Completed in 2006, Kanyon consists of a shopping mall, a towering 22-story residential building and 30 floors of office space. Kanyon is directly connected to the Metro, making shopping or dining convenient for commuters in Istanbul. Metallic grey walls twist and bend to guide visitors through the open-air center, walls sloping upwards and towards the sky. Residents and visitors sit outside on the stone grey courtyard of Kanyon, reading books and drinking Turkish coffee, protected from the elements by the sloping curves of the building. Although situated in a busy urban environment, the organic feel of the shopping center makes it seem like an oasis.
While the skyline of Istanbul is famous for its towers and minarets, new landmarks are rising all over the city. One of the most ambitious projects, the Dubai Towers Istanbul, or DTI for short, was recently approved in the district of Levent. At a cost of $500 million, the Dubai Towers Istanbul will be a substantial investment in Istanbul's future. Once completed, the two towers of DTI will take their place as Turkey's tallest pair of buildings with tower one standing at over 300 meters and tower two at 250 meters.
Turkey's first green building, known as the Istanbul Sapphire, is currently under construction directly across the street from the planned site of the Dubai Towers Istanbul. The L-shaped building will consist of a 34,000-square-meter shopping center and 47 floors of luxury residences, with enjoying nature in the middle of the city as a central theme. Private gardens will exist on every third floor of the residences, bringing the natural world indoors. As green spaces and public parks are not a common feature to most central neighborhoods of Istanbul, such features are an added highlight. Extraordinarily high-tech, the Istanbul Sapphire has a unique double façade allowing fresh air to permeate the building, as well as control the indoor temperature throughout the seasons. Residents of the Sapphire will be able to enjoy year-round green gardens despite Istanbul's surprisingly cold winters and hot, humid summers.
With an equally elegant name, the Istanbul Diamond is an impressive three-tower structure under construction in the business district of Maslak. The three towers will connect to one another by a central spine, creating one structure. The Istanbul Diamond will be home to an immense 20,000-square-meter, 300-room hotel, an 18,000-square-meter residential block, a 16,000-square-meter office block, as well as a large shopping mall, aquarium, botanical garden, cinema and several concert halls. Soaring to the height of 270 meters above street level, a restaurant with a panoramic view on the top floor will offer diners an impressive view of both entrances of the Bosphorus. The Istanbul Diamond is currently set for completion in 2010, an important year for Istanbul as it has been chosen to be the European Capital of Culture.
The visually stunning Bijoux Plaza is also located in Maslak. With a geometrically intricate, bold-red aluminum exterior, the Bijoux Plaza will certainly make a strong impression with its innovative design. Designed by Turkish architect Emre Arolat, the Bijoux Plaza will be approximately 80 meters tall with 15 floors of office space. While not soaring to the heights of the Istanbul Diamond, the striking building will be a bold addition to the area's many grey, rectangular office buildings. The Bijoux Plaza is currently under construction and slated for completion later this year.
Next is the Garden Life Plaza, designed by BRT Archtekten and located in Gayrettepe. The oval-shaped building will have a total of 52 floors: 44 of which will rise above street level to the height of 170 meters. Named after the three garden sections located on the front façade of the building, the Garden Life Plaza will house offices, residences, cinemas, a fitness center, a spa, subterranean dining and retail centers. Construction has not yet begun but completion is expected in 2010.
On the Asian side of Istanbul, architect Zaha Hadid is planning a futuristic and dramatic development in the suburb of Kartal. The Kartal-Pendik Masterplan is a radical project that would create a new urban center on the remains of an abandoned industrial site. Built on over six million square meters of land, the Kartal-Pendik Masterplan comes complete with a business center, residential developments, cultural buildings, parks and open spaces. The structures flow together in organic, fluid lines stretching from the tallest buildings down to single structures and finally to the sea. It is one of the most radical and visually stunning proposals that would change the face of Istanbul while creating a new city center in what most Istanbul residents consider a distant suburb.
The current wave of building reflects Turkey's economic growth and stability over the past decade. Turkish and foreign investors are pouring money into projects all over the city. Other notable developments include a recently announced seven-floor, seven-star underwater hotel built by Tanriverdi Holding on the site of a former tobacco factory in the waterside district of Besiktas; a third Bosphorus bridge that would link Europe and Asia and aid in reducing Istanbul's congested cross-continental traffic, as well as the Marmaray Project, which will connect the European and Asian Metro and rail systems through an immense underwater tube in the Bosphorus, further aiding Istanbul's commuters.
While still a city very much rooted in tradition, Istanbul is currently reinventing itself, moving forward and growing to meet the demands of today's modern world. Construction sites are impossible to avoid as new structures and skyscrapers are being built all over the city. It's an extraordinary time in Turkey to witness such change transformation in one of the oldest and largest cities in Europe. While it remains to be seen how Istanbul and the rest of Turkey will temper progression with tradition, this has always been the predicament for this ancient capital and modern metropolis.