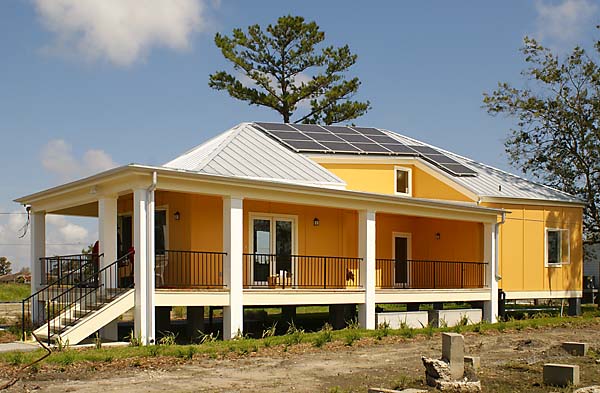 The big bad wolf couldn't blow these down.
The brainchild of Brad Pitt, Make it Right is an organization dedicated to rebuilding the Lower 9th Ward of hurricane-ravaged New Orleans.
This isn't your typical build. Designed around the Cradle to Cradle concept, these homes are sustainable, energy-efficient and tougher than anything there before.
The first six houses are currently under construction, using three different techniques. Three houses are built using traditional wood techniques, one is being built with steel and two more are modular homes. Each has its pros and cons.
Traditional wood houses are the easiest to adapt on site. Frames can be modified quickly as plans or conditions change, but wood isn't as strong as either steel or modular designs. The steel homes are very easy to build onsite, but lack the adaptability of wood. Modular are by far the quickest to assemble as most of the work is done at the factory, but cannot be modified on-site. If conditions are not consistent, modular homes might not be an option.
The interiors of each of the six homes are very similar. They all use recycled materials, have EnergyStar appliances, use geothermal HVAC systems that provide inexpensive, consistent temperatures, have low-flow plumbing allowing for 70 percent less water use and employ integrated solar panels that, on sunny days, take the entire house off the electric grid, allowing for enormous utility savings. Rainwater harvesting is included, all funneled into concrete underground tanks that will not float away no matter the weather.
Special care was taken to protect these homes in case of inclement weather. Each is built to with 160 mph winds and is raised five to eight feet off the ground.
Now, most might think these futuristic homes would look out of place in a city with so much history. In fact, it is quite the opposite. According construction director Jon Sader, architects were cognizant of typical New Orleans homes and designed the Make It Right models with plenty of deck area (using TimberSIL®) and space under each home. Any of these look right at home in the bayou.
A significant factor in the construction and sale of these homes was cost. Pitt's initial cash infusion, along with other donations, have allowed most of the research and development cost to be taken care of, allowing builders to sell these homes for $150,000 each. While they certainly cost more than that to build, design improvements, new innovations from companies around the world and an open-mindedness from designers have allowed the initial build-out to be a proving ground for new technology and building techniques. As the process is refined, cost will come down.
Each home will be seeking LEED platinum status and are expected to get it. The unprecedented outpouring of funds, innovation and adaptability makes this project one of the most important in the world's green future. If these houses can be built in the Lower 9th Ward's storm-ravaged environment, they can easily be replicated in urban environments and suburban communities, hopefully bringing green into the mainstream.
This would not have happened without the cooperation of many brilliant minds. Sader raves about the architects and designers' ability to adapt plans on-site, adjusting for cost overruns, terrain differences or simple improvements. This balance will allow for stronger, tighter, more efficient and easier to live in homes than ever before.
Make it Right's goal is affordable green living. It looks like they are on the right track.