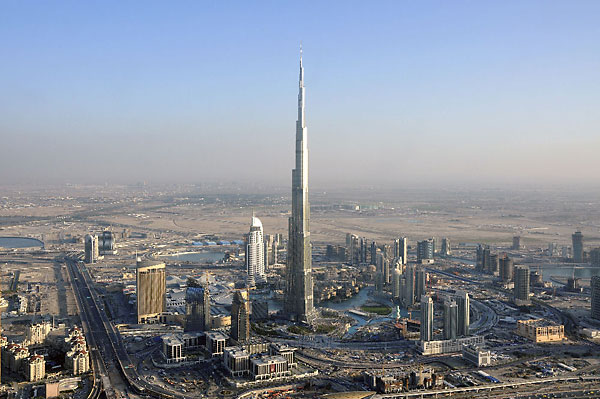 On January 4, 2010 the tallest structure in the world was opened with fireworks and fanfare. One of the biggest surprises was the last-minute announcement that the name of the tower was changed to Burj Khalifa in honor of the Sheikh Khalifa bin Zayed bin Sultan al-Nahyan, President of the United Arab Emirates. What was supposed to be a crowning achievement of Dubai turned into a liability as the project needed to be bailed out by Abu Dhabi, as the economy of Dubai was hit especially hard.
The AP reports with this video from the opening ceremony:
The "vertical city" officially stands at 828 meters (2716 ft) which beats the previous record-holder by over 300 meters (1000 ft). 160 floors of retail, hotels, restaurants, offices, residences and the worlds highest mosque. The building is so tall it is reportedly 8 degrees cooler at the top than the ground floor. It is also said you can watch the sunset from the ground and then ride the eleveator to the 124th floor observation deck and watch it again. The surreal view from the top is more like the view from an airplane than a tower.
With a total built-up area of about 6 million sq ft, Burj Khalifa features nearly 2 million sq ft of residential space and over 300,000 sq ft of prime office space, in addition to the area occupied by the keenly awaited Armani Hotel Dubai and the Armani Residences. The tower also features modern lifestyle amenities including clubs, health and fitness facilities, gourmet restaurants and the 124th floor observation deck, 'At the Top.' Burj Khalifa is the focal point of the 500-acre 'mega-project' , a mixed-use development comprised of residential, commercial, hotel, entertainment, shopping and leisure outlets with open green spaces, water features, pedestrian boulevards, a shopping mall and a tourist-oriented old town.