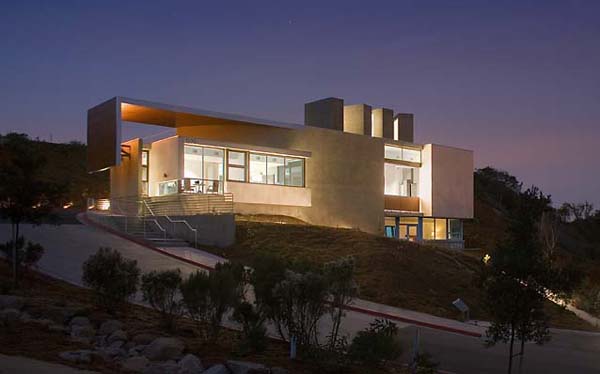 Art is an interaction, an experience, a synergy derived from the creative process.
Lux Art Institute, an innovative approach to art exhibition, creation and consumption housed within an architecturally striking building along the San Diego coast, is on track to be the first LEED-certified art museum in California.
At Lux–which, in Latin, means light–art is not the work created by the internationally recognized artists that participate in its artist residency program; art is not the public's opportunity to watch and interact with these artists as they work; art is not the environmentally conscious, aesthetically delightful ultra-modern studio cum museum in which it all happens; nor is art the four acres of beautiful California coast on which the institute sits. At Lux, art is the totality, resulting from the harnessing of and participation in the creative process.
The Lux Art Institute began in 1998 as a museum without walls. Through its Valise Project, Lux took works of art into classrooms and senior centers throughout southern California and presented them within educational contexts. Then, in November 2007, after nine years in the making, the Artist Pavilion, one of two buildings that will comprise the Lux campus (the second has not yet been built) was completed.
The Artist Pavilion is designed, conceptually and architecturally, around Lux's artist residency, a program that allows world-renowned artists to live and work at Lux while creating commissioned work for the institute. During the residency, the public is invited to observe the artist, to witness the artist's process, and even to ask questions and interact with the artist. For Lux, the artist at work is a work of art.
"To watch the process, and not just a static piece of work, is a gift–you can see it happen," said Lux director Reesey Shaw.
That gift comes at a cost. Astrid Preston, who finished her residency in March, said, "if I ignored the watcher I could concentrate on the work and be totally focused. As soon as I engaged in dialogue with a viewer, I was diverted and distracted; I could only illustrate technique during engagement."
However, these distractions and the resulting dynamics are not only expected, they're desired.
"How do you demonstrate and teach creativity?" said Shaw. "People learn it by seeing it modeled. As visitors watch living artists create, it provides a personal experience."
With a work studio, living space, library, conference room, administrative office and state-of-the-art exhibition space, Lux's two-story Artist Pavilion appears to have morphed out of the very earth it sits upon. In material composition and in color palate, the building is both complement and compliment to its surroundings. Designed by Santa Monica-based Renzo Zecchetto, the Artist Pavilion is a smattering of environmentally friendly features and techniques that add up to LEED-certification status (one of only a few buildings in San Diego). Nestled into a hillside overlooking the San Elijo Lagoon and surrounded by a wildlife preserve that stretches to the Pacific. 
Lux blends into its surroundings as if to suggest a fundamental connection, or at least continuum, spanning art and nature. 
"The building materials are a balance of tinted, rough board-formed concrete, smooth stucco and teak panels with colors that mimic the tones found in the landscape of the canyon," said Zecchetto.
From broad solar panels (a third of the institute's energy is from renewable energy systems) to recycled building materials (sourced locally with excess materials recycled on-site) and from plush natural light (including what Preston calls a "barn door" that, when open, offers a stunning view of the California terrain and allows the artist to be inside and outside at once) to au courant finishings, the Artist Pavilion is bold in its subtlety and provocative in its simplicity. Most importantly, by offering a creative and inspiring environment, it extends Lux's mission of making art more accessible and more personally meaningful.
Preston added, "It is an exalted space. It's open, the ceiling is high and the light is perfect and controllable."
To date, three artists have lived and worked at Lux: Tomås Rivas, Astrid Preston and Julie Heffernan. Their sculptures and paintings, created during their residencies, are displayed within the growing permanent collection. These works conspire with the resident artist, with the inquisitive visitors, and with the collective intention to evoke art, and together they animate the structure concrete, glass and stucco. In the process, the building, the artist, the visitor and the setting are thrown into the creative process, and in that totality–in the big mess of it all–there is art. [photos: Jim Brady]