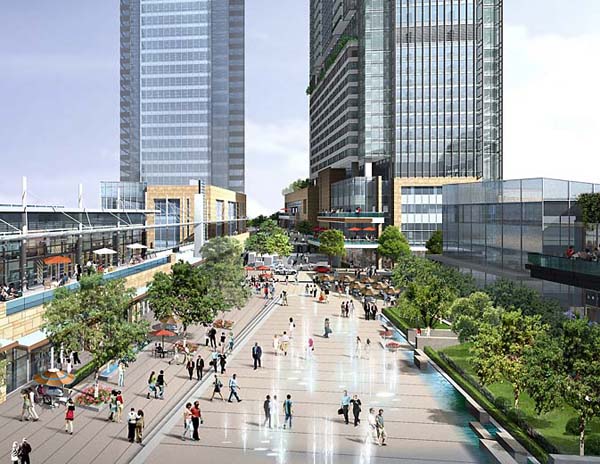 Phoenix will finally have a core to call its own.
For over a decade, a gaping three-square block hole plagued the very center of the city of Phoenix–a void made up of two barren parking lots and a poorly planned, barely navigable park the city cannot and will not maintain.
One year in the making, CityScape looks to re-imagine Patriots Park and will become the shining centerpiece in the city's efforts to finally make Downtown Phoenix livable.
CityScape is a mixed-use, multi-dimensional development that combines residential, retail, hotel, office, public space, and more into one central and cohesive project, according to Jeff Moloznik, development manager for RED Development.
Spearheading the one billion dollar development is a strong team of creative and financial giants, including RED Development, Barron Collier Company, Novare Group, CDK Partners, and Callison Architecture. The partnership looks to breathe new life into the area as CityScape will act as a hub for any and all other live, work, and play options sprouting up downtown.
"CityScape represents one, unified vision between each of the four investors, as well as the city of Phoenix," said John Bacon, marketing and communications director for RED Development. "It is one more piece of the puzzle in the renewal of the city's urban core."
This project will provide several major benefits to the revitalization of Downtown Phoenix. CityScape aims to attract more people by providing excellent dining, shopping, and living destinations that never existed before. The plans will create a large increase in active street fronts, entertainment, and the amount of open public space. Not to mention it gives people a reason to visit, or perhaps even move downtown.
After long-winded opposition by local activists, the Phoenix Parks Board finally approved the development plans to build over Patriots Park on February 2, 2007.
"Despite the length of the process, I think we ended up with a better design than we started with," said Bacon. "The public contributed valuable input and it really showed how much the residents care about downtown."
Since then, RED Development has been moving quickly to get things rolling.
CityScape's 2.5 million-square-foot foundation will cover three blocks from 1st Ave to 2nd St, Jefferson to Washington. As much as some might miss the aging Patriots Park and the two dusty lots, the location is ideal for such an undertaking. This prime location allows easy access to the new Light Rail Transit System (LRT), which runs along three sides of the project. Across the street is the U.S Airways Center, and within two blocks is Chase Field.
The initial and long-term economic benefits of the project are astounding. Development of CityScape will employ 3316 construction workers in 2008, (over 10,000 construction jobs in total) and an additional 3488 on-site annually when finished. The total construction wages during 2007 through 2011 is projected at a staggering $306 million. With more people living, working, and enjoying downtown, more employers, industries, and resources will flock there in turn. CityScape will serve as a symbol of the Phoenix success story, kick-starting future developments, and making downtown a fantastic place to live.
So with nearly one billion dollars being spent, what can we expect to see on each plot of land? Here's the rundown:
The Western Block
Plans for the western block include three structures surrounding the new Patriots Park. On the north side, facing Washington, will be a restaurant/retail building. On the west side, facing 1st Ave, will be 75 residential units atop additional retail. On the southern end sits an AJ's Fine Foods, and in the center expect pleasant open space with the capacity to entertain 10,000 public guests when Central is closed for events. A pedestrian skywalk fourteen feet above Central will link the western and middle blocks.
The Center Block
Two large towers will comprise the center square block of the project. The northern tower will provide nearly 600,000 square feet of gross office space resting atop roughly 100,000 square feet of retail space. Expect the southern tower to have approximately 250 hotel units and 100-150 condo units inside.
The Eastern Block
The third plot of land, owned by Barron Collier Companies, will contain two additional towers. The south tower boasts 500 residential units above a 150-room TWELVE boutique hotel, and a ground floor for retail applications. The north tower flaunts an additional 500 residential units and a 500-spot above-grade parking garage. For this block, the developers hope to attract residents in the age range of 25-35, offering convenient living space with an expected price point of roughly $400 per square foot.
In total, CityScape will be answering a demand for about 600,000 square feet of Class A office space, two boutique hotels totaling 400 rooms, approximately 250,000 square feet of retail/restaurant space, 1200 condominiums, and an updated public park. The exact details of which stores will be available have not yet been revealed, but expect a large P.F. Chang's and an AJ's Fine Foods.
The western block, along with the north tower on the center block should be finished by November 2009. Next, the south tower on the center block, along with the south tower on the eastern block will arrive by first quarter 2010. The project then wraps up with the north tower on the eastern block slated for completion by 2012.
Construction is already underway. An archaeological dig is just wrapping up and by November of this year, the five-level parking structure underneath Patriots Park will be undergoing a major overhaul to sustain the new developments going in above it.
No more fluff and empty paper-dreams, Phoenix; CityScape is coming for real.