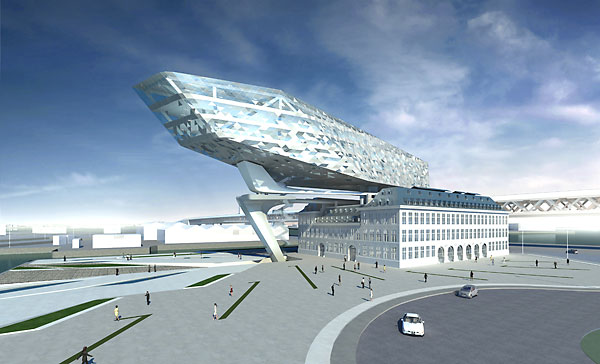 The Port Authority of Antwerp, Belgium will be consolidating their operations in one building located at one of the busiest ports in Europe. In addition to better accommodation, the future Port House should spur further development and upgrade part of the city known as Het Eilandje. One of the principal requirements for the new building was that it had to symbolise the Port of Antwerp as a world port and economic driver of Flanders and the Antwerp area.
Nearly 100 architects responded to the open call and a short list was selected, including Vier Arquitectos from La Coruña, Spain, Rapp + Rapp from Rotterdam and Zaha Hadid Architects from London. On January 13th a jury/board selected the proposal by Zaha Hadid Architects because of the preservation of the existing former fire house and the confidence in the firm's ability to deliver a high quality result to act as a 'shop window' for the Port Authority.
The new Port House design consists of two entities: the existing fire station and a new crystalline volume lifted above the retained building. The headquarters will house approximately 500 staff (currently working in separate buildings) in a single new building that comprises the former fire station and new extension.
From a central lobby, which also operates as an exhibition space, staff and visitors have direct access to the public counters, offices and meeting rooms in the refurbished fire station, whilst the offices, meeting rooms, auditorium and panoramic restaurant in the new extension are also accessed directly from this central lobby.
 The new extension is positioned asymmetrically over the central glazed courtyard of the existing fire station, allowing light to enter the heart of the building. The extension is supported by three sculpted concrete pillars that house the stairs and elevators. Two of the pillars land on the ground within the courtyard, while the third lands outside the existing building and houses a panoramic elevator shaft.
The new building shape is reminiscent of the hull of a ship and is enclosed by articulated surfaces that have a façade of glass and aluminium panels, reflecting the surroundings during the day and transforming into a radiating crystal at night. The panels do not all lie in the same plane but are rotated slightly with respect to one another, reflecting light from these facets – a reference to Antwerp's diamond industry.
Construction is expected to be completed in 2013.