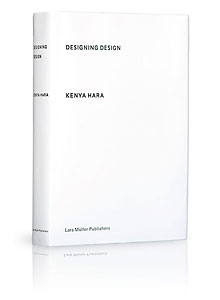 Kenya Hara is serious about white.
Serious enough to dedicate an entire chapter to white, considering it more of a design concept than a color or absence of color. Hara discusses design like a philosophy of life with a methodical journey through his thought processes and curated exhibits.
Designing Design is the first book from the prolific Japanese designer to be translated into English. It is his most comprehensive deliberation on several subjects, including the criteria of defining contemporary Japanese design, redefining the way we think of objects in our daily lives and how design is continuing to evolve beyond modernism.
Hara is considered one of the preeminent art directors of the 21st century due in part to his award-winning identity campaign for "no brand" label MUJI. He heads a multidisciplinary Tokyo studio, Nippon Design Center furthering his research into the unknown territories of neo-Japanese design. In addition to his graphic design works, Hara curates design exhibits expounding his "unnoticeable design" philosophy and the art of Japanese understatement.