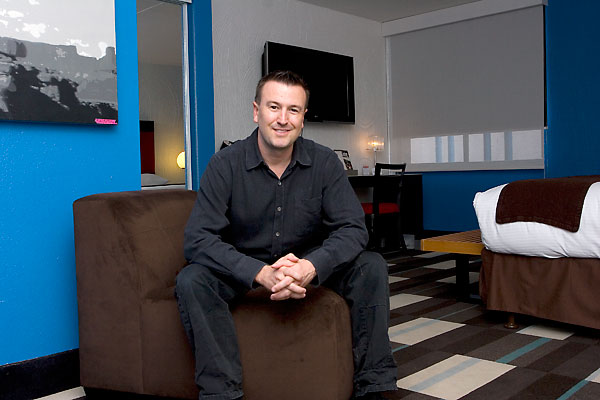 Ben Bethel loves him some Phoenix. Central Phoenix, only, that is.
Unlike a majority of new residents flooding the Arizona desert who move here for the usual suspects – abundance of sunshine, laidback suburban vibe, and iconic desert scenery – Phoenix wonder boy Bethel fell in love with the urban promise (or lack thereof at the time) of his newly adopted hometown.
The consummate Phoenix geek, who originally moved to the Phoenix area with his family from California in 1982, has become somewhat of a local celebrity. Known for his nearly unconditional and persistent civic involvement over the years, Bethel recently added the latest bullet point to his ever-growing resume – visionary hotelier.
"Back in high school I used to skip class in my 1981 diesel VW Rabbit, driving around the city, corner to corner, tracking all of the new construction and development going on," Bethel says, pointing out his early fascinations with all things real estate, planning and development, especially in fast-growing Phoenix. "Never before had I seen an environment change so fast."
At a very early age, the ambitious Bethel also held the dream of owning his own hotel one day. It was a life-long goal he hoped to eventually accomplish by the reasonable age of 50.
Well, mark that one off the list, about 15 some odd years ahead of schedule.
After discovering the nearly forgotten property several years ago and squeezing all the equity he could out of both his real estate investments at the time (and his close family and friends), Bethel decided to go for it – he decided to buy his first hotel. What he clearly calls a youthful "pie-in-the-sky" dream, Bethel insists it has been a long, often trying road to where the hotel is today. "In the beginning it was very difficult," Bethel says. "We literally had to start from scratch – we had to gut every room."
The always-savvy entrepreneur turned passionate hotelier often likes to reference notable past guests of his hotel as a testament to bringing some "sex appeal" back to central Phoenix. Major celebrities and recording artists like Fergie, the Black Eyed Peas, Bryan Adams, Martina McBride, Puddle of Mudd, and Digital Underground, among many others, have all made The Clarendon their preferred sleep stop when visiting Phoenix recently. "These people all loved the hotel," Bethel says. "They're able to see the opportunity and vision I'm hoping to create here."
The future of Bethel parallels his love for Phoenix and Arizona. Finally adding his final elements to The Clarendon, Bethel hopes to eventually leave the day-to-day, more intensive managerial tasks to his trusted entourage of hired help, and begin exploring other, equally creative and hospitable avenues to further satisfy that previously noted attention span. From eyeing possible properties for a new boutique hotel in Flagstaff, that he affirms will be "unlike anything in that market", to possibly a second Phoenix property, closer to downtown specifically, he has no plans to stop anytime soon – well, maybe when he's 50.