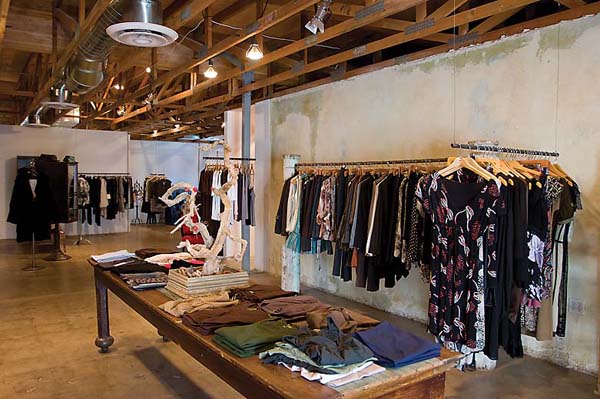 The wall at Passage reads "Nothing worse can happen to me but to be completely understood" by Junge. This is what Charles and Sarah Walters say is illustrative of what they are doing with their downtown Phoenix boutique. Carrying high-end, artisan-quality men's and women's clothing and accessories, Passage is rare gem in Phoenix.
The clothes at Passage are more than just clothes. They are works of art. From selvage jeans to cocktail dresses, scarves to belts, every piece tells a story. At Passage, Sarah says, "Fashion is an expression of art. Our clothes are avant-garde and timeless." With high fashion pieces that are often one of a kind, the store caters to a customer who Sarah describes (as implied by the store's name) as a traveler or someone who appreciates a journey, be it physical, spiritual or intellectual.
In a time when fashion is a mass-produced affair, Passage is a study in the craft of fashion – the fabrics, the construction and the inspiration. The truth is, you don't just shop at Passage, you admire, experience and feel fashion in the way that you would the works of sculptors, painters or musicians. Upon meeting the Walters and engaging in a mere few minutes of conversation about Passage, you can see why. It becomes very clear that both are very thoughtful and, yes, very quiet in their approach to what they do.
When asked how they find their designers, Charles talks about his system – a set of secret criteria that fit designers into a series of ten notebooks. What he will divulge is that he and Sarah follow fashion websites and magazines, looking for small designers who make edgy, high-quality pieces that have the appearance of being hand tailored. Lines that have passed the tests include Hazel Brown, Jingali, Liz Norris, JHY and Stronghold.
The building that Passage occupies was formally a church that, according to Charles, had no identity. Over the last few years, the couple renovated the space into a place to showcase their fashions. Consisting of concrete floors, sections of exposed brick and white walls, the Passage interior is appropriately more gallery than store. Clothes are displayed on old mine carts and racks crafted from pipe that are lit by custom tracks of utilitarian lights.