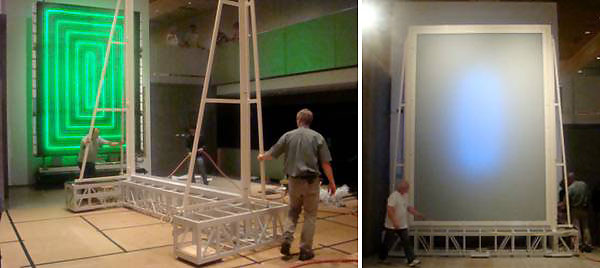 Mohl ip  "A Light Fantastic" by James Turrell
Tuesday, January 13, 2009 – 7pm
Phoenix Art Museum – Whiteman Hall
Central at McDowell
 Admission is Free – Everyone is Welcome
James Ballinger, Sybil Harrington Director of Phoenix Art Museum, will welcome Mohl ip, a work of art commissioned by Contemporary Forum to celebrate the opening of the Katz Wing for Modern and Contemporary Art in October 2006.
 James Turrell has spent the majority of his career transforming a crater in the Arizona desert into a monument of light.  "What the crater and Museum installations have in common is Turrell's ability to show us something we rarely see: Light as a physical presence, a material in its own right, not just something that illuminates the rest of the world."  Turrell's art places viewers in a realm of pure experience.  It prompts greater self awareness and provokes silent contemplation, patience and meditation.  "His ethereal installations enlist the common properties of light to communicate feelings of transcendence and the Divine."
 Phoenix Art Museum's Cummings Great Hall will never be the same once Mohl ip has been illuminated.
 This event is generously sponsored by Bentley Gallery/Bentley Projects.